Forgot Your Username
If you have forgotten your username, please provide your email address in the box below. We'll send you an email with your requested username. If you are having trouble, please call us toll-free at 1-800-221-0814.
Email Sent
You'll receive an email in a few minutes. Please check this email to find your requested username.
If you do not receive an email or you are having trouble logging into My Account, please call us at 1-800-221-0814.
ECUADOR
Named for its geographical location straddling the equator, Ecuador is a compact South American country that—for its size—is the most biodiverse nation on Earth. With a veritable patchwork of ecological regions including the Galápagos Islands, Amazon rain forest, Pacific coast, and the Andes mountain range, Ecuador boasts impressive contrasts of scenery. Its natural spoils are matched only by its cultural vibrancy, with a majority of its 15 million residents having mixed European and Amerindian multiracial ancestry, or mestizos.
At the heart of this diverse country is its striking natural landscapes and wildlife. The famed Galápagos Islands, birthplace of Charles Darwin's Theory of Evolution, is a chain of otherworldly volcanic islands where snorkeling with sea lions, watching giant tortoises bathe in mud pools, and witnessing droves of marine iguanas scurry past your feet is just another Tuesday. Meanwhile, the dense, steamy jungles and churning rivers of Ecuador's Amazon rain forest can excite any nature-lover with the sheer scope of plant, insect, and animal species found here.
Most Popular Films
Films featuring Ecuador from international, independent filmmakers
Wild Galápagos
View the diverse Galápagos wildlife—from playful sea lions to iguanas lounging in the sun.
Produced by Richard Sidey
This Is My Place
Meet a park ranger charged with protecting Ecuador's forests and conserving both the environment and private landowner's way of life.
Produced by Zach Mather
Travelogue: Ecuador 1949
From Coca-Cola to street vendors—see the ways Quito, Ecuador has remained remarkably unchanged since 1949.
Produced by David Conover & Paul Villanova
Ecuador Interactive Map
Click on map markers
below to view information about top Ecuador experiences
Click here to zoom in and out of this map
Featured Reading
Immerse yourself in Ecuador with this selection of articles, recipes, and more
ARTICLE
Islands whose wildlife inspired a great naturalist
ARTICLE
Set sail with Charles Darwin on the HMS Beagle on an excursion that changed the face of biology.
ARTICLE
We've got you covered for your next Galápagos adventure with the wonders you can expect to see and packing essentials.
ARTICLE
Don't worry: Bats aren't here to suck your blood—they will protect you from insects though.
ARTICLE
Discover a woman's experiences with a local shaman in Ecuador as he performs a cleansing ceremony.
Ecuador: Month-by-Month
There are pros and cons to visiting a destination during any time of the year. Find out what you can expect during your ideal travel time, from weather and climate, to holidays, festivals, and more.
Ecuador in January-February
The Galápagos are pleasantly warm and clear in January and February, making for the best snorkeling season. The mainland at this time is experiencing almost daily thunderstorms and fog coverage—temperatures are lower, making for a comfortable climate.
Holidays & Events
February 12: El Dia del Oriente, the anniversary of the "discovery" of the Amazon River
Must See
In Floreana, January and February mark nesting season for the majestic Galápagos flamingo. Green sea turtle hatchlings begin taking over the beaches heading toward the sea.
Ecuador in March-April
Sun exposure in the Galápagos is most intense in March and April. The rains begin to subside, but torrential downpours are still possible. For many, this is the best time for surfing off the Ecuadorean coast.
Must See
The eggs of flamingos, marine iguanas, and sea turtles begin hatching. As the summer solstice draws closer, the waved albatross begins arriving in Española. Many avian species, including Darwin's Finches, are in mating season so energetic songs fill the air. Penguins also start coming out during March and April.
Ecuador in May-June
May marks the end of the rainy season. Many roadways in Ecuador are drenched in water, so detours and closings are common. The dry season is peak bird-watching time in the rainforest, with beautiful species like the gray-headed kite, yellow-tufted dacnis, and guira tanager more common. With strong winds hitting the Andes, the resulting moisture pushed to the lowlands creates thick cloud forests over the jungle. The mainland climate tends to be muggy with overcast skies.
Holidays & Events
June 21 and 22: Inti Raymi, an ancient Incan festival featuring indigenous people dressing in brightly-colored costumes. Typically they "invade" the plazas of cities and towns, signifying the endurance of their cultural heritage.
Must See
The iconic blue-footed booby begins its courtship ritual, and several species such as the waved albatross and giant tortoise start nesting. The giant tortoise will continue nesting season through November. This is also prime season for oceanic voyages as dolphins and humpback whale sightings are more frequent.
Ecuador in July-August
July and August is winter in Ecuador, so high-altitude hikes are comfortable in mid-70's temperatures. With stronger currents in the seas, visiting bustling Quito or charming mountainside villages are popular.
Holidays & Events
August 16: The Festival of the Corn, a festival in Tarqui, involves the much-anticipated Corn Queen Competition, and energetic local music and dance fill the streets.
End of August: The Yamor Festival, held in the communities of the Otavalo people, pays homage to Mother Earth. Music and dance in brightly-colored geometric designs fill the streets, and chicha—a fermented corn drink—is widely popular.
Must See
While the currents are strong in July and August, the colder waters make for peak whale-shark sightings. The Galápagos Hawk, with its spotted golden plumage, begins courting on the islands of Española and Santiago. Nesting season for masked boobies and swallow tail gulls begins on Genovesa.
Ecuador in September-October
September is the best time to visit the Amazon. Less rain means fewer mosquitoes, lower rivers, and better trail access. Through September is the Ecuadorean winter—cooler temperatures mean high-energy excursions are more manageable. October is the beginning of the rainy season, dropping regular rainfall until May.
September marks the end of a vacation season, so by the end of the month there are generally fewer tourists. Prices will be lower, and popular tours and attractions—especially the Galápagos Islands—will be less crowded.
Holidays & Events
September 23 and 24: The Festival of the Virgen de Las Mercedes sees plazas and streets all across South America filled with people wearing black masks and sporting brightly-colored religious dioramas on their backs.
October 9: Ecuador celebrates the independence of Guayaquil, the city in which its revolution began. The streets are filled with ornate dancing, music, and fireworks.
Must See
During the coldest season in Galápagos, several species including penguins and sea lions are most plentiful. Blue-footed boobies and other seabirds are hatching, while stony-plumed lava herons and giant tortoises are nesting. With the coming of nutrient-rich sub-Arctic waters carried by the Humboldt Current, colorful marine life like the Burrito Grunt Fish begin schooling in the region.
Ecuador in November-December
A couple of months into the rainy season, vegetation is now lush and thick everywhere. Insects are more plentiful and wildlife is harder to spot amid the increasing rains.
Holidays & Events
November 2: The Day of the Dead brings families in rural Ecuador to their loved ones' graves for picnics, while city dwellers drop flowers at the graves and enjoy a family meal at home in memoriam of their passed relatives.
December 6: The Foundation of Quito Festival celebrates the founding of the city with streets and plazas flooded with dancing, music, and frenetic street parties.
Must See
Sea lion pups with their upturned snouts and gleaming black eyes are born, and the beaches are rife with tortoise hatchlings making their way to sea. Mating season begins for green sea turtles and elegant brown noddies.
Average Monthly Temperatures
Compare Our Adventures
Click 'Select to Compare' to see a side-by-side comparison of up to adventures below—including
activity level, pricing, traveler excellence rating, trip highlights, and more
16 DAYS FROM $6,295 • $ 394 / DAY
Small Ship Adventure
Ecuador: Quito, Amazon, Galápagos
38 meals—daily breakfast, 11 lunches, and 12 dinners (including 1 Home-Hosted Dinner)
Take a 7-night Galápagos cruise on a privately-chartered ship
Set out on daily snorkeling excursions and view native wildlife on the islands
Experience the Amazon Rain Forest and A Day in the Life of an Amazon tribe
Explore downtown Quito and its historic Old Town
16 DAYS FROM $5,795 • $ 363 / DAY
Small Ship Adventure
Peru: Lima, Cuzco, Machu Picchu • Ecuador: Galápagos, Quito
36 meals—daily breakfast, 11 lunches, and 10 dinners (including 1 Home-Hosted Lunch)
Take a 4-night Galápagos cruise on a privately-chartered ship
Set out on daily snorkeling excurisons and view wildlife on the islands
Explore downtown Quito and its historic Old Town
Straddle the equator while visiting the Middle of the Earth museum and complex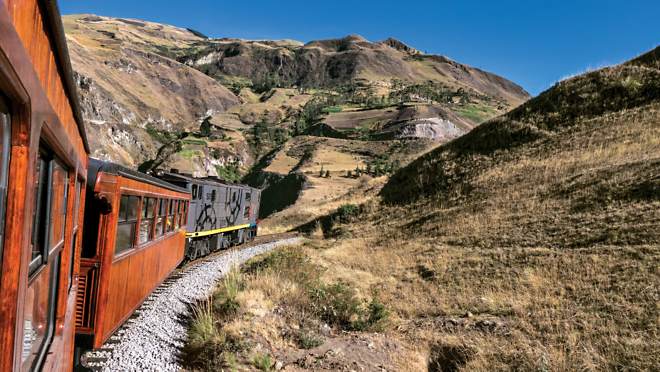 7 NIGHTS FROM $1,895
POST-TRIP EXTENSION
Ecuador: The Andes & the Devil's Nose Train
Days in Ecuador
6
Explore downtown Quito and its historic Old Town
Tour the town of Riobamba, surrounded by the majestic Andes Mountains
Ride the Devil's Nose Train, a thrilling train ride over steep gorges and past waterfalls
Discover the natural beauty of Cajas National Park, South America's alpine tundra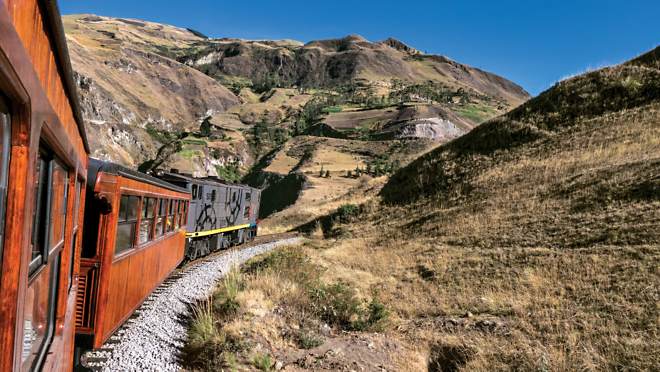 Not Applicable*
Not Applicable*
18 meals—7 breakfasts, 6 lunches, 5 dinners
Explore downtown Quito and its historic Old Town
Tour the town of Riobamba, surrounded by the majestic Andes Mountains
Ride the Devil's Nose Train, a thrilling train ride over steep gorges and past waterfalls
Discover the natural beauty of Cajas National Park, South America's alpine tundra
Compare Adventures
Find the Adventure That's Right for You
Our Activity Level rating system ranks adventures on a scale of 1 to 5 to help you determine if a trip is right for you. See the descriptions below for more information about the physical requirements associated with each rating.
Activity Level 1:
1 2 3 4 5
Easy
Travelers should be able to climb 25 stairs consecutively, plus walk at least 1-2 miles over some uneven surfaces without difficulty. Walks typically last at least 1-2 hours at a time. Altitude can range from zero to 5,000 feet.
Activity Level 2:
1 2 3 4 5
Moderately Easy
Travelers should be able to climb 40 stairs consecutively, plus walk at least 2-3 miles over some uneven surfaces without difficulty. Walks typically last for at least 2-3 hours at a time. Altitude can range from zero to 5,000 feet.
Activity Level 3:
1 2 3 4 5
Moderate
Travelers should be able to climb 60 stairs consecutively, plus walk at least 3 miles over some steep slopes and loose or uneven surfaces without difficulty. Walks typically last for 3 or more hours at a time. Altitude can range from 5,000 to 7,000 feet.
Activity Level 4:
1 2 3 4 5
Moderately Strenuous
Travelers should be able to climb 80 stairs consecutively, plus walk at least 4 miles over some steep slopes and loose or uneven surfaces without difficulty. Walks typically last for 4 or more hours at a time. Altitude can range from 7,000 to 9,000 feet.
Activity Level 5:
1 2 3 4 5
Strenuous
Travelers should be able to climb 100 or more stairs consecutively, plus walk at least 8 miles over some steep slopes and loose or uneven surfaces without difficulty. Walks typically last for 4 or more hours at a time. Altitude can range from 10,000 feet or more.
Hide Acivity Level
TRAVELER EXCELLENCE RATING
PRICE
including international airfare
HIGHLIGHTS & ACTIVITIES IN ECUADOR
*This information is not available for our trip extensions. You must reserve the main trip to participate on this extension.
**This information is not currently available for this trip. Please check back soon.
Darwin's Galápagos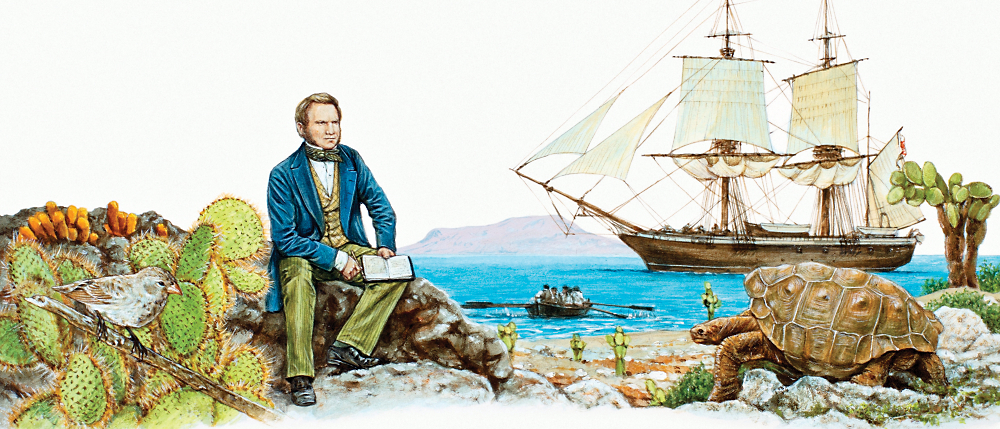 Islands whose wildlife inspired a great naturalist
by Jessie Keppeler
Six hundred miles west of mainland Ecuador in the Pacific Ocean lies an archipelago of huge scientific significance—the Galápagos. When these volcanic islands formed roughly five million years ago, they were devoid of all life. The creatures that make the Galápagos famous today crossed hundreds of miles of open ocean to get there. Some flew or swam, but others reached the islands by less conventional methods—carried in animals' stomachs, attached to the feathers or feet of birds, or floating on rafts of vegetation.
Because of these circumstances, the wildlife on the islands today consists primarily of birds, sea mammals, and reptiles. The Galápagos giant tortoise crawls slowly along the rocks, land iguanas scurry across ledges, and playful sea lions and penguins swim offshore. Since the islands were never inhabited by large predators, the animals of the Galápagos have little fear of visitors.
A naturalist arrives in the Galápagos
These fearless creatures caught the attention of a young naturalist named Charles Darwin when he arrived in the Galápagos aboard the HMS Beagle. On September 16, 1835, Darwin first set foot on San Cristobal Island. Initially, he was not impressed. He wrote in his journal, "The black rocks heated by the rays of the vertical sun like a stove, give to the air a close and sultry feeling. The plants also smell unpleasantly."
Darwin referred to the marine iguanas that he found scurrying along the shore as "hideous-looking creatures, of a dirty black color, stupid and sluggish in their movements." He conceded, however, that in the water the iguanas swam "with perfect ease and swiftness," and he was amazed by how tame all the animals and birds were.
Darwin was further impressed by the wildlife of the Galápagos when he first saw the islands' giant tortoises. When the Beagle sailed on to Floreana Island, the governor of the Galápagos told Darwin that he could identify the island of origin of any of the giant tortoises simply by the shapes and markings of their shells. The governor's comment stayed with Darwin, and its full impact struck him later.
A theory is born
Soon after Darwin had returned to England in 1836, he formulated his idea of "natural selection" as a mechanism for the creation of new species. In his own words, "Natural Selection … leads to the improvement of each creature in relation to its conditions of life; and consequently, in most cases, to what must be regarded as an advance in organization." But it wasn't until 1859—over two decades after his time in the Galápagos—that Darwin finally released his masterpiece: The Origin of Species. The scientific community embraced Darwin's theories, and the general population was quick to follow. The book has remained in print since 1859 and has been translated into more than thirty languages.
Although Darwin was not the first to theorize about the topic, he is credited with laying the foundation for the modern theory of evolution. He achieved this by linking natural selection to biological evolution in a way that no one else had before, based on his thorough study of the subject.
For the research that led to his theories, Darwin had the perfect location in the Galápagos Islands, whose geographical isolation made them ideal for studying evolution. Separated from the mainland by 600 miles of deep water and swift currents, and isolated from each other, these islands allowed species to develop independently, making differences across populations—like those of giant tortoises—more apparent to an observer.
The Galápagos today
In the Galápagos Islands today, visitors still arrive by boat, stepping ashore much as Darwin did nearly 200 years ago. The geology has changed little—the islands' surface is basalt volcanic rock, with many lava flows. And the islands are still bustling with rare animals and birds—from the playful fur seal to the bright red vermilion flycatcher. In 1979, the Galápagos were designated a UNESCO World Heritage site for their incredible wildlife.
There are 58 resident bird species on the Galápagos, and another 25 species that migrate to the islands. A visitor to the Galápagos today could find over 40 species of birds during a week of careful observation, and everyone sees at least some of the famous Darwin's finches, of which there are 13 different species.
Among sea birds, the charming and playful Galápagos penguin is notable. The waved albatross stands out for its courtship ritual of 20 minutes of bowing, honking, and whistling, as do the boobies, who fly fast and plunge deep into the ocean. There is also plenty of reptile viewing. Just like Darwin, visitors today can observe the marine iguana, the only sea-going lizard in the world, and the larger land iguana.
Because mammals had fewer chances to survive a great ocean crossing, there are fewer of them on the Galápagos. There are, however, two bat species, two species of rice rat, and the Galápagos sea lion. These mammals, a subspecies of the California sea lion, are generally curious and will join snorkelers at play. Fur seals, whales, and dolphins are also found in the waters offshore.
In 1964, the Charles Darwin Research Station was established on Santa Cruz Island, and today, its more than 100 scientists, educators, and volunteers work to preserve the natural heritage of the Galápagos. Named for the naturalist who brought the world's attention to the unique wildlife of these isolated islands, the Research Station helps to ensure that Darwin's legacy will endure.
Islands whose wildlife inspired a great naturalist
Darwin's Finches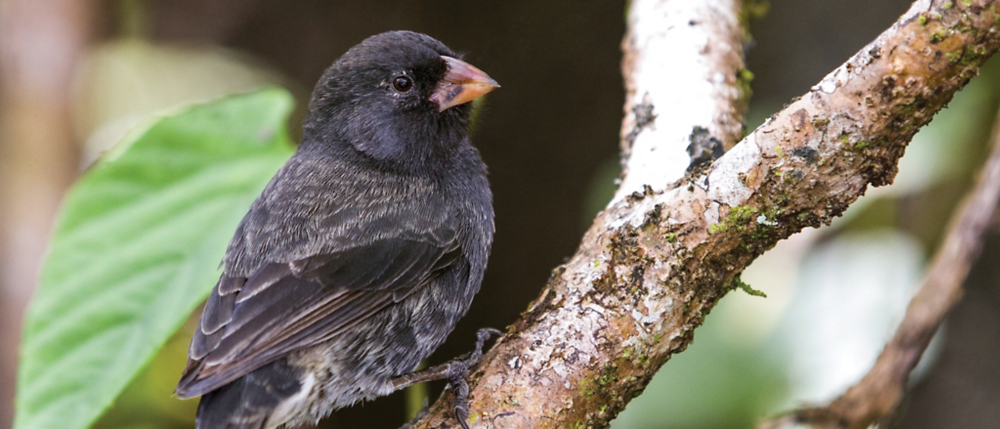 The little birds that rocked the world
by Tom Lepisto, from Dispatches
In September of 1835, a 26-year-old British naturalist named Charles Darwin sailed into the Galápagos Islands aboard the HMS Beagle. Traveling at his own expense as a gentleman's companion to Captain Robert FitzRoy, Darwin was part of a five-year naval mission to survey the geography and natural history of little-explored locations along the ship's round-the-world course, including the coasts and islands of South America.
In the Galápagos, an isolated archipelago some 600 miles west of Ecuador, Darwin noticed some darkfeathered birds that ranged from four to six inches long flitting around on the four islands that he visited over the course of five weeks. Darwin was not a specialist in ornithology, but he made careful observations of these birds, which he thought were a mixture of finches, blackbirds, and grosbeaks. He noted their differences in overall size, thickness of beak, and feeding habits, which varied from island to island.
Although Darwin focused even more on the mockingbirds of the Galápagos than he did on the finches, he skillfully gathered data on all the species that he encountered. He noticed a common thread in the variations he was seeing: Similar species on different islands had developed different characteristics. And he began to wonder why.
In the isolation of the Galápagos, the local variations between species stood out with particular clarity. The thought process that this inspired for Darwin eventually led him to a single phrase that shook the world of science: "natural selection." The idea of evolution had actually been advanced before Darwin's time, notably by Jean-Baptiste Lamarck, but it lacked a mechanism to explain how species evolved over time.
As Darwin analyzed all the observations he had made during the Beagle's voyage, including his birdwatching in the Galápagos, he was the first to propose that variations that helped members of any species to adapt best to their environment facilitated the survival and reproduction of the individuals possessing them, leading to evolutionary changes in whole populations. In hindsight, it seems almost obvious that, for example, a bird with a large beak would out-compete birds with smaller beaks among plants that have large seeds. But at the time, proposing this as the basis for evolutionary changes was a big leap even for Darwin—who had studied to become an Anglican parson and accepted the Biblical account of Creation.
When Darwin got back to England, he shared his information about the birds of the Galápagos with John Gould, a leading ornithologist of the time. Gould had the expertise to refine Darwin's identifications, and to confirm the discovery of what he considered to be twelve new species of finches. Since then, modern research using DNA analysis has classified all of Darwin's "finches" as members of the tanager family (Thraupidae), comprising about 14 species. So perhaps they could more properly be called "Gould's tanagers"—although in popular usage, this description is not likely to displace "Darwin's finches" anytime soon.
Visitors to the Galápagos today have the chance to see some of these birds, whose common names still use "finch," while scientifically they fall into the genera Geospiza (six species of cactus finches and ground finches), Camarhynchus (five species including three kinds of tree finch), Certhidea (two species of warbler-finch), and Platyspiza (one species called the vegetarian finch, P. crassirostris).
For example, the large cactus finch (G. conirostris) is a dark-colored bird about six inches long. As the name implies, its favored food is the opuntia (prickly pear) cactus, and it lives only on Española, Darwin, Wolf, and Genovesa Islands. The smaller common cactus finch (G. scandens) lives on most of the other islands, so as Darwin observed, the populations of these species are mutually exclusive.
Although observing these little birds was just one part of the larger process of data collection that led Charles Darwin to his historic insights, their fame is well deserved. Like a jigsaw puzzle, without this piece, the picture of how Darwin arrived at his theory of evolution by means of natural selection would not be quite complete.
The little birds that rocked the world
Must Go Galápagos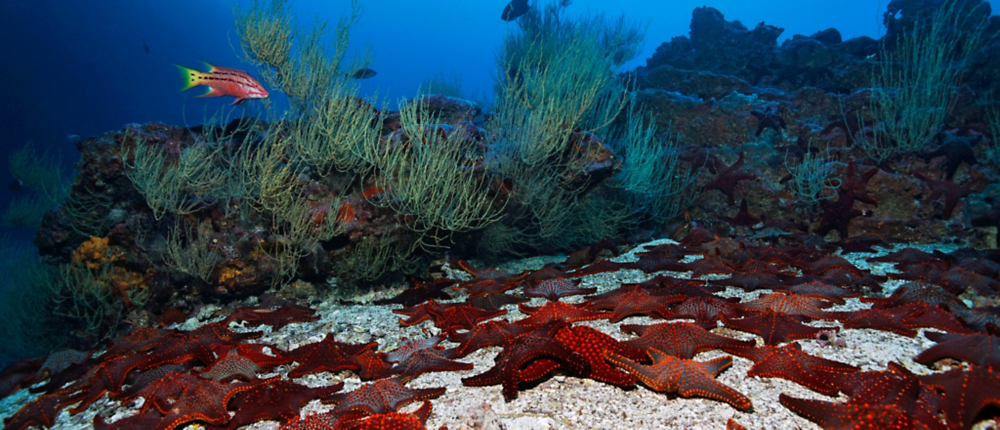 4 signature experiences—plus, what to pack
by Amanda Morrison
Melville dubbed them the "Enchanted Isles," and travelers routinely describe their visits as "otherworldly." But what is it about the Galápagos Islands that makes them so enchanting?
Find out by delving into the highlights below—and get a jump on what's essential to bring with you.

Snorkel in a sea of stars
Galápagos sea stars are stunning. They range from jumbo-sized with cherry red "pin cushioned" bodies to small, stout, and darkly dotted—lending them the nickname "chocolate chip starfish." And depending on the coves you venture to, you may also spot marine iguanas, sea turtles, and even white-tipped sharks.
What to pack:
2 swimsuits (so you can wear one while the other is drying)
Waterproof sunscreen
Underwater camera

Island-hop with ease
While your ship is on the move, you can relax in the lounge, take a catnap in your cabin, or kick back on the Sun Deck. Since half of the deck is canopied, you can catch a breeze—and take in your sublime surroundings—in the comfort of the shade.
What to pack:
Shorts, T-shirts, a light jacket, and casual active wear
Sea bands (if you're prone to motion sickness)
Reading material
Playing cards

Ride the waves in search of wildlife
While dinghy-touring along the edges of islands, you'll bob mere inches from species like Sally Lightfoot crabs, oystercatchers, penguins, and perhaps the most beloved icon of the isles: goofy blue-footed boobies.
What to pack:
Sun protection essentials (sport performance sunscreen, a wide-brimmed hat, sunglasses, and lip balm with SPF)
Camera
Binoculars

Walk on lava
The Galápagos is so well-preserved that on each island, you can spot traces of its beginnings. Lava trails are especially revealing: As you walk on them, you'll notice rough, dry aa (ah-ah) rubble that has long since crumbled apart, and smooth, swirling pahoehoe (paw-hoey-hoey) that has flowed more recently.
What to pack:
Trekking sandals
Walking stick (optional)
A reusable canteen
4 signature experiences—plus, what to pack
Bats of the Amazon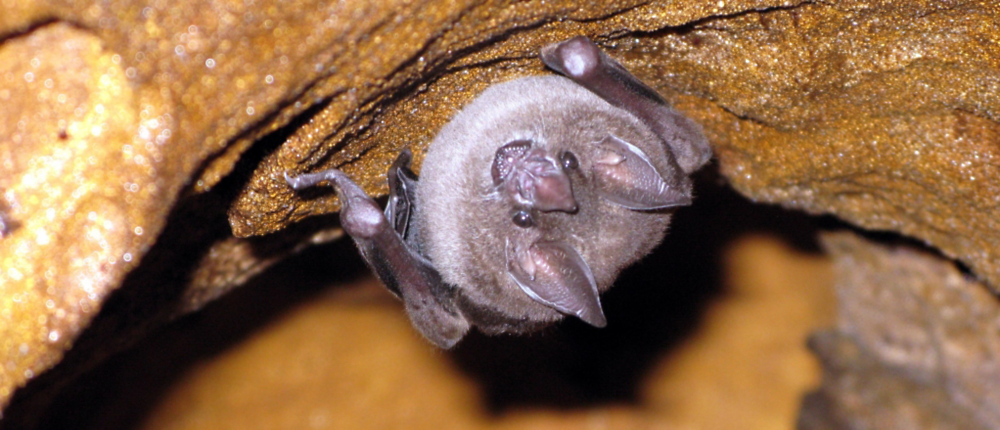 Flying mammals that benefit the rain forest
for O.A.T.
"Are we in any danger while we are sleeping from the bats that are flying around us?" I've been asked this question more than once while sitting with a group around a campfire in a wilderness area after dark. After explaining that there was almost no danger from the bats, I've also heard questions along the lines of "So they will not get into the tents and suck our blood?" and "Aren't all bats vampires?"
After answering ("NO. No. And no."), I began to explain that of the more than 1,200 bats in the world, only three were parasitic on mammals, and instead of sucking blood as portrayed in horror stories, the vampire bats make small incisions in the skin of the animals that they prey on and lap the blood up—much as a cat would do when drinking milk. Bats prefer almost any other mammal over humans as prey, so bat bites are rare. All three parasitic bats are found in Central and South America, and in particular the Amazon rain forest, where, incidentally, more than 1,000 of the world's species of bats are found.
Many species, many diets
Seventy percent of the bats of the Amazon are insect eaters. (Here and elsewhere, they most notably feed on mosquitoes—as many as 1,000 an hour—and are therefore critical to keeping many areas comfortable and disease-free.) The rest of bat species typically feed on nectar, fruits, or small vertebrates such as birds, lizards, and frogs. The frog-eating bats are able to distinguish the sound of frogs amid a cacophony of other sounds—and can even distinguish among particular frog species—and then zero in on the selected target.
The fruit-eating bats are important in the ecology of the Amazon rain forest in that they disperse the seeds of the fruits they eat by spitting out the pulpy portions containing the seeds, while the nectar-feeding bats scatter pollen necessary for the survival of plants. Pollen gets stuck to the bats when they are feeding and scatters into the air when they take off, thereby pollinating flowers in the vicinity. It is said that more than 150 species of plants in the Amazon rain forest depend on bats for their survival through pollination and dispersal.
Masters of nature's radar
Echolocation is the process whereby many bats negotiate the forest at night (a very necessary adaptation in the deep dark of the Amazon jungle) and how they locate their food. The process has only been confirmed in the last 100 years, although in the 1790s it was discovered that bats use their ears for flying and hunting.
A researcher released bats into a dark room with silk threads strung from side to side and discovered that they navigated the hazards with ease. It was only when he plugged their ears that the bats lost much of their flying skill, and from this he deduced they used their ears when flying and hunting, but how it worked eluded him. It was only in the 1900s that it was discovered that bats use echolocation—whereby high frequency sounds are emitted by the bats and when these sound waves hit prey they bounce back to the bat, thus enabling him to calculated the size, position, and distance of the prey.
The Amazon is certainly the best place on Earth to study bats—but do not be disappointed if most bats in the world find your blood offensive to their senses.
Flying mammals that benefit the rain forest
The Shaman and Healing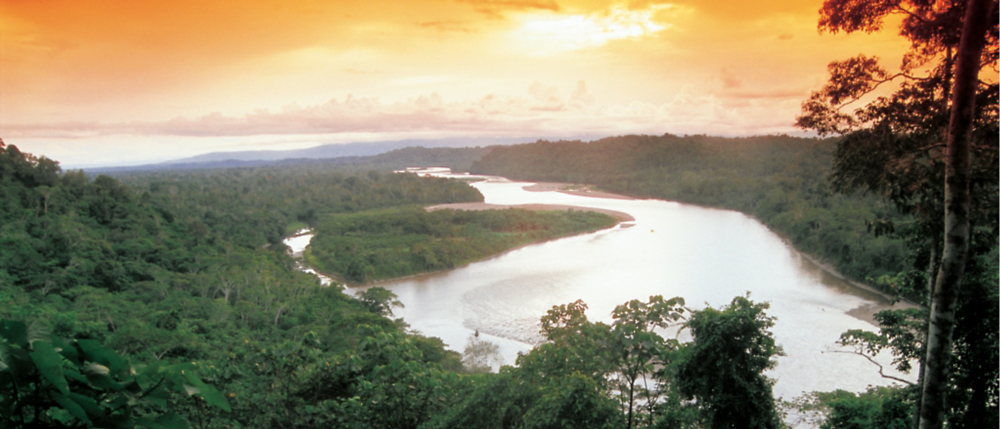 by Lois Huffines, from Dispatches
The shaman smoked a loosely rolled cigar made up of leaves from the rain forest surrounding his home. The smoke was not as pungent or sickening as that I have smelled from the old men who used to smoke in restaurants and poison the atmosphere of a nice dinner. Shamen are known to smoke mild hallucinogenics in order to delve more deeply into the spirit or suffering of those who come seeking help. It was said the smoking helped them achieve greater insight, propelling them further into the mysteries of healing and cleansing. We did not come seeking help but were offered a cleansing ceremony and now sat on tree stumps as the shaman worked around us.
Sweeping the dust from our souls
He cleansed four of us at a time. First, smoking his cigar, he blew smoke around each of us, from behind our heads and shoulders and then in front of us, over our heads and around our chests. It was not unpleasant as I had expected it to be. Next he held a bunch of leaves on stems, like a bouquet. I do not know the bush or tree that had sacrificed the ends of its soft branches.
Although he would touch us occasionally, as if incidentally with the leaves, he spent considerable time shaking the leaf bouquet over our heads, along our spines, and in front of our chests, chanting softly now and again. I imagined that the leaves were sweeping the dust from our souls and the dirt from our spirits, as we sat mute, eyes closed, our palms facing upwards and resting on our knees. He worked around us again and again, perhaps three separate times he shook the bouquet rhythmically over, behind, and in front of us. Then one last time, as if this were the crux, the purpose that he had been working toward, he thrust the leaf bouquet, almost violently, as he held on to it, stretching out the full length of his arm, making the sound of a forceful wind. It was as if he were throwing all our individually collected evil particles into the darkness of the rain forest, into the ethers of the universe.
The ceremony lasted about ten to 15 minutes. I was aware during the time of other people from our group whispering, taking pictures, walking quietly, and observing us now and again. I could hear the sounds of the rain forest that surrounded the clearing and the food preparations in the background. Incongruously, I heard modern pop music from a radio coming from a neighboring clearing not far away. Tomorrow was market day, and the tribal people were gathering their produce to send it up or down the Napo River for selling.
Yes, it was noisy. But I also became aware of the back of my eyelids where a light show played, as if through my lids I stared at a light which changed variously into shadows. This is not to say that the cleansing ceremony caused this experience of light and shadow play, but I followed it with quiet interest. There was no regular pattern, but my eyelids glowed warm and bright, then shaded and dark. Perhaps it came from movements of those around us or from clouds passing in the sky.
Then slowly it was over. We rose from the tree trunks, somewhat bewildered as to what we were supposed to feel, somewhat embarrassed. But I was pleased and grateful. The shaman had given us what he could, in addition to inviting us to his home and sharing his produce and teaching us his tribal ways.
Connections to nature ... and each other
The afternoon was one of learning and discovery, a motto of Overseas Adventure Travel. Our host, born a tribal member himself and learned in tribal ways from his grandfather's teachings, introduced us to blow guns. By providing the hand-made darts, we tried to hit a target, a feat which three in our group managed to do. We learned to throw the javelin, as if hunting game. He painted some of our faces with symbols to give us luck. He pulled up the root of the yucca plant which we peeled, cooked in palm leaves, and ate along with a fish from the river also cooked in palm leaves over an open fire. I declined to eat the fat creeping grub roasted alongside the flames. The tribal people clearly knew the secrets of the land and river, how to eke a living from them, and how to understand their own connections to nature.
The shaman, as a spiritual and medicine man, also knew the limits of his medical knowledge. His wife, proficient as she (and perhaps every adult in the tribe) was with wielding a machete, had injured her hand severely. While working in the forest, she had swung the knife to cut a bush, but it had caught the branch of a bush close by, and that deflected her aim. She sliced her hand between the thumb and the index finger to the bone. They took her up river to a medical doctor who treated her, gave her an antibiotic, and examined her for infection—there was none. That had been over two weeks before we arrived. Still she protected the hand by holding it close to her body, and it was clearly swollen.
Among the members of our group was a physical therapist. Sitting with the woman and the guide as a translator, she explained to her how to massage the swelling and emphasized exercising the hand in order to regain usage. The therapist also massaged her shoulder and neck which were sore from the way she had been holding the hand to protect it. Otherwise, her wound was healing nicely, but she needed to exercise it regularly to regain usage. As the cleansing ceremonies proceeded, the therapist and guide spoke quietly with the woman until she understood what she had to do. We were all grateful that our group could provide that specific expertise.
We left in our motorized canoe, a very long one that held all 16 of us plus a driver and a Trip Leader. We had spent the whole morning learning from this family. Much further down the river, an oil well pumped in a large clearing, the rig towering above the trees. I worried about the health of the rain forest, about the wellness of its tribes, and about this family as modern oil corporations edged closer to them. It was warm and humid. We were at the equator in Ecuador. I wanted to stretch out my arms and hold away the evils of corporate development, but I also wanted the family to experience some of the leisure and advantages of modern life. It is not my decision, and no matter how long and how strongly I would hold up my arms to stop it, I would not halt modernity in any of its guises.