***Forgot Your Username?
***If you have forgotten your username, please provide your email address in the box below. We'll send you an email with your requested username. If you are having trouble, please call us at 1-800-221-0814.......
Email Sent!!
***You'll receive an email in a few minutes. Please check this email to find your requested username.
If you do not receive an email or you are having trouble logging into My Account, please call us at 1-800-221-0814.

ICELAND
Beautiful Iceland has much to offer beyond its stunning landscapes—although the sparkling glaciers, angular black cliffs, green peaks, and rushing waterfalls put Icelandic scenery in a league of its own. What makes Iceland truly special is its people and their warmth, individuality, and culture. The world's first parliament was convened here in the year 930, but Icelandic politics are far from dated—they were the first country to democratically elect a female president, the first to elect an openly gay prime minister, and the first to officially require equal pay for women. Impressively, one in ten Icelanders will publish a book in their lifetime.
Iceland's progressive politics and culture are grounded in a countrywide embrace of family values—perhaps because most Icelanders are distantly related, having descended from just a few Viking settlers (they have an app to help them avoid dating a distant cousin). It's not just the family tree that connects Icelanders to one another—their famous Ring Road, Route 1, encircles the entire country and connects to most communities. On its way, it passes active volcanoes, bobbing icebergs, deep fjords, thousands of friendly Icelandic horses—and, on a dark, clear night, the northern lights dancing above it all.
Most Popular Films
Films featuring Iceland from international, independent filmmakers
CNNGo in Reykjavik Daytrip Golden Circle
We've been working with independent international filmmakers to provide you with videos that portray the people, culture, and lifestyles of the countries you're interested in visiting. We believe this video offers a unique perspective on Iceland.
Courtesy CNN
8 Must Do Adventures in Iceland
Discover 8 heart-pumping adventures that Iceland has to offer.
Produced by Kerrin Sheldon and Gaston Blanchet
Elemental Iceland
Witness Iceland's spectacular natural wonders—from rugged cliffs to roaring waterfalls.
Produced by Stian Rekdal
Iceland Interactive Map
Click on map markers
below to view information about top Iceland experiences
Click here to zoom in and out of this map
Featured Reading
Immerse yourself in Iceland with this selection of articles, recipes, and more
ARTICLE
These unseen enchanted creatures are widely known in Icelandic culture—uncover their mysterious lure here.
ARTICLE
Iceland is for adventurous foodies—and with dishes like fermented shark, this country's "delicacies" are far from normal.
ARTICLE
Iceland has unparalleled natural beauty that will leave you in awe, including the wondrous northern lights.
Compare Our Adventures
Click 'Select to Compare' to see a side-by-side comparison of up to adventures below—including
activity level, pricing, traveler excellence rating, trip highlights, and more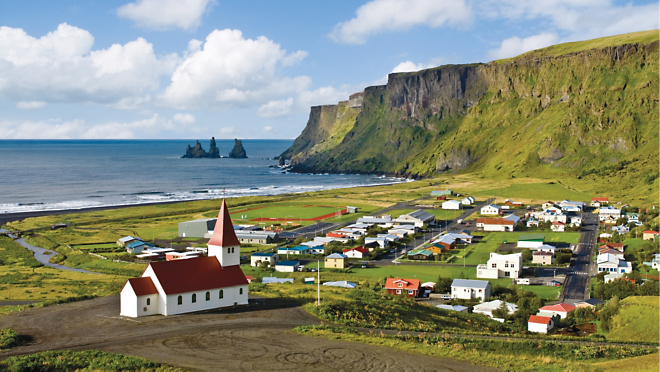 12 DAYS FROM $4,495 • $ 375 / DAY
Small Group Adventure
Iceland: Reykjavik, Stykkisholmur, Akureyri, Selfoss
22 meals—daily breakfast, 5 lunches, and 6 dinners (including 1 Home-Hosted Dinner)
Explore the natural and historic highlights of the Golden Circle
Relax in the warm turquoise waters of the Blue Lagoon
Spot whales on a restored fishing boat in Dalvik
Explore Lake Myvatn and its otherworldly surrounds
Discover volcanoes, glaciers, and waterfalls on Snaefellsnes Peninsula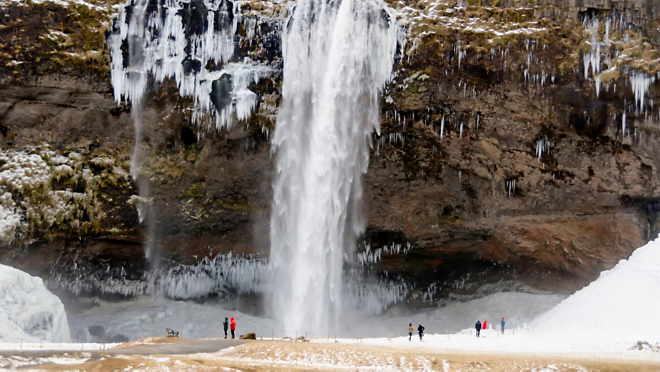 9 DAYS FROM $3,645 • $ 405 / DAY
Small Group Adventure
First Departure 11/1/17
Days in Iceland
8
Iceland: Reykjavik, Vik, Fludir
17 meals—daily breakfast, 4 lunches, and 5 dinners, including one Home-Hosted Dinner
Explore the historic and natural highlights of the Golden Circle
Delve into the tunnels inside a glacier at Langjokull Ice Cave
See the rift where two continents meet at Thingvellir National Park
Watch icebergs drift out to sea on the Jökulsárlón Glacial Lagoon
Wander the streets of the culturally vibrant capital city Reykjavik
Compare Adventures
Find the Adventure That's Right for You
Our Activity Level rating system ranks adventures on a scale of 1 to 5 to help you determine if a trip is right for you. See the descriptions below for more information about the physical requirements associated with each rating.
Activity Level 1:
1 2 3 4 5
Easy
Travelers should be able to climb 25 stairs consecutively, plus walk at least 1-2 miles over some uneven surfaces without difficulty. Walks typically last at least 1-2 hours at a time. Altitude can range from zero to 5,000 feet.
Activity Level 2:
1 2 3 4 5
Moderately Easy
Travelers should be able to climb 40 stairs consecutively, plus walk at least 2-3 miles over some uneven surfaces without difficulty. Walks typically last for at least 2-3 hours at a time. Altitude can range from zero to 5,000 feet.
Activity Level 3:
1 2 3 4 5
Moderate
Travelers should be able to climb 60 stairs consecutively, plus walk at least 3 miles over some steep slopes and loose or uneven surfaces without difficulty. Walks typically last for 3 or more hours at a time. Altitude can range from 5,000 to 7,000 feet.
Activity Level 4:
1 2 3 4 5
Moderately Strenuous
Travelers should be able to climb 80 stairs consecutively, plus walk at least 4 miles over some steep slopes and loose or uneven surfaces without difficulty. Walks typically last for 4 or more hours at a time. Altitude can range from 7,000 to 9,000 feet.
Activity Level 5:
1 2 3 4 5
Strenuous
Travelers should be able to climb 100 or more stairs consecutively, plus walk at least 8 miles over some steep slopes and loose or uneven surfaces without difficulty. Walks typically last for 4 or more hours at a time. Altitude can range from 10,000 feet or more.
Hide Acivity Level
TRAVELER EXCELLENCE RATING
PRICE
including international airfare
HIGHLIGHTS & ACTIVITIES IN ICELAND
*This information is not available for our trip extensions. You must reserve the main trip to participate on this extension.
**This information is not currently available for this trip. Please check back soon.
Iceland's Huldufolk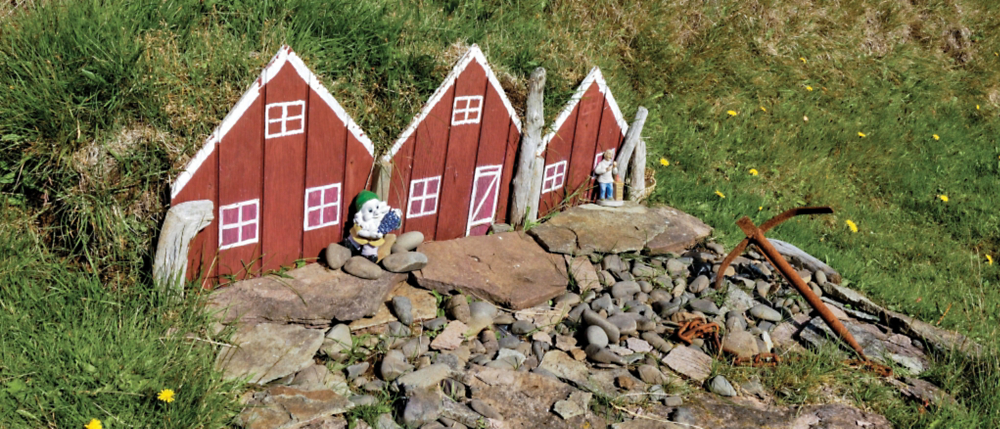 The surprising secret lives of Iceland's rumored elves
Jenny Cowing, for O.A.T.
A belief in nature spirits can be found around the world, from ancient aboriginal Australians to modern Shinto practitioners in Japan. But the affinity Icelanders have for their "hidden people," the huldufolk, is unique enough to stop traffic—literally!—and also offers unexpected insight into the spiritual side of this secular, intellectual society.
Belief in elves is widespread in Iceland, and the magical beings are thought to be ubiquitous yet elusive, inhabiting flowers and rocks, and often dressing like humans—although their costumes, which evoke 19th-century period dress, help give them away. Some, like the Bualfar, or house elves, are human sized, while Blomalfar, or flower elves, are mere inches tall. Popular folk wisdom holds that elves can most easily be spotted on Christmas Eve and New Year's Eve—when they seek new homes in rocks and streams that seem beautiful or strange enough to be enchanted by an unseen power.
Icelanders can petition their local government to divert roads and halt construction of buildings that might disrupt these inhabited "elf stones." In 2001, Smaralind, one of Iceland's largest shopping malls, had its electrical wiring and pipes rerouted to avoid a boulder suspected of boarding a family of elves. In the 1970s, construction workers clearing land for a highway near Reykjavik experienced a string of bad luck while trying to move a large boulder that lay in their path. The workers hired a clairvoyant who said he could communicate with the elves. He confirmed that the boulder was home to a family of elves, who agreed to leave—or at least allow the project to continue uninterrupted.
While this may seem curious at first glance, most Icelanders are quick to point out that this practice is more in the interest of inclusiveness and tolerance than in a literal belief in nature spirits. Indeed, Iceland's population is among the most educated, and its people pride themselves on fostering a secular society that is sensitive to the beliefs of all its citizens.
Few Icelanders claim to have had personal encounters with the huldufolk, who are said to be invisible to most people, unless they choose to reveal themselves. However, The New York Times notes that more than half of those surveyed in 2007 won't deny that the creatures exist. "It's not like they think there are little people living in there who come and dance outside," said Terry Gunnell, head of the Folkloristic Department at the University of Iceland in Reykjavik. "It's more a sense that there are other powers, other forces around them."
Anthropologists point to Iceland's Celtic roots, which have nurtured an affinity for magic and the supernatural. But the prevalence of visitors to supposed elven hotspots demonstrates that a fascination with these enchanted creatures is not just an Icelandic phenomenon. The port town of Hafnarfjordur prides itself on its unusually high elf population, and tourists gather each year to visit so-called elf habitats. Reyjkavik, Iceland's capital and its largest city, even boasts an Elf School, known locally as Álfaskólinn, which teaches about the country's different kinds of elves, and offers certificate programs for particularly curious visitors.
Once you see Iceland's volcanoes, geysers, and icebergs illuminated by Aurora Borealis' cosmic fireworks, it's hard not to think of a fantasy world like The Lord of the Rings' Middle Earth. Is it any wonder that folklore fancy of elves persists in Icelandic culture? This small island's haunting landscape, wrought by ice and fire—after all, Iceland sits atop a volcanic hotspot—has long sparked the imagination of visitors and lifelong residents alike. "We think nature is a lot stronger than man," Björk, one of Iceland's best-known musicians, told the New Yorker in an interview. Björk's otherworldly voice, eclectic compositions, and avant-garde costumes lend an ethereal quality to her performances that perfectly reflects her country's love of magic with a touch of whimsy. This sentiment may be one of Iceland's greatest treasures. Even in such a secular society, she says, "a relationship with things spiritual has not gone away."
The surprising secret lives of Iceland's rumored elves
Indelicate Delicacies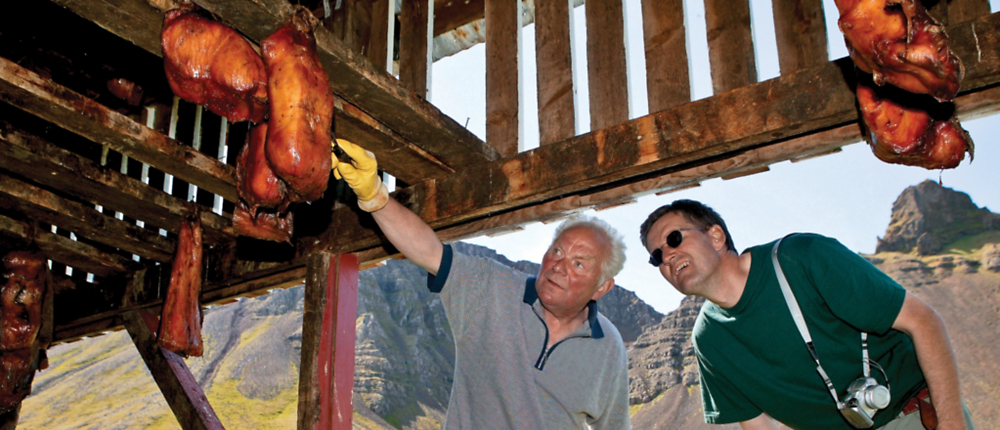 from The Inside Scoop
Question: In which country can you dine upon such delicacies as fermented shark, singed sheep's head, and horse meat?
Answer: Iceland
We'll preface this list by saying that it does not represent all Icelandic food. The country boasts a bounty of fresh seafood, some of the best lamb in the world, outstanding hot dogs, and a deliciously nutritious yogurt-type product called Skyr (which is technically a soft cheese). Greenhouses have made fresh fruits and vegetables much easier to come by—and crops like root vegetables and kale grow just fine in Iceland's cool, northern climate. Today, Iceland even boasts a number of fine dining restaurants.
That said, many of Iceland's traditional dishes are famously off-putting to the American palate. In order to survive the cold, harsh winters, Icelanders once had to rely on preservation techniques like smoking, drying, and fermenting to ensure they wouldn't go hungry.
With that in mind, would you try any of the following "delicacies"?
Shark attack. Certainly the most polarizing Icelandic dish is hakarl: fermented and dried Greenland shark. Not only does the long curing process ensure that hakarl can be safely eaten all year round (hooray!), it also removes toxins from the shark, which is poisonous when eaten fresh. To the uninitiated, hakarl tastes like cleaning products due to its high ammonia content. It has even bested the likes of TV host Anthony Bourdain, who proclaimed it "the single worst, most disgusting, and terrible tasting thing" he'd ever eaten.
Feeling sheepish. "Nose-to-tail" cooking is something of a trend in the U.S. these days—but in cold climates like Iceland, using every edible part of an animal was once a matter of survival. Svio—singed, boiled sheep's head—covers the "nose" part of the "nose-to-tail" spectrum. The head is singed (to remove the hair), sawed in half, and boiled. While the traditional presentation makes no attempt to disguise what's on the plate, many adventurous eaters manage to look past this and come to an unexpected revelation: Svio actually tastes pretty good.
Testing your mettle. Closer to the "tail" side of the equation? Hrutspungar: boiled and cured ram's testicles. We don't know anyone adventurous enough to look past this one.
Friends, not foods. Despite the fact that culinary tradition is often dictated by necessity, some of the animals eaten in Iceland cause the American moral compass to go haywire. First, there's the puffin. With a conservation status on the lower threshold of "vulnerable," some populations of Atlantic puffin have declined, but their largest—and thriving—colony is in Iceland. Most Americans who object to eating puffin do so because they're so darn cute. Horses—to us, beloved companions—have been raised domestically and eaten in Iceland since the 19th century. And yes, Iceland currently practices commercial whaling. To those who are morally opposed, it matters little that the Minke whale—the only species eaten in Iceland—is not endangered.
Fire water. Particularly for those brave enough to attempt hakarl, there's one spirit in Iceland that will banish the flavor of any offending food from your mouth: Brennivin. Unsweetened and flavored with caraway, Brennivin is affectionately referred to as "black death"—which, depending on what you ate, might be just what the doctor ordered.
Natural Treasures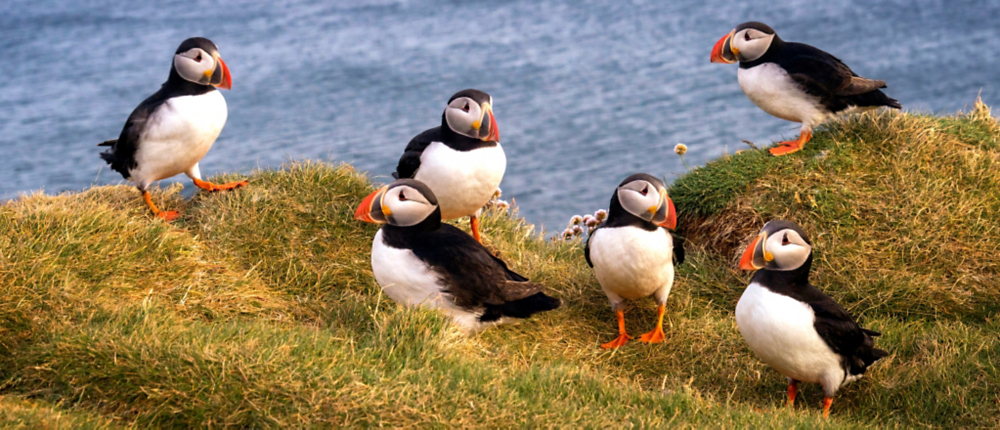 Tune in to Iceland's unique nature show
Megan Mullin, from Dispatches
Less than 20 million years ago, Iceland was born. While that may sound like a long time ago, the island's landscape is actually very young when compared to the rest of the world—and is still developing today. Created by volcanic eruptions in the Arctic regions of the Atlantic Ocean and Greenland Sea, Iceland is a rare combination of molten lava and glittering ice. Its relative youth and geographical isolation has also contributed to its unique natural qualities. It is a land of stark beauty and home to an abundance of wildlife.
Of course, when most people hear "Iceland," it is difficult not to envision a frigid place enveloped by glaciers and ever-falling snow. Iceland is also famous for its dark winters, with nights so long the sun never truly rises in December or January; for a precious five hours a day, the sky never brightens beyond a dusky gloaming. These long nights are not devoid of all light, however. From September to March, Mother Nature puts on her most breathtaking light show across the Icelandic skies: the famed northern lights.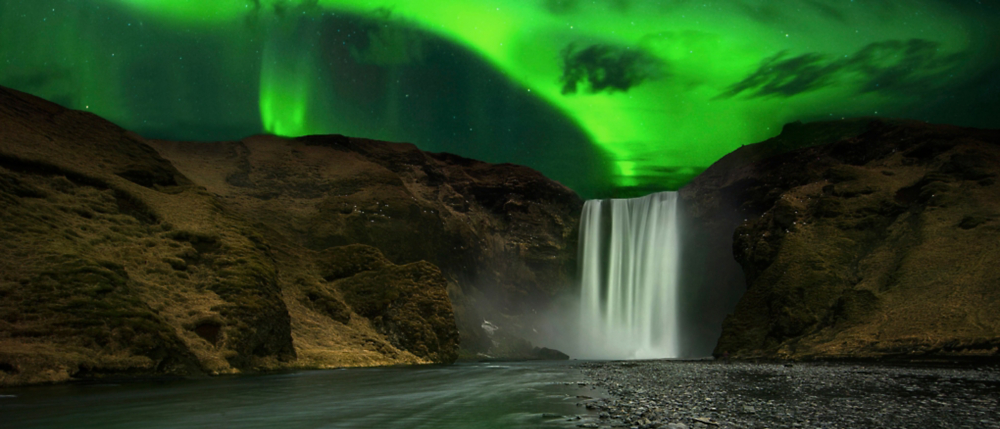 The northern lights, or aurora borealis, are a spectacular natural phenomenon visible in only a few places on Earth. Iceland happens to be one of the best locations to view this shimmering wonder, especially in the city of Reykjavik. An array of bright waves—ranging from green and blue to pink and purple—ripple across Iceland's night skies in an undulating dance of color and light. This dazzling display is caused by solar wind particles and ions streaming from the sun towards the Earth. When these reach the Earth's upper atmosphere, they collide with atmospheric particles and ions, creating the northern lights' signature glow.
Iceland's volcanic origins also provide a natural way to warm up during the colder months. Geothermal hot springs—which contain mineral-rich waters heated by underground lava flows—are known for their healing properties as much as they are for pure recreation. Locals and visitors alike bathe in these hot springs all year long, the Blue Lagoon in Reykjavik being one of the most popular. It features a man-made lagoon, but it is nature that provides the steaming water, which can get as hot as 98-102 degrees Fahrenheit.
Fortunately, winter does not last forever, and the arrival of spring brings radiant skies and the bustling renewal of flora and fauna. While only a handful of wild mammals can be found here—a result of the island's challenging environment—more than 300 species of birds have been recorded in Iceland, including 80 species that regularly use the island as a place to breed. Among the numerous colonies of seabirds that flock to Iceland's shores is the country's most iconic: the puffin. Stout little birds with coloration similar to penguins aside from brightly colored beaks and feet, puffins are one of Iceland's most beloved residents. These winsome seabirds are expert divers—their short wings are ideal for swimming underwater. But unlike their Antarctic doppelgangers, puffins can also fly quite swiftly, usually close to the ocean's surface. Over half of the world's Atlantic puffin population breeds in Iceland—which brings the total puffin population to approximately eight to ten million. Nesting in the safety of Iceland's majestic fjords and craggy cliffs, puffins have become a tourist attraction of their own, with visitors anxious to catch a glimpse of them in their austere natural habitat.
For an island roughly the size of the state of Ohio, Iceland contains a striking array of natural wonders. From icy-blue thermal baths to seabirds that choose to nest in frigid environs, it is indeed a land of contrasts.
Tune in to Iceland's unique nature show