Forgot Your Username
If you have forgotten your username, please provide your email address in the box below. We'll send you an email with your requested username. If you are having trouble, please call us toll-free at 1-800-221-0814.
Email Sent
You'll receive an email in a few minutes. Please check this email to find your requested username.
If you do not receive an email or you are having trouble logging into My Account, please call us at 1-800-221-0814.

MALTA
Just 50 miles south of Sicily, in the heart of the Mediterranean, lies one of the world's smallest countries: Malta. But size can be deceiving, because what this archipelago lacks in landmass, it more than makes up for in history and culture.
Malta has been continuously inhabited since 5200 BC, likely by immigrants from Sicily. These original Maltese peppered the islands with distinctive megalithic temples on Gozo, and at Hagar Qim and Mnajdra. However, due to Malta's strategic location, these ancient architects didn't control their archipelago for long. Beginning around 1000 BC, a parade of world powers began vying for domination: The Phoenicians, Carthaginians, Greeks, Romans, Byzantines, Moors, Normans, Sicilians, and Spanish all left their mark. But it wasn't until the 16th-century that Malta truly came into its own.
After being driven from Jerusalem, Cyprus, and Rhodes, the mysterious religious and military fellowship known as the Order of Knights of the Hospital of Saint John of Jerusalem (or simply, the Knights of St. John) took over sovereign control of Malta in 1530. Just 35 years later, the Ottomans attacked the island, in what would come to be known across Europe as the Great Siege. After repelling the would-be invaders, the Knights of St. John began a 250-year Golden Age, transforming Malta from a fishing outpost to a hub of fine arts and high society. Eventually, even the Knights' influence waned, and Malta was overtaken by modern empires: France in 1798 and Great Britain in 1814.
In 1964, the islands finally gained independence—but the vestiges of its colonial past have proven impossible to shake. Like the Knights of St. John before them, 90% of modern-day inhabitants are Roman Catholic. And while one official language is English (thanks to the Brits), the other is Maltese—a dialect with Arabic roots and strong Italian and Sicilian influences.
Most Popular Films
Films featuring Malta from international, independent filmmakers
No Place Like Malta
Soar high above the island of Malta—from its placid turquoise coves to its gleaming white cities.
Produced by Malcom Debono
Life in Malta
From a peaceful pace to friendly neighbors, hear why locals love living in Malta.
Produced by Michael Paulis
Malta Interactive Map
Click on map markers
below to view information about top Malta experiences
Click here to zoom in and out of this map
Compare Our Adventures
Click 'Select to Compare' to see a side-by-side comparison of up to adventures below—including
activity level, pricing, traveler excellence rating, trip highlights, and more
Compare Adventures
Find the Adventure That's Right for You
Our Activity Level rating system ranks adventures on a scale of 1 to 5 to help you determine if a trip is right for you. See the descriptions below for more information about the physical requirements associated with each rating.
Activity Level 1:
1 2 3 4 5
Easy
Travelers should be able to climb 25 stairs consecutively, plus walk at least 1-2 miles over some uneven surfaces without difficulty. Walks typically last at least 1-2 hours at a time. Altitude can range from zero to 5,000 feet.
Activity Level 2:
1 2 3 4 5
Moderately Easy
Travelers should be able to climb 40 stairs consecutively, plus walk at least 2-3 miles over some uneven surfaces without difficulty. Walks typically last for at least 2-3 hours at a time. Altitude can range from zero to 5,000 feet.
Activity Level 3:
1 2 3 4 5
Moderate
Travelers should be able to climb 60 stairs consecutively, plus walk at least 3 miles over some steep slopes and loose or uneven surfaces without difficulty. Walks typically last for 3 or more hours at a time. Altitude can range from 5,000 to 7,000 feet.
Activity Level 4:
1 2 3 4 5
Moderately Strenuous
Travelers should be able to climb 80 stairs consecutively, plus walk at least 4 miles over some steep slopes and loose or uneven surfaces without difficulty. Walks typically last for 4 or more hours at a time. Altitude can range from 7,000 to 9,000 feet.
Activity Level 5:
1 2 3 4 5
Strenuous
Travelers should be able to climb 100 or more stairs consecutively, plus walk at least 8 miles over some steep slopes and loose or uneven surfaces without difficulty. Walks typically last for 4 or more hours at a time. Altitude can range from 10,000 feet or more.
Hide Acivity Level
TRAVELER EXCELLENCE RATING
PRICE
including international airfare
HIGHLIGHTS & ACTIVITIES IN MALTA
*This information is not available for our trip extensions. You must reserve the main trip to participate on this extension.
**This information is not currently available for this trip. Please check back soon.
Featured Reading
Immerse yourself in Malta with this selection of articles, recipes, and more
ARTICLE
Learn how this sovereign military order shaped the island of Malta.
The Knights of Malta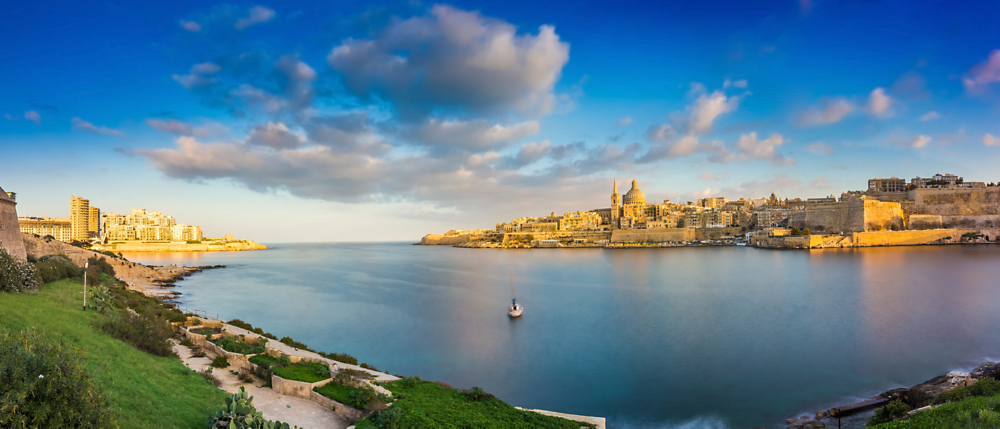 A story of crusades and constancy
Karen Hansen, from Dispatches
It may all sound far-fetched, but the true history of The Sovereign Military Hospitaller Order of Saint John of Jerusalem of Rhodes and of Malta, to give their full name, is the stuff that legends are made of. And when you visit their historic fortress-city at Valletta, Malta, the legend comes alive. Rising above the Mediterranean, enclosed by limestone walls, this enclave boasts more than 320 bastions, cavaliers, gates, gardens, churches and palaces set within 136 acres. And that's not even their headquarters. Those are in Rome, in a comparatively much smaller palazzo. How they got there is a long story. So let's start at the beginning ...
Birth of an order: the Holy Land
The Knights of St. John date back to 1048, when a group of merchants from the Duchy of Amalfi received permission from the Caliph of Egypt to build a church, hospital, and convent in Jerusalem. This charitable center was intended to serve those making the pilgrimage to the Holy Land, and was led by Gerard Thom, the spiritual founder of the order that came to be known as "Hospitallers." The Jerusalem hospice was operated by monks who had taken vows of poverty, chastity, and obedience. In accordance with their agreement with the Caliphate, they served all in need regardless of race or faith.
But things changed after the First Crusades and the European conquest of Jerusalem. The Order was charged not just with the care of the pilgrims but also with their defense, and the safeguarding of territories that Crusaders had taken from the Muslims. To accomplish this daunting task the order began recruiting Knights from noble families across Europe. Soon their ranks grew, as did their coffers. Increasingly militarized, increasingly wealthy, the Knights Hospitallers became defenders of the faith. But their defense was not enough to stop the Muslim sultan Saladin from retaking Jerusalem, and driving the Crusaders from their last strongholds in the Middle East.
The Order resettled in Cyprus, then regrouped on the island of Rhodes, where they built a formidable naval fleet that fought many decisive battles for Christendom during the Second and Third Crusades. Governed by a Grand Master answerable only to the Pope, the Knights were a force to be reckoned with. But their day of reckoning came in 1523 when the army of Suleiman the Magnificent forced their surrender, and allowed the Knights to peacefully exit from Rhodes. They remained without a territory until 1530, when the Holy Roman Emperor Charles V and his mother, Joanna Queen of Castile, granted them the island of Malta.
Valletta most proud
When the Knights arrived in Valletta there was only a small watchtower on the Sciberra Peninsula. They demolished it and built Fort Saint Elmo in its place. But when the Ottomans came calling in 1565, the fort was overtaken. Under the leadership of Grand Master Jean de Valette, the Order (with the help of the Spanish navy) defeated the Turks.
When news of the great victory reached Europe, money and resources poured in. Pope Pius V sent his best military architect to create a new city named after Jean de Valette, called Humilissima Civitas Valletta—"The Most Humble City of Valletta." Built according to what was then a novel layout, a rectangular grid with wide straight streets, the city's stout defenses were contrasted by the baroque elegance of its palaces, churches and gardens. Also in contrast was the nickname bestowed upon Valletta by the European elite: Superbissima Civitas—"Most Proud City."
The Order remained the pride of Valletta for the next 233 years, defeating Ottoman armies and fending off marauding corsairs. With their most worrisome foes under control, the Knights turned their attention back to the Order's original aims, building hospitals and medical schools. The Sacra Infermeria or "Holy Infirmary" was a state-of-the-art hospital with more than 600 beds that provided care for anyone in need, including women, slaves and non-Catholics. The skill of the doctors was renowned and many advanced surgical techniques were successfully practiced.
The Knights, who came from all over Europe and were divided into different Langues based on their native tongues, resided with their fellow speakers in different Auberges or hostels, many of which still stand in Valletta today. But the most impressive residence is the Grand Master's Palace, built in 1571. Today it is home to the House of Representatives of Malta and the office of the President of the Republic of Malta. Its State Apartments are filled with frescoes and priceless Gobelin tapestries. The Order's military prowess is displayed at the Palace Armory, filled with weapons, armor and heraldry from both the Knights and their Ottoman enemies. It is no wonder that when UNESCO declared Valletta a World Heritage Site, it described it as "one of the most concentrated historic areas in the world."
In 1798, Napoleon Bonaparte attacked Malta and the Knights, who were bound by oath to never take up arms against fellow Christians, capitulated and left the island. Today, the Knights are headquartered in Rome, but you could say they've come full circle: In 1998, the Maltese government granted them limited extraterritorial status in the city of Birgu. The purpose? To facilitate their humanitarian efforts in Malta that began almost 500 years ago.
A story of crusades and constancy