Forgot Your Username
If you have forgotten your username, please provide your email address in the box below. We'll send you an email with your requested username. If you are having trouble, please call us toll-free at 1-800-221-0814.
Email Sent
You'll receive an email in a few minutes. Please check this email to find your requested username.
If you do not receive an email or you are having trouble logging into My Account, please call us at 1-800-221-0814.

TURKEY
Turkey is truly at the crossroads of the Eastern and Western worlds. With Istanbul standing at the head of the Byzantine Empire for a thousand years, and its Islamic successors—the Ottomans—ruling Turkey for the next six centuries, the country is a rich repository of Christian and Islamic treasures. Modern Turkey was largely the creation of Mustafa Kemal Atatürk, an army officer and revolutionary who brought forth the Turkish state from the dying embers of the Ottoman Empire. He defined Turkey as a modern, secular nation—all the more remarkable for a country that is more than 95% Muslim and the one-time seat of an Islamic empire.
Through the centuries, untold emperors, travelers, traders, warriors, and religious pilgrims have been drawn to the myriad treasures of this former stopover along the ancient Silk Road—from the slender Ottoman minarets of Istanbul and golden Mediterranean coast to the surreal landscapes of Cappadocia. Turkey remains a magical destination where you can walk in the footsteps of Byzantine emperors and Ottoman sultans, witness haunting dervish ceremonies, explore Hittite ruins, haggle in exotic marketplaces, and sip tea with some of the friendliest people on the planet.
Most Popular Films
Films featuring Turkey from international, independent filmmakers
My City: Istanbul
Learn how to best witness Istanbul's cultural traditions, from theater stages to neighborhood meeting spots and more.
This film was produced by the BBC and was first published on BBC.com Travel
Flights over Turkey: Hot Air Balloons of Cappadocia
Take flight in a hot air balloon to float above Cappadocia and marvel at surreal tufa formations.
Produced by Kay Burn Lim
Bazaar: Istanbul - Heritage Shops
See how the crafts on display in Istanbul's colorful bazaar reflect the city's rich multicultural past.
Produced by Kristine Jurgensen and Ian Cross
Turkey Interactive Map
Click on map markers
below to view information about top Turkey experiences
Click here to zoom in and out of this map
Featured Reading
Immerse yourself in Turkey with this selection of articles, recipes, and more
ARTICLE
Just below the surface—280 feet to be exact—is the underground city of Derinkuyu. Learn about this engineering marvel.
ARTICLE
How much do you really know about Turkey? Check out these 5 fascinating facts to find out.
RECIPE
Indulge in the sweet Turkish treat lokum, which is made from honey, tahini, and pistachios, with this recipe.
Get the Details On Our Turkey Adventure
Find out more about the adventure, including activity level, pricing, traveler excellence rating, included meals, and more
16 DAYS FROM $6,995 • $ 438 / DAY
Small Ship Adventure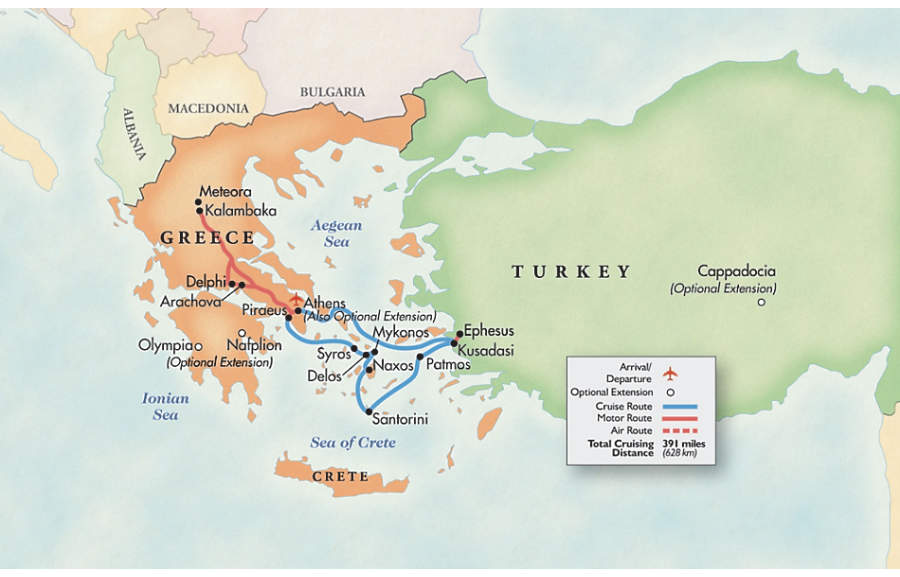 Greece: Athens, Arachova, Delphi, Kalambaka, Meteora • Greek Islands: Syros, Mykonos, Delos, Patmos, Santorini, Naxos • Turkey: Ephesus
31 meals—daily breakfasts, 6 lunches, and 11 dinners (plus all onboard house beer & wine, as well as soft drinks)
Explore the wonders of ancient Ephesus
Dock at the resort town of Kusadasi
Learn how hand-woven Turkish carpets are made at a local cooperative
Spend 4 nights in Cappadocia on our Optional Trip Extension
Adventure Details
Find the Adventure That's Right for You
Our Activity Level rating system ranks adventures on a scale of 1 to 5 to help you determine if a trip is right for you. See the descriptions below for more information about the physical requirements associated with each rating.
Activity Level 1:
1 2 3 4 5
Easy
Travelers should be able to climb 25 stairs consecutively, plus walk at least 1-2 miles over some uneven surfaces without difficulty. Walks typically last at least 1-2 hours at a time. Altitude can range from zero to 5,000 feet.
Activity Level 2:
1 2 3 4 5
Moderately Easy
Travelers should be able to climb 40 stairs consecutively, plus walk at least 2-3 miles over some uneven surfaces without difficulty. Walks typically last for at least 2-3 hours at a time. Altitude can range from zero to 5,000 feet.
Activity Level 3:
1 2 3 4 5
Moderate
Travelers should be able to climb 60 stairs consecutively, plus walk at least 3 miles over some steep slopes and loose or uneven surfaces without difficulty. Walks typically last for 3 or more hours at a time. Altitude can range from 5,000 to 7,000 feet.
Activity Level 4:
1 2 3 4 5
Moderately Strenuous
Travelers should be able to climb 80 stairs consecutively, plus walk at least 4 miles over some steep slopes and loose or uneven surfaces without difficulty. Walks typically last for 4 or more hours at a time. Altitude can range from 7,000 to 9,000 feet.
Activity Level 5:
1 2 3 4 5
Strenuous
Travelers should be able to climb 100 or more stairs consecutively, plus walk at least 8 miles over some steep slopes and loose or uneven surfaces without difficulty. Walks typically last for 4 or more hours at a time. Altitude can range from 10,000 feet or more.
Hide Acivity Level
TRAVELER EXCELLENCE RATING
PRICE
including international airfare
HIGHLIGHTS & ACTIVITIES IN TURKEY
*This information is not available for our trip extensions. You must reserve the main trip to participate on this extension.
**This information is not currently available for this trip. Please check back soon.
The Caverns of Cappadocia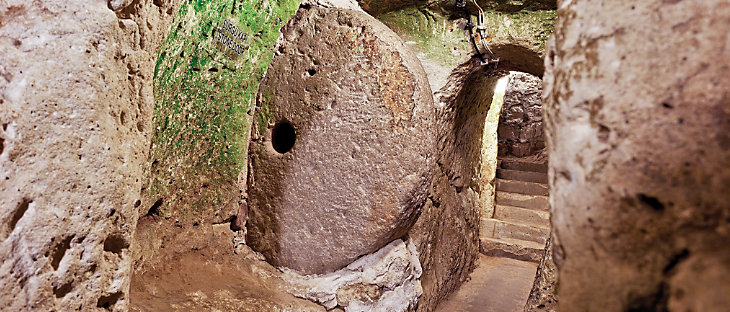 Unearthing the underground cities
Lyette Mercier, for O.A.T.
Only about ten percent of Derinkuyu's massive compound has been excavated so far.
Picture a sprawling city carved into the ground, with eight stories of living spaces 280 feet below the surface. Its hundreds of rooms contain enough space to hold between 35,000 and 50,000 people—roughly the population of Burlington, Vermont—plus their livestock and enough food to feed the population for roughly one to three months. It might sound like science fiction, but it's ancient history.

Built beneath borders

The underground city in question is Derinkuyu, built below the plains of Cappadocia, in the Central Anatolian region of Turkey. Whatever the date of the area's first excavations, the oldest written record of the underground cities comes from the fourth century BC. The Anatolian plain is littered with man-made cave and tunnel systems like Derinkuyu, carved into the soft volcanic stone known as tufa. Up to 200 subterranean complexes have been discovered, with 40 of those containing three or more levels. The cities grew extensive and sophisticated enough that there is believed to be a tunnel on Derinkuyu's third level connecting to another underground city, Kaymakli, located five and a half miles away.

The underground hiding systems flourished because the fertile plains of Anatolia were attractive to many empires, but were hard to hold, with the Hittites, Phrygians, Cimmerians, Lydians, Persians, Romans, Byzantine, and Ottoman empires each taking their turns invading and ruling the area. Anatolia often found itself on the border between warring empires, beginning with Greeks and Persians and later the Byzantine Greeks and a host of rivals. Derinkuyu's complexes were expanded and used the most by Byzantine Christians avoiding persecution from the Roman Empire in the first and second centuries AD.

Derinkuyu, designed for defense

Derinkuyu is a marvel of ancient engineering. Over 3,000 feet above sea level, the Anatolian plain's deep water table allowed builders to dig eight levels below ground. The first level provided stables and rooms for livestock. The next level contained kitchens and storage, with the third level made up of domestic spaces. A cruciform, or cross-shaped, church is located on the lowest level, accessed via "vertical staircases:" ladders carved into walls. The second level contains a large room with a barrel-vaulted ceiling and surrounded by a series of smaller rooms, which is believed to be a religious school or monastery. The city also contained many amenities, including wine and oil presses, storage, dining halls, ovens, toilets, morgues, Turkish baths, and cribs. Though red and blue arrows guide modern visitors into and out of the labyrinth, no one knows how residents navigated through the city.

An impressive aspect of Derinkuyu is its ventilation system. The city's largest ventilation shafts go from the surface to the water table (Derinkuyu is Turkish for "deep well."), allowing them to also be used as wells for residents above and below ground. Rooms cluster around the main shafts, where an astounding 15,000 smaller vents branch off the main one, circulating fresh air through the complex. However, if invaders capped the vents, the residents would quickly be driven out. More evidence that Derinkuyu was built for defense comes from the stone doors found in the city's main tunnels. Resembling mill stones, these doors range in size from three to six feet tall and weigh between 400 and 1,000 pounds. They can only be closed or opened from the inside by inserting a log into a hole inside of the door, allowing a group the leverage to move it back and forth. Residents could retreat into Derinkuyu and essentially lock themselves in.
Many cities—forgotten, then found

Like the area's rulers, the reason for retreating underground changed from century to century. Early Christians hid from Roman persecution in the second century AD and then found refuge again from Muslim raiders in the seventh century. Despite the effort put into these vast complexes, they ultimately failed to serve their main purpose: keeping Cappadocia's residents safe from attack. The Byzantines finally evacuated Cappadocia in the eleventh century AD. The abandoned underground city of Derinkuyu was forgotten until 1963, when a local resident broke through a rock wall while renovating his home only to discover another room in the rock. While opened to the public in 1969, archaeologists continue to discover new rooms and passages in the underground city. Only about ten percent of Derinkuyu's massive compound has been excavated so far.
Although Derinkuyu is the best known of Cappadocia's underground cities, the cities of Kaymakli and Özkonak offer further clues to life below ground over a thousand years ago. Experts surmise that the eight floors of Kaymakli could accommodate some 5,000 people for extended periods of time due the city's well-built ventilation system, along with a winery, water cistern, kitchens, and extensive storage areas. The church at Kaymakli features a baptismal font, offering further evidence that early Christians practiced their religion in secret here. To this day, tunnels of Kaymakli remain in use as stables and storage by contemporary Turks living above ground. The underground city of Özkonak was rediscovered in 1972. This ten-story city (of which four have been excavated) also boasts a winery, along with a system of pipes allowing for verbal communication between levels and holes above the stone doors, allowing them to pour hot oil on invaders.

Fairy-spun spires

Above ground, thousands of years of erosion and seismic activity carved the volcanic tufa into the surreal "fairy chimneys" that dot Cappadocia's landscape. In the fourth century AD, St. Basil—a proponent of Christian monasticism—instructed his disciples to carve cave rooms for solitary prayer. The intricately carved and decorated cave churches of Goreme grew out of this monastic tradition. Byzantine murals have been spectacularly preserved by the arid climate and feature iconic images of saints and biblical scenes. Anatolian settlers also built homes into the spires, which can reach as high as 130 feet and resemble gigantic ant hills, tall mushrooms, cone-shaped sandcastles, or columns topped with gnome hats. The rock provided insulation, keeping residents cool in the summer and warm in the winter. Hotels and inns carved into hillsides bring the traditions of Cappadocian living to today's visitors. From the spires of Goreme's cave homes carved high into majestic hillsides to the depths of Derinkuyu's underground city to the modern refuge of a hillside hotel, the wonders of Cappadocia are truly all around.
Unearthing the underground cities
5 Things You Didn't Know About Turkey
by Maryclaire Dugre, for O.A.T.
Steeped in 10,000 years of history and culture, Turkey is a complex, multifaceted country. So we won't blame you if you've overlooked these five fascinating facts:
Tulips originated in Turkey
Tulips may be synonymous with Holland, but the brightly colored buds actually grew as wildflowers in Turkey first. In fact, it was Turkish traders who introduced them to the rest of Europe in the 16th century.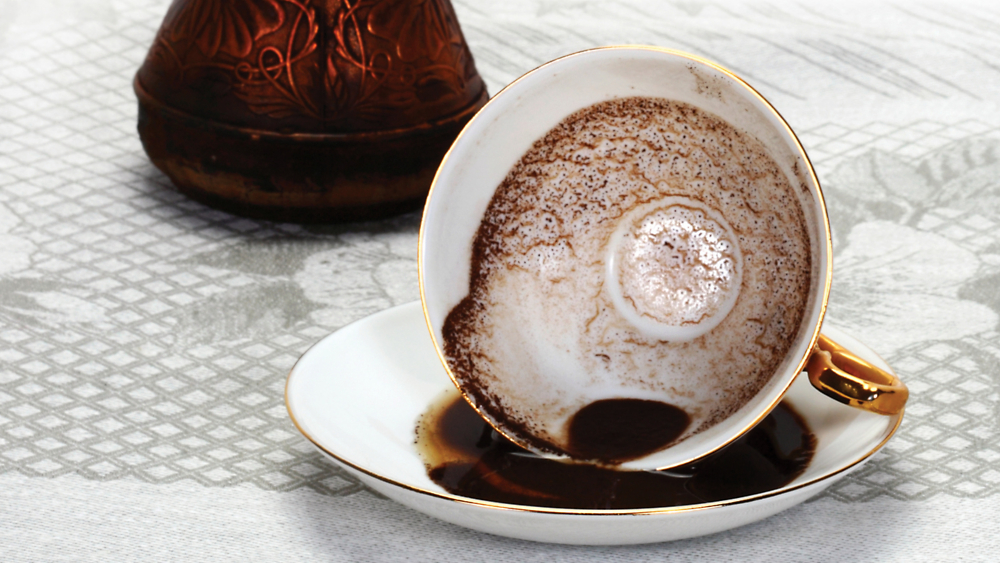 Your future lies at the bottom of your Turkish coffee cup
That's right: Your destiny is in the dregs. According to an ancient Turkish ritual, by examining the shape of the coffee grounds at the bottom of your cup, you can glimpse into your future. For instance, the shape of a claw means that danger is ahead, while the form of a fish symbolizes wealth.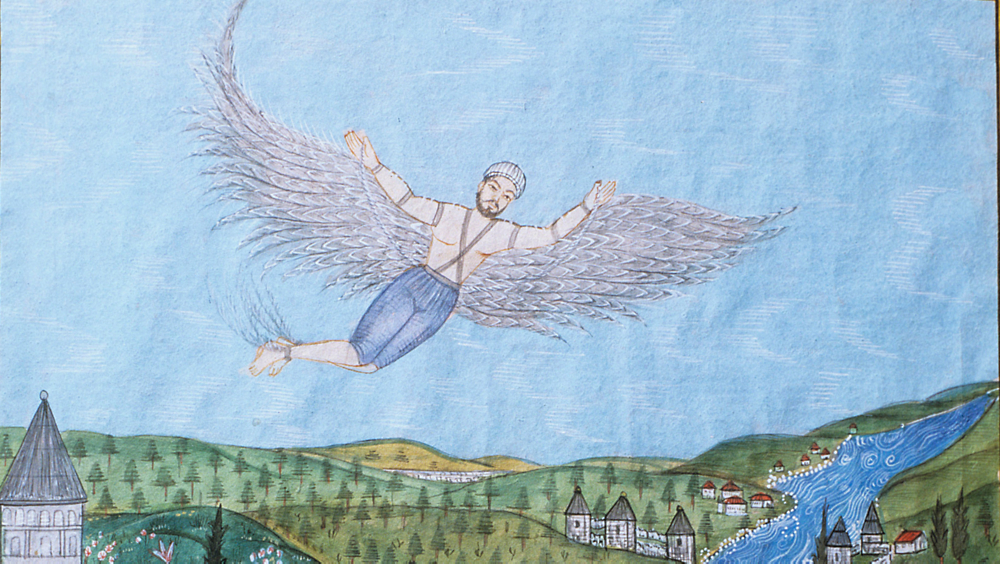 The first man to fly was Turkish
According to legend, in the mid-17th century, after being inspired by the drawings of Leonardo da Vinci, Turkey's Hezarfen Ahmet Celebi took flight from the top of Constantinople's Galata Tower with a homemade set of artificial wings. Fortunately, strong winds allowed Celebi to glide over the Bosporus Strait to Dogancilar Square—about 2 miles away. Unfortunately, after this remarkable flight, Sultan Murad IV feared Celebi's power and thus exiled him to Algeria.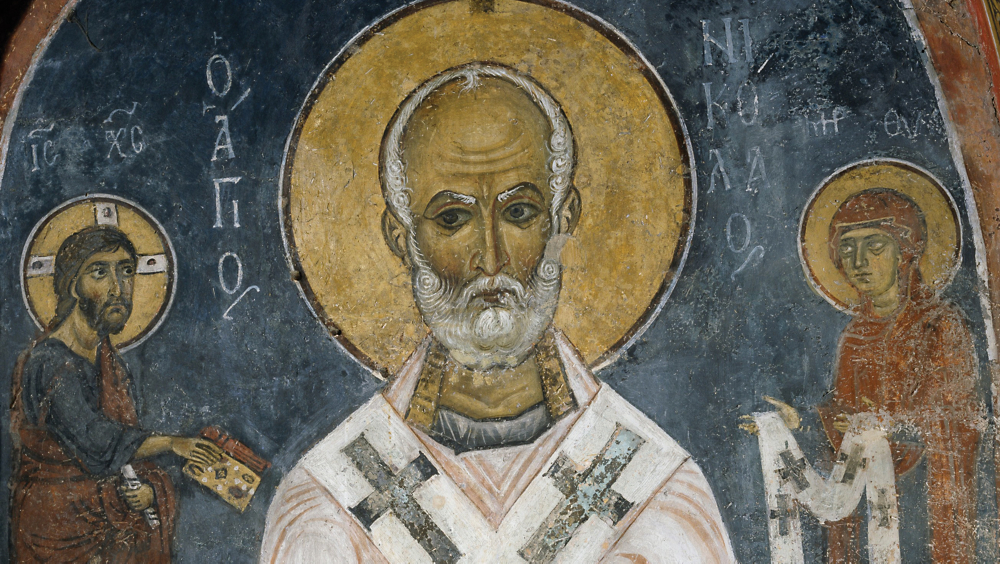 Santa Claus is from Turkey
Before he was mythologized as Father Christmas, he was Saint Nicholas—otherwise known as Nikolaos of Myra, the Christian bishop of modern-day Demre, Turkey. While little is known about the life of Nikolaos, he was renowned for his incredible generosity, which, centuries later, still inspires people to honor him by giving gifts to their loved ones.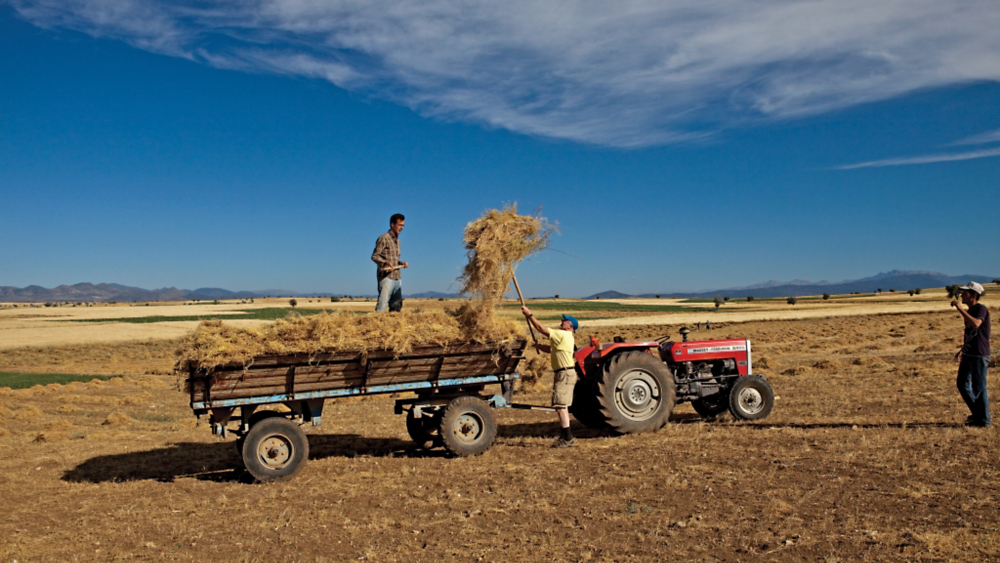 Turkey is 100% self-sufficient
Agriculturally, that is. With fertile soil, an optimal climate for growing, and access to water, Turkey doesn't have to rely on other countries for food imports. The country hopes to maintain its agricultural progress in the years to come, with a goal of becoming one of the top five food producers in the world by 2023.
Turkish Delights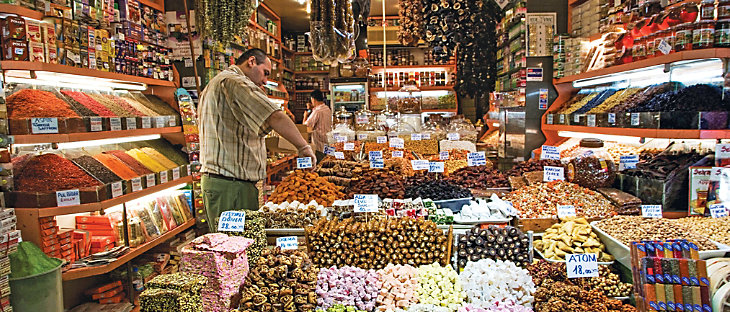 Sugar and spice and all things nice
by Brad Keist, from Dispatches
If the legend is true, feelings of love and passion gave birth to lokum. In Turkey, food isn't just food—it represents something much greater, something more than just a pastry, a pudding, or compote. And no dessert holds more symbolism than the Turkish confection halva (meaning "sweet" in Arabic). Typically made from either wheat flour or tahini (sesame paste), halva is shared amongst friends and family during any major milestone in one's life—be it a birth, a death, a marriage, graduating from school, going into the army, buying a new home, or leaving or returning from a pilgrimage. Topped with crushed pistachios or a sprinkling of ground-up cassia bark, halva embodies the very essence of happiness and sadness.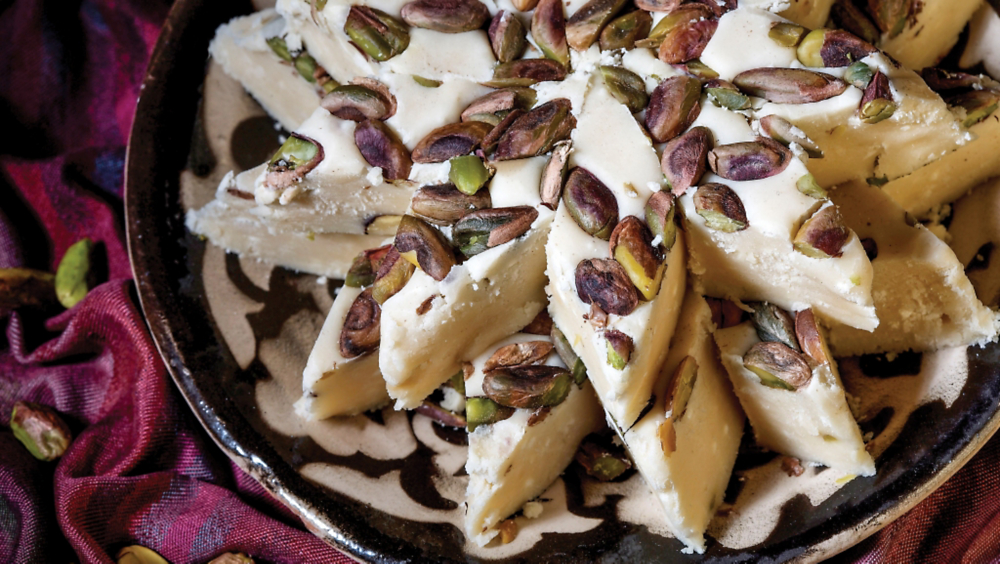 Halva
Ingredients:
2 cups honey
1 ½ cups tahini* (sesame paste)
2 cups pistachios (optional)
Preparation:
In a small pot, heat the honey on medium heat until a candy thermometer reads 240° F. Using a spoon, drop a bit of the honey in a glass filled with cold water. If you're able to remove the honey from the water and roll it into a soft, pliable ball, remove the pot from the heat and set aside. If the honey does not form a "soft ball," continue heating for an additional minute or so and test again.
In a separate pot, heat the tahini until your thermometer reads 120° F.
Using a wooden spoon, mix the warmed tahini in with the honey. Continue stirring until the tahini and honey are blended together completely.
Add the pistachios and continue mixing until the mixture begins to harden, about another 6-8 minutes.
Pour the mixture into a greased loaf pan, wrap tightly with plastic wrap, and refrigerate until completely hardened.
When you're ready to eat, invert the loaf pan to remove the halva. Using a sharp knife, cut the halva into one-inch-thick slices. Serve at a cool or warm temperature. Halva is best eaten with a cup of hot coffee.
*If you're feeling ambitious, rather than purchasing store-bought tahini, you can make your own—from scratch! Tahini is akin to American peanut butter, but instead of peanuts, sesame seeds are used. Just follow the recipe below and you'll have your own sesame paste in no time at all.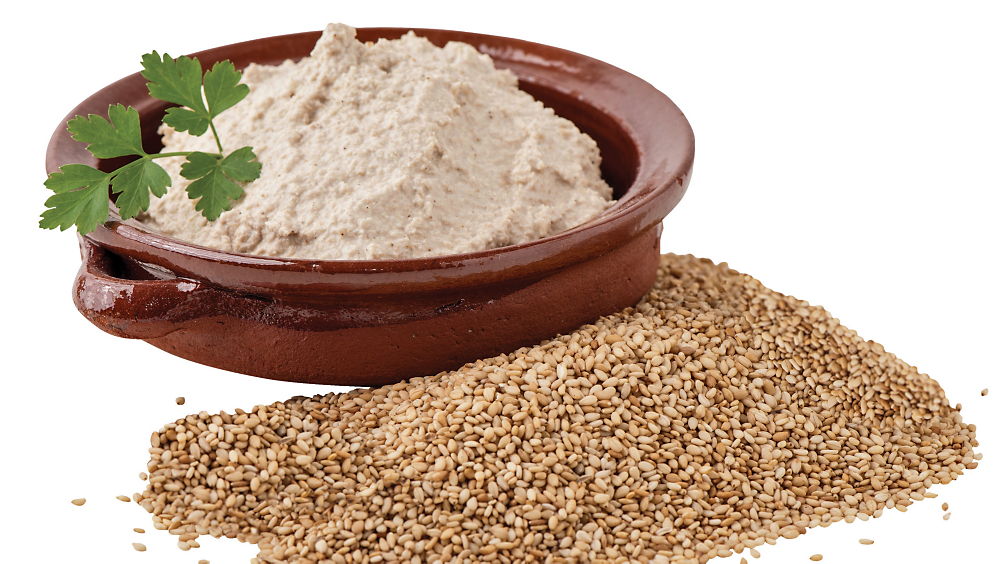 Tahini
Ingredients:
1 cup sesame seeds
¼ cup olive oil
Salt, to taste
Preparation:
Preheat the oven to 350° F.
Spread the sesame seeds on a parchment paper-lined cookie sheet and bake—stirring often—until golden brown, about 10 minutes or so.
Transfer the sesame seeds to a heat-resistant bowl and let cool.
Add the sesame seeds to the bowl of a food processor and pulse until the seeds have broken down. With the food processor on, drizzle the olive oil into the bowl until the desired consistency is reached (the tahini should look like peanut butter but with a lighter color). Now you're ready to make your halva!
Sugar and spice and all things nice