Forgot Your Username
If you have forgotten your username, please provide your email address in the box below. We'll send you an email with your requested username. If you are having trouble, please call us toll-free at 1-800-221-0814.
Email Sent
You'll receive an email in a few minutes. Please check this email to find your requested username.
If you do not receive an email or you are having trouble logging into My Account, please call us at 1-800-221-0814.
South Africa: Kruger • Zimbabwe: Hwange, Victoria Falls • Namibia: Impalila Island • Botswana: Chobe
18 Days from only $5995 including international airfare
FROM
$5995
18 DAYS
$334/DAY
including international airfare
17 DAYS FROM $4195 Small Group Adventure Only
Itinerary Overview
The open plains of Kruger National Park, South Africa … the mighty power of Victoria Falls … the idyllic beauty of Namibia's Impalila Island, a bird-watcher's paradise at the confluence of two mighty African rivers—the Chobe and Zambezi. The gems of southern Africa are as diverse as they are abundant with wildlife. In a safari adventure spanning four nations, you'll experience a rich array of landscapes and species. In Botswana, giraffes amble amiably in search of tender leaves while cheetah and leopard stalk their prey. Day to day, season to season, the wildlife viewing is never the same twice—but you're always assured of memorable sights and sounds. Every day brings new discoveries.
Travel to South Africa and beyond, and you'll explore on foot, aboard safari vehicles, and by riverboat, with experienced Trip Leaders and driver-guides making sure you don't miss a thing. With small lodges and tented camps as your home bases, you'll find even the most remote settings to be welcoming. And as you meet with tribal children at a village school, learn about the flora and fauna from locals, and exchange stories with your fellow travelers around the campfire at night, you'll be making the memories of a lifetime.
Make It Your Adventure
Personalize your trip to meet your individual needs, from preferred flights and air routing, to "breaking away" to spend more time in a destination.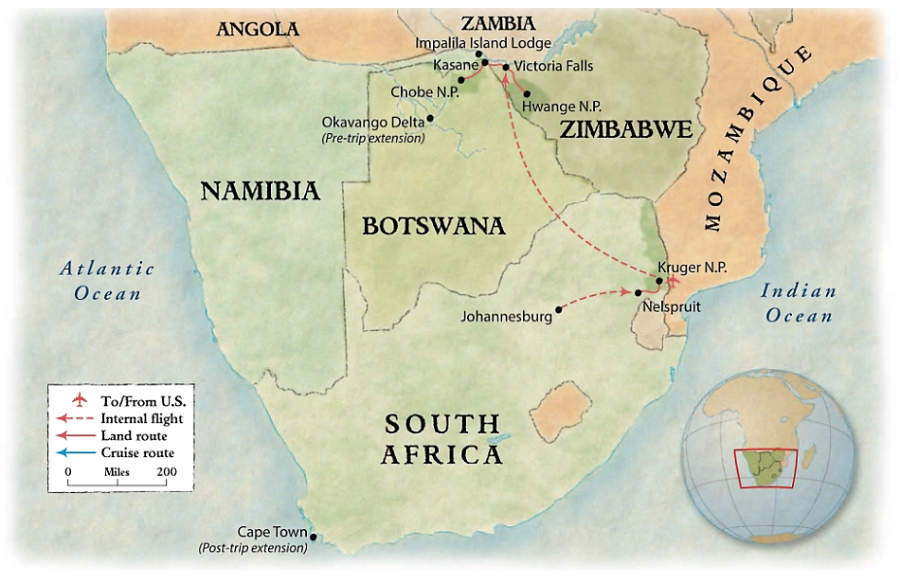 Day-to-Day Itinerary
PRE-TRIP EXTENSION:

Botswana's Okavango Delta

5 nights from only $2195

Sprawling across more than 5,000 square miles, the lush Okavango Delta is truly unlike any other place on Earth. The fan-shaped "Jewel of the Kalahari" beckons wildlife and adventurers alike with its diverse terrain. In landscapes where elands play, birds wing overhead, and even rare Black and White rhinoceros can thrive, you'll explore by land and by mokoro boat, enjoying the rich flora and fauna from an array of perspectives.

View Extension Itinerary
Day 1

Fly to Johannesburg, South Africa

You depart from the U.S. on an overnight flight to Johannesburg, South Africa.

Day 2

Arrive Johannesburg

Today, arrive in Johannesburg to rest before flying to Kruger tomorrow morning. You will be met and transferred to your hotel for a short overnight stay. Here, you'll be joined by those who traveled on our optional Botswana's Okavango Delta extension.

Day 3

Fly to Kruger National Park

This morning, you will fly to Nelspruit (Mbombela). Upon arrival, we will be transferred to our camp in Kruger National Park.

The largest of South Africa's parks, with a total area of 7,500 square miles, Kruger is also one of the largest parks in the world. Bordered by the Limpopo and Crocodile Rivers, the land spreads a stunning 200 miles at its widest point. Late this afternoon, we'll get our first taste of this vast natural canvas in a game-viewing drive. Here we may spot herds of elephant and buffalo, antelope, nyala, and eland, the kind of game you travel to South Africa to see.

Your game-viewing drives will be led by knowledgeable guides who know the best locations for viewing and are adept at helping you spot wildlife both near and far.

Day 4

Kruger National Park

We begin our day with an early morning bush-walk.

After returning to camp for breakfast, we'll set off on a morning game drive. After lunch, you'll learn about the effects of rhino poaching in the area from a park ranger. After, we embark on our afternoon game drive where perhaps you'll see giraffes "necking"—a sport for young males showing off—or hear the clucking conversations of long-horned greater kudu.

This evening, we enjoy dinner together at the camp as evening falls and we compare notes on all that makes it special to travel to South Africa.

Day 5

Explore Kruger National Park

Today, you'll enjoy a full-day game-viewing drive in Kruger National Park. Kruger is home to 147 species of land mammals, the highest number in Africa, including all of the "Big Five": lion, elephant, Cape buffalo, leopard, and rhinoceros. Thousands of zebra roam the land here as well, but no species can keep up with the impala, which number more than a million here.

After enjoying a picnic lunch in the park, our game-viewing drive continues in the afternoon. One needn't only scan the grasses for activity—the trees and sky are busy, too. More than 500 species of birds are found here, including what African birders call "The Big Six" (in answer to the famous mammals); the Lappet-faced vulture, Martial eagle, Saddle-billed stork, Kori bustard, ground hornbill, and the elusive Pel's Fishing owl are all residents of the sprawling park.

This evening, we return to our camp for dinner.

Day 6

Wildlife viewing in Hwange National Park, Zimbabwe

After breakfast, we'll depart camp and return to Nelspruit for our flight to Livingstone, Zambia. From there, we'll drive a short distance to Victoria Falls—where we will be met and transferred to our lodge near Hwange National Park, Zimbabwe's largest park.

As we pass grasslands and acacia woodlands en route to our lodge, we'll enjoy a taste of the unspoiled beauty for which Hwange is famous. Comparatively undiscovered, the bush country park is known for its herds of sable antelope, an elegant animal with large, graceful horns.

The evening is yours to spend at leisure before dinner at the lodge.

Please note: On Day 6 for some departures, travelers will fly from Nelspruit to Johannesburg, with a connecting flight to Victoria Falls and a land transfer to Hwange National Park in Zimbabwe.

Day 7

Discover Hwange National Park

Today, we rise early for breakfast before setting out for a morning game-viewing walk. In the afternoon, we'll return to our lodge to enjoy lunch and have a discussion about Gukurahundi, a series of genocidal massacres that plagued Zimbabwe in the 1980s. Then, we'll head into the bush again for an afternoon game-viewing drive.

During our safari, we'll soak in a variety of Hwange's habitats, from teak forests to palm islands to vast savannah plains. Adding to your sightings from the day before, you may encounter a variety of animals and several of the more than 400 known bird species.

We'll return to our lodge for dinner.

Day 8

Explore Hwange National Park

Today, we have the opportunity to enjoy a full day of game viewing with one of our professional guides. During this drive, you will learn about the region's flora and the intricate cycle of life in the bush. We will learn to identify which animals have passed through the area. Our expert guides may also expound on everything from how elephant dung can be used as mosquito repellent, to how the giraffe is able to eat leaves off of the thorny acacia trees.

After enjoying a packed lunch at the park, we journey into the bush once again to continue our game-viewing drive. Perhaps we'll spot elephant, buffalo, eland, wildebeest, and impala, before we return to our camp for a discussion about Hwange National Park with our Trip Leader before dinner. Depending on the season, we might even be lucky enough to dine with a view of elephants grazing nearby.

Day 9

Transfer to Victoria Falls, Zimbabwe

After breakfast this morning, we depart our lodge and travel overland to Victoria Falls.

Mosi-oa Tunya, as the falls are known in the local language, live up to their name as "the smoke that thunders." On a clear day, you can see the mist from these crashing waters from more than 50 miles away. That's not surprising when you consider the size of the falls: nearly twice as high as Niagara, as well as one and a half times as wide, generating three times as much water. With 1.4 billion gallons of water per minute passing over its edge at peak flood, Victoria Falls is the largest curtain of water in the world.

This afternoon, on our guided tour, we explore walking trails and lookout points—each with different views. There are five main cataracts, including the most dramatic, the Main Falls and Devil's Cataract. Considering the endless spray here, it may be a good idea to wrap your camera equipment, cash, and other valuables in plastic before our discoveries. We'll find the rain forest surrounding the falls is particularly lush as a result of the insistent moisture, yielding profuse flora, including ebony, fig trees, and many flowering species.

We'll enjoy dinner together at our hotel this evening.

Day 10

A Day in the Life of a Victoria Falls Community • Optional helicopter ride

Today, we have several opportunities to gain insight into A Day in the Life of Victoria Falls residents. After breakfast, we'll set out to spend some time at a village market, which is partially supported by Grand Circle Foundation to benefit the local economy. Following our market visit, we'll venture to Jabulani Primary School, where we'll have a chance to interact with students and staff, enjoying a glimpse of Zimbabwe's future.

We'll spend additional time exploring the community and enjoy lunch at a local restaurant. With the rest of the afternoon at leisure, you might choose to explore the town of Victoria Falls. Or perhaps choose between a selection of optional tours, one of which includes a helicopter ride over Victoria Falls.

Dinner is at a local restaurant.

Day 11

Discover Victoria Falls • Optional helicopter ride

With a full day at leisure, you might choose to continue your explorations of Victoria Falls. In the center, you can find local handcrafts, such as the famous Shona stone carvings and a variety of wooden carvings. You'll also find a selection of brilliant African textiles, malachite, basketry, and more—and don't be afraid to barter, which is both expected and fun. (You can even use American goods like T-shirts, sweatshirts, and baseball caps with designer logos for "currency"). Please ask your Trip Leader for advice about where else it may be appropriate to barter in this manner. If you'd like, you'll also have a chance to take another one of our optional tours from the choices offered on Day 10.

We enjoy dinner this evening at a local restaurant.

Day 12

Transfer to Impalila Island, Namibia • Sundowner cruise on Zambezi River

After breakfast this morning, we travel overland to Kasane, Botswana, where we transfer by boat to our lodge on Impalila Island. This island is one of the gems of the Caprivi Strip, a slender eastern arm of Namibia extending to Zambia and Botswana. We arrive in time to settle in and enjoy lunch together at the lodge. Our setting is beneath the limbs of a 700-year-old baobab tree that once sheltered 19th-century explorer David Livingstone.

This afternoon, discover the serenity of Impalila Island, surrounded by 60 miles of waterways—including the Zambezi and Chobe Rivers. With its interconnected rivers and channels varying in personality from rapids to limpid lily ponds, Impalila's environs offer a bounty for lovers of nature. We'll explore its flora and fauna during a sundowner cruise along the Zambezi River.

We return to our lodge for dinner together this evening.

Day 13

Discover Impalila Island • Boat Cruise

Early this morning, we'll experience what life is like on Impalila Island, during a walk through a local village. Here, we'll learn about traditional daily life in the Caprivi Strip. Depending on the village and season, this may include an introduction to the use of medicinal plants and trees in this region. This morning is sure to offer rich insight into the rhythms of local life. After lunch back at camp followed by time for tea in the afternoon, we'll take a river cruise. From your boat, keep your eyes peeled for the wildlife that calls the Zambezi riverbanks home. We enjoy dinner together at our lodge this evening.

Day 14

Explore Impalila Island • Fishing Excursion

After breakfast this morning, our group will depart on a boat cruise on the Zambezi River. During the boat cruise, you can enjoy the scenery or opt to go fishing, taking your shot at snagging the tricky tigerfish, the king of the river. With its striped silver flank and enormous, sharp teeth, the Tigerfish makes quite an impression. It is said that Tigerfish are among the most clever river fish and can escape from hooks like swimming Houdinis. Tigerfish typically tend to weigh just a few pounds, but every season someone raises a monster—up to 20 pounds—from the waters.

The Caprivi Strip is also well known for bird-watching, with 450 species found here from the Heuglin's robin to Yellow-bellied bul-buls and more. This is the best place to spot the Black- and Coppery-tailed coucals (cousins to cuckoos). As you ply the waters of this legendary river, you may encounter crocodiles, hippos, and the many elephants that thrive here.Whether you seek the rich variety of wetland fowl, from herons to ibis and crakes, or perhaps a chance to angle for fish, the afternoon offers you the perfect leisurely pace. Tonight, we dine together at our lodge.

Day 15

Transfer to Chobe National Park, Botswana

After breakfast, we'll transfer to Kasane, Botswana by boat, where we'll be taken through customs. In Kasane, we'll have some time to shop in town. We'll then transfer to our lodge and have lunch.

This afternoon, we enjoy our first game-viewing drive in Chobe. Chobe National Park was the first national park established in Botswana and it remains one of its largest, with 4,500 square miles of area. The vast size allows for incredible diversity of terrain, from floodplains and marshes to forest and mopane woodlands. More than 50,000 elephants call this park home, making it one of the world's largest populations.

Day 16

Game viewing in Chobe National Park

The next two safari days feature a wealth of game viewing by land. We'll begin our morning with breakfast at our lodge before setting out for a game-viewing drive in Chobe National Park. Then, we return to our lodge to relax for a quiet siesta during the heat of the day, followed by lunch. Late afternoon, we'll enjoy another game-viewing drive in the park. In addition to spotting elephants, we'll see zebra and Cape buffalo, among many other species. But it's not just land animals that fill the scene. Eagles, plovers, and bee-eaters wing through the clear air.

In the evening, we return to camp to enjoy dinner together by candlelight.

Day 17

Discover Chobe National Park

We follow our traditional pattern today, following the wildlife in safari vehicles this morning and enjoying a game-viewing boat cruise along the Chobe River in the afternoon. We're likely to encounter Chobe's famed elephants—which are the largest in size of any elephant breed, yet have the smallest tusks. And we're sure to see some of the beast's African peers, perhaps including buffalo, hippo, Red lechwe, and crocodile.

Over dinner at our lodge together tonight, we can compare notes on all we've seen.

Day 18

Return to U.S. or begin post-trip extension

After breakfast, we travel overland to Kasane. We then drive to the Victoria Falls airport and board our flight. Both the flight for the post-trip extension Cape Town & the Cape of Good Hope and the return flights to the U.S. depart in the early evening.
POST-TRIP EXTENSION:

Cape Town & The Cape of Good Hope

4 nights from only $1195

With Table Mountain as its backdrop, a bevy of bays at its feet, and the lushest foliage this side of paradise, Cape Town arguably occupies one of the most spectacular natural settings on Earth. Here is your chance to revel in it—and to witness the amazing social transformation of the "Rainbow Nation."

View Extension Itinerary