Forgot Your Username
If you have forgotten your username, please provide your email address in the box below. We'll send you an email with your requested username. If you are having trouble, please call us toll-free at 1-800-221-0814.
Email Sent
You'll receive an email in a few minutes. Please check this email to find your requested username.
If you do not receive an email or you are having trouble logging into My Account, please call us at 1-800-221-0814.
Kenya: Nairobi, Lake Nakuru, Amboseli • Tanzania: Tarangire, Lake Manyara, Ngorongoro Highlands & Crater, Serengeti National Park
18 Days from only $6695 including international airfare
FROM
$6695
18 DAYS
$372/DAY
including international airfare
17 DAYS FROM $4895 Small Group Adventure Only
New! Stopover in Amsterdam

3 nights from only $695
Single Supplement: FREE
Itinerary Overview
Small Groups: Never more than 10-16 travelers—guaranteed!
Travel Africa on safari and experience east Africa's stunning national parks ... its Maasai tribespeople, who can often be seen herding their cattle across the plains ... its big game, from lions to hippos ... the towering, cloud-shrouded peak of Mount Kilimanjaro ... and of course, the awe-inspiring migration of the wildebeest across the vast Serengeti plains. On this popular African safari, you'll discover all of this and more, as we explore the wild beauty of Kenya and Tanzania. Talk with local residents in a Maasai village and school, tour the home of Karen Blixen, author of Out of Africa, and stay in intimate lodges in breathtaking locations—including the heart of the Serengeti.
Make It Your Adventure
Personalize your trip to meet your individual needs, from preferred flights and air routing, to "breaking away" to spend more time in a destination.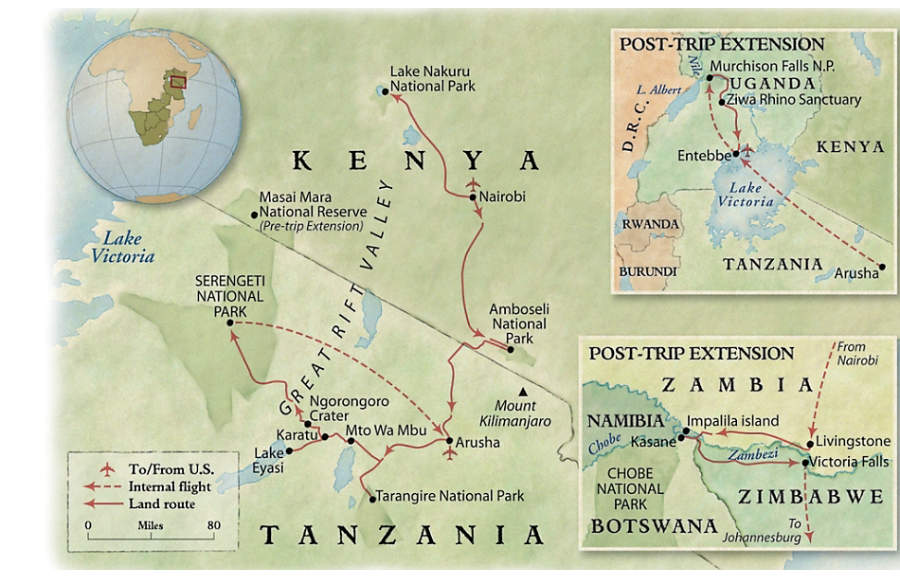 Day-to-Day Itinerary
New! Stopover in Amsterdam

3 nights from only $695

When you purchase airfare through O.A.T., you have the option to personalize your flights and add a Stopover. Break up your lengthy flight to Nairobi, Kenya, with a 3-night Stopover in Amsterdam before your main adventure or before your pre-trip extension. An O.A.T. representative will meet you at the airport and assist with your included transfer into the city for three nights in a centrally-located hotel—the rest is up to you! Take advantage of this opportunity to relax, refresh, and explore the lovely canals, art museums, and old European charm of the historic capital of the Netherlands before your Africa safari adventure. Breakfasts and roundtrip airport transfer are also included. Single Supplement is FREE.

Looking for ways to fill your free time in Amsterdam? Check out some of our suggestions.

Learn More
PRE-TRIP EXTENSION:

Kenya's Masai Mara Game Reserve

4 nights from only $1795

Kenya's Masai Mara Game Reserve is a gem of wild beauty. Rolling grasslands yield to breathtaking views of distant mountain ranges. Rich in wild fauna, Masai Mara celebrates Africa at its most untamed. Travel this fascinating land on an affordable extension.

View Extension Itinerary
You depart the U.S. in the late afternoon on an overnight flight to Amsterdam.

Day 2

Fly to Nairobi, Kenya

We arrive in Amsterdam this morning. After a short layover, we fly to Nairobi, and arrive in the evening. You will be met and transferred to your hotel, where we'll enjoy a Welcome Drink and a briefing on our upcoming explorations. We'll also be joined by fellow travelers who took our optional pre-trip extension, Kenya's Masai Mara Game Reserve.

Day 3

Visit Giraffe Center • Karen Blixen Museum • Kazuri Bead Factory

After breakfast at the hotel, we travel to the nearby Karen region, named for famed author Karen Blixen. Our first stop is the Giraffe Center, where you can get close to these towering animals and photograph them. In 1974, Jock and Betty Leslie-Melville relocated five orphaned and rare Rothschild giraffe to their home here, which was quickly dubbed "Giraffe Manor." Over the years, the giraffe have thrived, and now have their own young. The center plays an important part in the conservation of the Rothschild giraffe species.

Leaving the Giraffe Center, we visit a museum dedicated to Karen Blixen, who wrote Out of Africa under the pen name Isak Dinesen. The Kikuyu people she wrote about with great affection are still one of Kenya's major ethnic groups. The Danish writer, as you may know, "had a farm in Africa, at the foot of the Ngong Hills," where she lived from 1914 to 1931. The Danish government gave her beautiful house to the country of Kenya upon its independence, and today it is a museum furnished with much of her original period furniture and is open to visitors. A visit to this museum offers a fascinating peek into the lives of early 20th-century Kenyan settlers.

After enjoying lunch at the Karen Country Lodge, we'll depart for the Kazuri Bead Factory. Founded in 1975 in an effort to provide more job opportunities for local women, the factory now employs over 300 women—most of whom are single mothers—who work together to produce handmade beads, pottery, and jewelry that gets exported to over 20 countries around the world. We'll enjoy dinner together in a local restaurant this evening.

Day 4

Overland to Lake Nakuru

This morning we'll depart for the Lake Nakuru area, traveling through the Rift Valley and enjoying splendid views as we go. Our lodge is located near Lake Nakuru National Park, in a setting that boasts more than 430 different avian species. After lunch back at our lodge, we'll enjoy some time at leisure before embarking on an afternoon nature walk. Be sure to keep those cameras ready—this is a great chance to explore the diverse landscape and colorful birdlife here. Tonight, we'll enjoy dinner at our lodge.

Day 5

Lake Nakuru • Game-viewing drives in Lake Nakuru National Park

After breakfast, we'll travel overland to Lake Nakuru National Park where we'll enjoy a full-day game-viewing drive. Lake Nakuru is home to a relatively large population of black and white rhinos. These are normally elusive due to their dwindling populations, but recent conservation efforts have made Lake Nakuru one of the most likely spots in East Africa to lay eyes on one of these stunning beasts. While we're out today, we'll enjoy a hot buffet lunch, and afterwards return to our lodge for dinner.

Day 6

Kibera • Nairobi city tour

After breakfast today, we head back overland towards Nairobi, stopping en route in Kibera, one of the largest slums in Africa. Despite the stark poverty here, there is a thriving, entrepreneurial community. And it's not unusual to see the smiling faces of people who have learned to make the best of their circumstances. On our visit to Kibera, we'll meet some residents, enjoy lunch in a local restaurant, and develop a better understanding about life here. We may also have a chance to explore the Nubian Quarter, which houses the descendants of soldiers who first settled here during World War I. Once we arrive in Nairobi, we'll take a city tour before enjoying dinner together in a local restaurant this evening.

Day 7

Overland to Amboseli • Morning and afternoon game-viewing drives

Departing Nairobi, we continue overland to Amboseli National Park, set on the border of Tanzania and in the shadow of Mount Kilimanjaro. We enjoy a game-viewing drive en route to our camp. Upon arriving at Amboseli, we check in at our tented camp in time for lunch, and then enjoy an afternoon game-viewing drive.

The park shelters more than 400 bird species, including pelicans, flamingos, kingfishers, and ibis. But by far, elephants are the kings of the park. Amboseli's elephants, which are said to be among the largest in the country, are fond of the swamps, where they share the cool waters with the hippos that hide beneath the papyrus. Amboseli is also home to a large population of wildebeest and Burchell's zebra. Dinner is at our camp this evening.

Day 8

A Day in the Life of a Maasai village • Afternoon game-viewing drive in Amboseli National Park

FOUNDATION VISIT

We rise early to enjoy a light breakfast before traveling to experience A Day in the Life of a Maasai village and visit Amboseli Primary School (when in session). We will join the local children for their walk to school. At the school, we'll meet more students, take part in some morning activities, and discuss the school's future with the headmaster.

Upon our return to the village, we'll learn more about Maasai culture, including how they tend their livestock, make their natural medicines, and create their ceremonial dress. We'll take part in daily activities both inside and outside the boma huts and enjoy free time to mingle with the villagers.

After bidding our Maasai hosts farewell, we return to our tented camp in time for lunch.

After lunch and a short rest at our lodge, we embark on an afternoon game-viewing drive. Look for the elusive gerenuk, a delicate antelope with a long, giraffe-like neck that enables it to browse the middle branches of acacia trees. You may see families of giraffe, herds of zebra and antelope—and if you are lucky, you may spot the rare serval cat. Because Amboseli's abundant elephants are tracked almost constantly by researchers, they largely escaped the ravages of 1980s poaching, so you are apt to see some older "tuskers" here. You'll be fascinated by the abundant birdlife—from the colorful little lilac-breasted roller and the comical guinea fowl to graceful hawks and eagles. We return to our camp in the early evening in time to relax before we gather for dinner.

Day 9

Amboseli • Overland to Tanzania

After breakfast today, we depart for the Kenya-Tanzania border, enjoying a game-viewing drive en route. We continue to the town of Arusha, Tanzania, where we'll have lunch at the Arusha Coffee Lodge. We then transfer to Tarangire National Park, where we'll settle into our lodge. Upon arrival, we'll have the option to join a guided walk of our surroundings before dinner at our lodge.

Day 10

Game-viewing in Tarangire National Park

Today, we rise early to experience Tarangire's diversity on a full-day game-viewing drive, during which we'll pause to enjoy a boxed lunch in the park. As Tanzania's third-largest national park, it features nine distinct vegetation zones ranging from grassland to woodland, from deep gully vegetation to scattered rocky hilltops, Tarangire offers a diverse geological landscape, as well as diverse wildlife—including the largest recorded concentration of breeding bird species in the world. Baobab trees dot the landscape, and the valley of the Tarangire River dominates the entire scene. Each of our driver-guides has extensive knowledge of the behavior of the native animals.

After our full day in the park, we'll return to our lodge for dinner this evening.

Day 11

Game-viewing in Lake Manyara National Park

Today, we embark on an early morning game-viewing drive at Lake Manyara National Park, in the heart of the Great Rift Valley. Encompassing an area of just 125 square miles, the park is relatively small, but is still one of East Africa's most popular and beautiful wildlife sanctuaries. Lake Manyara National Park is known for its tree-climbing lions. Chances are also good we'll see wildebeest, giraffe, blue monkeys, vervets, impala, zebra, buffalo, bushbuck, and baboons.

We'll stop at the park's hippo pool, then enjoy a picnic lunch by the hot springs. From here, we'll get a unique perspective of the nearby wetlands as we walk along a boardwalk.

As we make our way back to Karatu, we'll see the valley unfold below us and with Lake Manyara stretching in the distance. We may see baboons or other wildlife along the roadside. We arrive at our lodge with some time to rest or take a stroll through the extensive grounds before dinner.

Day 12

Karatu • Hadzabe & Datoga Cultural Experience

This morning, we experience a rare opportunity to visit two neighboring tribes: the Hadzabe and Datoga peoples. We'll depart from Karatu with a packed breakfast and arrive at Lake Eyasi, where we'll first spend time visiting with the Hadzabe tribe. These hunter-gatherers have changed very little in 10,000 years and use a clicking based dialect. From there, we'll move on to discover the Datoga tribe. The Datoga are skilled farmers and craftsmen, and can be recognized by circular scarification patterns on their faces.

We then return to our lodge, where we'll enjoy lunch before continuing our explorations nearby.

We enjoy the rest of the afternoon at leisure. Dinner is at our lodge tonight.

After breakfast, we depart on a morning game drive through the Ngorongoro Crater, a UNESCO World Heritage. We'll discover the diverse flora and fauna that make up this vast expanse of highland plains, savannah, savannah woodlands, and forests. Then, we'll enjoy lunch at a picnic site in the famous Crater before beginning our climb through the cloud forest and out of the Crater floor.

We'll return to our lodge in the late afternoon for time at leisure before dinner.

Day 14

Overland to Serengeti National Park

This morning after breakfast, we'll set out for Serengeti National Park, perhaps the most famous wildlife-viewing destination in Africa. We'll embark on a game-viewing drive into the infinite expanse of the Serengeti Plain, where masses of wildlife roam the stunning landscape. The Serengeti stretches over 5,700 square miles of plains, riverine bush, and acacia woodland, with savanna grassland as the dominant environment. We enjoy lunch in the park and another game-viewing drive en route to our lodge, where we'll arrive by the late afternoon.

During the next few days, we venture out from our lodge in our safari vehicles to try and spot a wide range of wildlife species—lion, cheetah, hyena, and jackal stalk herds of gazelle, zebra, wildebeest, and impala. Comical warthog bend down on their front knees to graze and elegant cheetah rest in the shade of acacia trees after a hunt. Isolated rock groups, called kopjes, provide shelter to lion, leopard, and cheetah—and to the tiny rodent-like rock hyrax, closest relative of the elephant.

We dine at the lodge this evening.

Day 15

Serengeti National Park • Optional Serengeti Sunrise Balloon Safari • Game-viewing

This morning, you may have the option of rising before dawn for a balloon flight. As you float high over the Serengeti, watch the morning sun wash across the plains. The views you'll observe during this one-hour ride are spectacular. On this optional tour, you'll celebrate with a Champagne toast. After touchdown, enjoy a special breakfast out on the plains with your fellow travelers.

For those who did not take the optional balloon tour, we'll set out on an early-morning game-viewing drive with a packed breakfast. The Serengeti's varied landscape of savannahs, grassy plains, and riparian woodlands make it one of the world's most hospitable places for wildlife, which you will likely see in large numbers.

Those on the optional tour will then join the rest of the group as we continue our game drive, followed by a picnic lunch. Then, we all head into the bush again for an afternoon game-viewing drive when animals resume activity.

Dinner is at our lodge this evening.

Day 16

Serengeti National Park • Game-viewing

We set out in the morning for a game-viewing drive, and then we'll have a relaxing picnic lunch at the Seronera Visitor and Information Center before returning to the bush in the afternoon for a second game-viewing drive. The great diversity of Serengeti wildlife is also evident here—look for buffalo, hippopotamus, elephant, lion, giraffe, antelope, and Thompson's and Grant's gazelle. In certain seasons, you may also see the spectacular migration of the wildebeest herds, which travel from the Serengeti to the Masai Mara each year.

We return to our lodge in the early evening and gather for dinner.

Day 17

Serengeti National Park • Game-viewing

After breakfast, we continue to explore the vast ecosystem of the Serengeti at a pace that allows us to truly focus on observing animal behavior and interaction.

While we're out today, we'll enjoy a picnic lunch in the park before heading out to enjoy one more game-viewing drive. Our final night in the Serengeti is spent at our lodge, where we enjoy our Farewell Dinner under the vast expanse of the African skies.

Day 18

Fly to Arusha • Return to the U.S. via Amsterdam or begin optional trip extension

Today, we rise early, departing the Serengeti for our flight to Arusha, where we'll enjoy lunch at our hotel for the day. Travelers joining our post-trip extension to Rwanda: Gorilla Trekking will depart after lunch for their flight to Kigali.

Later this afternoon, we'll check out and travel overland to Kilimanjaro International Airport for our overnight flight back to the U.S.
POST-TRIP EXTENSION:

Rwanda: Gorilla Trekking

4 nights from only $3595

Journey to Rwanda to experience one of the world's greatest wildlife encounters—the rare Mountain Gorilla. Trek through the mist-shrouded forest of Rwanda's Ruhengeri region for an intimate encounter with these magnificent, gentle creatures. You'll also discover the warmth of the Rwandan people, discover how local beer is produced, and learn about the atrocities of Rwanda's civil war at the Kigali Genocide Museum.

View Extension Itinerary