Forgot Your Username
If you have forgotten your username, please provide your email address in the box below. We'll send you an email with your requested username. If you are having trouble, please call us toll-free at 1-800-221-0814.
Email Sent
You'll receive an email in a few minutes. Please check this email to find your requested username.
If you do not receive an email or you are having trouble logging into My Account, please call us at 1-800-221-0814.
Thailand: Bangkok, Kanchanaburi, Sukhothai, Chiang Rai, Chiang Mai • Vietnam: Hanoi, Halong Bay, Hué, Hoi An, Nha Trang, Dalat, Ho Chi Minh City
33 Days from only $5490 including international airfare
FROM
$5490
33 DAYS
$167/DAY
including international airfare
32 DAYS FROM $4390 Small Group Adventure Only
NEW Starting with September 2017 departures: Stopover in Hong Kong

3 nights from only $695
Single Supplement: FREE
Itinerary Overview
Small Groups: Never more than 10-16 travelers—guaranteed!
Travel to Thailand and Vietnam on this extraordinary in-depth adventure, and discover two distinct and unforgettable Asian nations. First, we'll explore Thailand—once the Kingdom of Siam—taking in the glittering wats (temples) of Bangkok, then venturing north to explore the lush banks of the River Kwai, passing through rural towns and villages where ordinary tourists rarely venture. In Chiang Rai, where the borders of Thailand, Myanmar, and Laos converge, we explore the fabled Golden Triangle, home to remote hill tribes who have preserved their unique lifestyles for centuries. And in Chiang Mai, "rose of the north," we discover the spiritual heartland of this devoutly Buddhist nation. Then we'll visit Vietnam, an ancient and alluring country. Today it has emerged from the shadows of war, offering travelers a chance to rediscover a land rich in culture, as well as landscapes. We'll discover Hanoi and bustling Ho Chi Minh City (the former Saigon), visit lovely Halong Bay, and sail the Mekong Delta. In the ancient cities of Hué and Hoi An, we'll get a glimpse of traditional Vietnamese life, and in Nha Trang, we'll experience the country's close relationship with the sea.
Make It Your Adventure
Personalize your trip to meet your individual needs, from preferred flights and air routing, to "breaking away" to spend more time in a destination.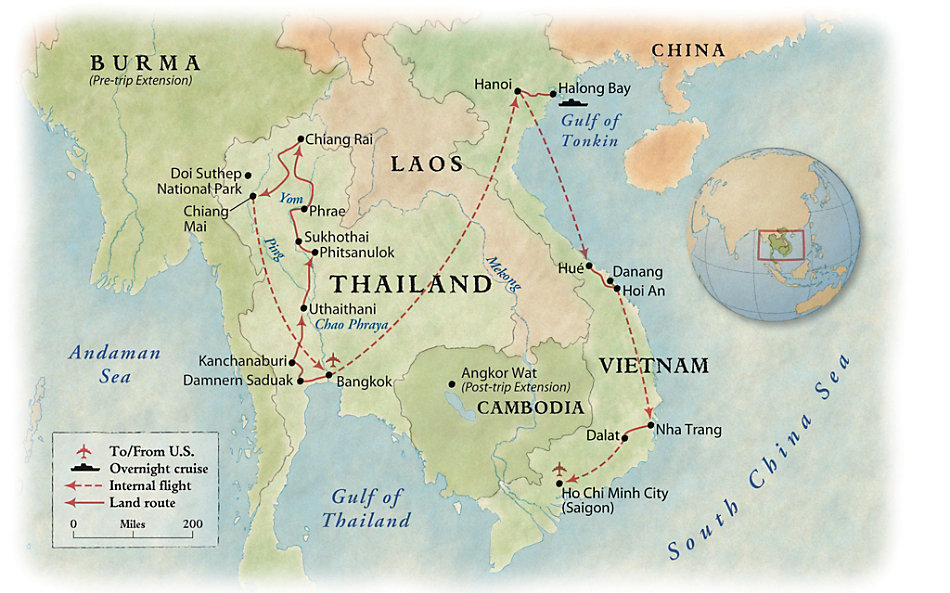 Day-to-Day Itinerary
NEW Stopover in Hong Kong

3 nights from only $695

When you purchase airfare through O.A.T., you have the option to personalize your flights and add a Stopover. Break up your lengthy flight to Bangkok, Thailand, with a 3-night Stopover in Hong Kong before your main adventure or before your pre-trip extension in Burma. An O.A.T. representative will meet you at the airport and assist with your included transfer into the city for three nights in a centrally-located hotel—the rest is up to you! Take advantage of this opportunity to relax, refresh, and explore the vibrant, sparkling skyline, mountainous nature reserves, and legendary varied cuisine of Hong Kong. Breakfasts and roundtrip airport transfer are also included. Single Supplement is FREE.

Looking for ways to fill your free time in Hong Kong? Check out some of our suggestions.

Learn More
PRE-TRIP EXTENSION:

Burma & the Irrawaddy River

7 nights from only $1895

Before you travel to Thailand, visit Burma, currently known as Myanmar, a forest-clad country of mountain ranges and river systems, with an abundance of golden pagodas. After a period of isolation, Burma has again opened itself to visitors, while remaining one of the least Western-influenced countries in Southeast Asia. Come experience its magical sights, friendly people, and its own distinctive culture.

View Extension Itinerary
Day 1

Depart U.S. to Bangkok, Thailand

We depart on an overnight flight across the Pacific and cross the International Date Line.

Day 2

Arrive in Bangkok, Thailand

Your hotel room in Bangkok is reserved so that you can check in immediately upon arrival, very late in the evening. An O.A.T. representative greets you at the airport and assists with transfer to the hotel, where you'll meet the travelers who joined the pre-trip extension to Burma & the Irrawaddy River.

Day 3

Explore Bangkok • Royal Barge Museum

Following breakfast, your Trip Leader, who will be with you throughout your trip, gives you a briefing on Bangkok. Then, we'll have the chance to see the floral market at Pakklong Talad, where we'll observe garland making and sample fresh tropical fruit before continuing our exploration of Bangkok by canal. We'll sail aboard motorboats down the river and along the klongs, or canals, through residential areas on the outskirts of town. We become part of Bangkok's lifeblood as we cruise its network of rivers and klongs—a part of Bangkok most travelers never see. We'll then enjoy a cooking demonstration and lunch.

After lunch, we'll take another boat ride to visit the Royal Barge Museum, where we'll discover a fleet of ornate teak and gold vessels that were once reserves for royal processions and grand ceremonies along the Chao Phraya River.

After the museum visit, we return to the hotel for an orientation walk of the surrounding area before enjoying a Welcome Dinner at a local restaurant.

Day 4

Grand Palace & Emerald Buddha visit • Optional Muay Thai and the Oasis of Bangkok tour

Following breakfast at our hotel, enjoy a tour of Bangkok. Step into the Old Kingdom of Siam at the Grand Palace of Thailand, a sprawling compound of ceremonial halls, gilded spires, and ornate buildings. The ancient city's defining landmark since 1782, the palace became the centerpiece of a new Thai capital called Krung Thep (City of Angels), known outside of Thailand as Bangkok. It was King Mongkut (or Rama IV) who ruled from this palace, expanded trade with the West, and was romanticized in the musical The King and I.

The focal point of the palace is the Emerald Buddha. Carved out of jade and adorned with gold, the Emerald Buddha made a dramatic appearance in 1434, when it was found hidden in a temple stupa. Since 1785, the Emerald Buddha—the most highly revered image of the Buddha—has resided in the Royal Chapel of the Grand Palace.

Next, we'll visit Bangkok's Giant Swing, or Sao Ching-Cha. This spindly red arch once hosted a festival in which men would swing higher and higher in an effort to grab a bag of gold suspended in mid-air. If they succeeded, they could keep the gold—but falling to their death in the process was an equally likely outcome. We'll stroll through the nearby old quarter of Bangkok, where we can see the shops and factories that supply local temples with their Buddha statues.

Then, you can spend the afternoon at leisure making your own discoveries in Bangkok, with lunch and dinner on your own. Or, you can join our Muay Thai and the Oasis of Bangkok optional tour, which includes lunch and dinner.

A full-contact sparring sport with roots in the 16th century, Muay Thai is a popular pastime in Thailand. Called "the art of eight limbs," fighters use almost everything at their disposal—fists, elbows, knees, and shins—to level their opponent. We'll depart our hotel to a gym in the Klong Toey area of Bangkok, and meet several young competitors who come from cities and villages all around Thailand. We'll learn their stories, and about how Muay Thai has changed their lives. We might also be able to witness a match or two.

Later, we'll ferry across the river to Bang Krajao, a scenic, lush bike route often called Bangkok's "green lung." We'll visit with local residents, then head to the community center for a discussion about how residents are trying to save the reserve from development.

Afterwards, we'll enjoy a massage session before dinner at the community center. Then, we return to our hotel to join with the rest of the group.

Day 5

Bangkok • Floating market & mangrove excursion

After breakfast, we'll journey about 75 miles west of Bangkok to Ratchaburi, set on the banks of the Mae Klong River. We begin with a boat ride along the canal at the colorful Damnoen Saduak floating market. Then, after a walking tour of the market, we'll stop at a palm sugar workshop and coconut farm to see how this staple of Thai cuisine is made. After lunch at a local restaurant, we then take a bus ride to Khlong Khon district of Samutsongkram province, where a local community is working to preserve the once-thriving mangrove forests. We'll board a fisherman's boat to explore the beauty of the mangrove forest area, feed the monkeys who often swim by for handouts, and witness the birdlife. Then, we return to Bangkok by bus in the late afternoon. Dinner is on your own this evening in Bangkok.

Day 6

Overland to Kanchanaburi • Discover Hellfire Pass

This morning, we travel overland to Kanchanaburi Province, a green region where the riverside scenery belies its dramatic history, portrayed in the film The Bridge on the River Kwai. It was here that Allied POWs and Asian conscripts were forced to build the infamous World War II railway. In the summer of 1942, World War II was raging across Europe and Asia. The Allies were rapidly capturing the sea routes to Burma, forcing the Japanese to develop an overland supply route from the east to support their troops. The Japanese decided that the most viable option was a railway that followed the River Kwai through the dense jungle on either side. About 200,000 Asian laborers and 61,000 Allied prisoners of war built this 260-mile stretch of rail in abominable conditions—for every half-mile of track laid, 38 POWs perished.

First, we have a chance to cross the original bridge on the River Kwai, and board a raft house on which we'll have lunch as we cruise along the river. Then, we visit Kanchanaburi's War Cemetery and Hellfire Pass, where we'll walk along the former River Kwai Railway. The area is now peaceful, but many lives were lost during the World War II construction of one of the most difficult sections of the railway. We visit the sobering Hellfire Pass Museum and continue to our lodgings, where we'll enjoy dinner before turning in for the night.

Day 7

A Day in the Life of a western Thai community • Enjoy a boat ride on the River Kwai

Today, we have a special treat: A Day in the Life of a western Thai community. First we explore the stalls of a local market, seeing fresh produce and the popular snacks of the region.

We arrive at the Farming Coop of the village, where we'll speak with its director to talk about political issues in the area including drugs, immigration, health care, and more. Afterwards, we'll interact with an ethnic group known as the "Mon," who came from Burma.

Later on, you'll get hands-on experience in Thai agriculture, with farmers showing us what and how they cultivate. Later on, we'll enjoy a community lunch at one farmer's home.

Later on, you'll return to your camp by boat on the River Kwai, known locally as the Khwae Yai, and enjoy dinner with your fellow travelers at a local restaurant.

Day 8

Cruise on the Khiri Nava rice barge in Uthaithani

We set out for Phitsanulok early this morning after breakfast. We drive through rice-growing country to Uthaithani.

We then board the Khiri Nava, a large traditional wooden rice barge, and cruise past peaceful scenes of river life. Many local people live on the raft houses that line both sides of the Sakae Krang River, and you might see farmers tending their small fish farms. We enjoy lunch as we cruise on the river for about an hour and a half. We then continue to Phitsanulok. Late in the evening, we check into our hotel and have dinner at a local restaurant.

Day 9

Explore 13th-century Sukhothai • Explore Phrae

After breakfast this morning, we head for Sukhothai, Thailand's largest collection of historic ruins. This is the place where the Thai nation was born, the kingdom's magical and spiritual center. With its cache of remarkably preserved columns, shrines, temples, and palaces, it epitomizes old Siam. We ride through the well-kept grounds of this historical park to see the monuments, and learn about its most famous king, Ramkamhaeng. Not only did this legendary ruler leave a great legacy of art and architecture, he left stones inscribed with a chronicle of his achievement. King Ramkamhaeng is credited with inventing Thai script, as well as with amazing skill at hand-to-hand combat on elephantback, the spread of Theravada Buddhism, and developing relations with China. But even his colorful legend pales in comparison to the evocative palette of Sukhothai, which translates to "Dawn of Happiness." Then we enjoy lunch together at a local restaurant.

In the afternoon, we travel to Phrae, where we will visit an indigo workshop and learn how the cloth is dyed with unique local designs. This evening, we'll venture by rickshaw to the old city wall, where we can join locals unwinding from the day at a beer garden. We'll end the day with dinner at a local restaurant.

Day 10

Overland to Chiang Rai

FOUNDATION VISIT

After breakfast, you'll depart for a visit to the Mae Yang Rong School, where we'll enjoy a student performance. Since 2010, the Grand Circle Foundation has donated more than $28,000 to the school to support education for the students, who range from six to eight years old.

Afterward, we head to Pha Yao provice and take a scenic walk around one of its many lakes, where we'll then enjoy lunch at a local restaurant. Then we head back to the lake to take a cruise on a local fisherman's boat, learning about his way of life along the way.

Later on, we depart for Chiang Rai province to our resort, where we'll enjoy dinner.

Note: If Day 10 falls on a weekend or a holiday, we will instead visit the Boonyapak Daycare Childcenter on this day.

Day 11

Chiang Rai • Visit hill tribe

Today we visit the House of Opium Museum and hear stories about the opium warlords who once held sway in this region, formerly known as the Golden Triangle. At one time, the hill tribes in this region relied on the cultivation of opium for survival—including several bands of Chinese nationalist followers of Chiang Kai Shek, who have been living here (somewhat in hiding and in dwindling numbers) since the Revolution. But times have changed. The government has established many programs to introduce more viable crops, and most of the people are law-abiding farmers. Today, tourism has become a preferable alternative to drug smuggling, and the hill tribes are more concerned about preserving their old traditions.

For lunch, we'll drive by open songtaew taxi trucks to a nearby restaurant. After some free time back at the hotel, we'll depart for our visit to the local hill tribes. More than 20 distinct, semi-nomadic tribes inhabit northern Thailand and the borderlands of Burma and Laos. Some have obscure origins; most have their own language; and all have unique customs. Take note of their compact huts, their traditional clothing, and a way of life that has changed little in centuries. We also visit the Akha, who wear elaborate headdresses accented with vivid colors.

We head back to explore the night markets of Chiang Rai where you'll have a chance to explore. Dinner is on your own, and make sure you ask your Trip Leader about the best local delicacies at the market.

Day 12

Travel overland to Chiang Mai • Home-Hosted Dinner

Relax and enjoy the passing landscapes as we travel most of the morning to Chiang Mai—the principal city of the north, a major cultural center, and a favorite with visitors. The city's medieval walls encircle more than 30 active Buddhist temples, and the metropolitan region boasts another 80 religious sites.

Lunch will be in Chiang Mai at a local restaurant. This afternoon, join your Trip Leader on a visit to a gem gallery. Chiang Mai is well known for its sapphires, and it's the world's largest cutter of colored stones. In the evening, we enjoy making personal connections with the Thai people as we have a special Home-Hosted Dinner in the home of local residents.

Day 13

Embark on an elephant trek

After breakfast, we embark for Ban Pa Bong, a village famous for basket weaving and handmade bamboo furniture. Here, we'll learn the art of bamboo basket weaving and enjoy an in-depth talk with a bamboo artisan, who will go over the finer points of his centuries-old trade.

Later on, you'll visit the Teen Tok Royal Project Resort. As part of a 38-project effort to offer economic opportunities to rural Thais, the Thai Royal Family hopes to stem the attraction for opium cultivation, still a major issue in the country.

Afterward, you'll explore Mae Kampong Temple, a wooden structure built around a stream. Then, we travel to Chiang Mai where we'll enjoy lunch at a local restaurant.

The rest of the afternoon is at leisure. Later on, we'll meet up for dinner at a local restaurant.

Day 14

Explore Chiang Mai

Before breakfast this morning, you have the option of visiting a local temple to witness traditional Buddhist alms-giving. After breakfast, we'll visit the temple of Wat Suan Dok and have a discussion with its Buddhist monks. Then we'll see the most magnificent of the city's temples, Wat Phrathat Doi Suthep, which we reach by riding up its mountain slope and negotiating hairpin turns until we come to a flight of 306 stairs, flanked by snarling naga serpents whose tails coil up to the temple. From here, we'll enjoy panoramic views of Chiang Mai below. You'll have the option to walk up the stairs or take a funicular.

You'll have the afternoon to explore Chiang Mai on your own, perhaps sampling the renowned northern dish, khao soi (yellow noodles and meat in a spicy, coconut-curry broth) for lunch. Dinner is also on your own this evening—an excellent opportunity to sample the cuisine of Chiang Mai's famous night bazaar.

Day 15

Fly to Bangkok • Farewell Dinner cruise

This morning, we fly to Bangkok. Lunch will be on your own today. After checking in to our hotel in Bangkok, spend an afternoon at leisure making your own discoveries in the city.

Tonight, we say goodbye to Thailand over a Farewell Dinner cruise on a river rice barge, and return to our hotel for the evening.

Day 16

Fly to Hanoi, Vietnam

After breakfast at our hotel, we depart for the airport for our flight to Hanoi. We check in to our hotel and take an orientation walk around the neighborhood. We gather together tonight to celebrate our first night in Vietnam with a Welcome Dinner at a local restaurant.

Day 17

Explore Hanoi • Enjoy water puppet show

This morning, we have breakfast and set out on a full-day tour of Hanoi, where we'll drive through the French quarter and view the mausoleum of Ho Chi Minh, the national leader whose memory is honored here, and go inside to view the former president's preserved remains. We'll also see the distinctive One Pillar Pagoda, and stop for a visit to the Temple of Literature. Please note: The Ho Chi Minh mausoleum is closed every Monday and Friday (outside grounds and garden area will be open on these days) and normally closed from September 4 through November 5 for preservation and maintenance of the building.

After lunch at a local restaurant, we return to the hotel to enjoy some free time. This evening, we enjoy a water puppet show, an art form in which puppets are suspended over water, directed by puppet masters who must sit semi-submerged for hours at a time. The tradition of water puppetry is at least 1,000 years old, originating with peasants in the Red River Delta of the north. The puppets, which the French used to call "the souls of the Vietnamese rice fields," are made of the water-resistant wood of the fig tree and depict villagers, farm animals, dragons, and more.

Day 18

Hanoi • Optional Tho Ha Countryside tour

This morning is free for independent exploration of this fascinating city. Because Hanoi was isolated from Western development after 1954, it has a uniquely preserved concentration of French and Chinese Colonial-era architecture. You may want to stroll to interesting traditional and contemporary art galleries or visit some of Hanoi's other attractions including Hoan Kiem Lake, West Lake, Quan Thanh Temple, and the Opera House.

Or you can join us on an optional tour of rural Tho Ha. Twenty miles north of Hanoi, the Nhu Nguyet River surrounds this traditional village. After a drive and brief ferry ride, we'll discover wonderful architecture and hard-working, friendly people. The main industries here are rice paper and pig farming. After visiting a local family to see rice paper in the making, we'll walk the village and mingle with the locals and then stop for lunch. This tour is a great opportunity to gain a deeper understanding of rural life in Vietnam.

Day 19

Visit Bat Trang Ceramic village

After breakfast, we depart for Bat Trang, a small village outside Hanoi known for its unique style and superior quality of ceramic pottery.

Here, we visit a workshop, where local craftspeople have been perfecting the art of ceramics for centuries. We learn about the process, from forming the clay to painting the distinctive intricate designs.

Afterwards, we wander around town and make time for exploring the colorful vases, bowls, flowerpots, and more in the village market.

We return to Hanoi to have lunch at a restaurant. From here, we visit the Museum of Ethnology, where we'll learn about the fascinating cultural diversity of this ancient land. Please note: On Mondays, the Museum of Ethnology is closed. If our tour of Hanoi is on a Monday, our visit to the Museum of Ethnology will be replaced by a visit to Hanoi's History Museum or Fine Arts Museum.

Dinner this evening is on your own.

Day 20

Overland to Halong Bay • Embark on overnight cruise

After breakfast, we set off for Halong Bay—the Emerald Bay of Vietnam—a UNESCO World Heritage Site.

Some of the roads to the bay are rough, but the journey offers quiet views of the flat green countryside dotted with rice paddies and small villages. We arrive in the early afternoon and transfer to a pier for our overnight cruise.

With its clear, emerald waters and mountains draped in velvety cloaks of vegetation, it's little wonder that Halong Bay has been the inspiration for generations of Vietnamese poets. Resting peacefully across the Gulf of Tonkin near the Chinese border, this region—literally "the bay of the descending dragon"—is dotted with more than 3,000 mountain islands, whose jagged profiles seem to rise out of nowhere.

Against the backdrop of innumerable caves, beaches, soaring cliffs, and grottoes, the Vietnamese go about their daily lives, fishing and harvesting, reaping the riches of the land and sea. Vietnamese fishermen nimbly navigate in lacquered and woven-wood coracles, lozenge-shaped, rudderless vessels that resemble an oversized tub. Oar-propelled fishing boats, or sampans, abound as well, many occupied by whole families.

Our vessel is of particular interest. We board a wooden sailboat in the traditional Vietnamese style. We drop anchor at an island pierced with surreal grottoes, then enjoy lunch onboard ship. We resume our cruise in the afternoon and enjoy dinner on our boat, where we will spend the night.

We cruise back to the port this morning and transfer to the airport for our flight to Hué, located on the central coast of Vietnam, north of Danang. We arrive in Hué this afternoon and transfer to our hotel. Tonight, enjoy dinner on your own.

After our breakfast at the hotel, we explore Hué, the former imperial capital, built by the first king of the Nguyen Dynasty during a time recognized as the golden age of Vietnam. For centuries, Hué has been a main cultural, religious, and educational center of Vietnam—and the reputation continues with the many students who live there today. The older section of Hué is a moated, walled citadel surrounded by eleven stone gates. We'll tour the citadel, find the Imperial Enclosure, and see its inner Forbidden Purple City, a private area reserved for the emperor. After a visit to the unofficial symbol of Hué—the seven-story Thien Mu Pagoda, we'll take a boat ride along the Perfume River.

Then we share a savory lunch with the Buddhist nuns at the Dieu Thanh Pagoda before returning to our hotel for some time at leisure.

Tonight, we gather for dinner at a local restaurant.

Day 23

Overland to Hoi An • Cooking class

We rise early for breakfast before our drive to the town of Hoi An, an ancient, well-preserved port town that's changed little in the past two centuries.

En route we stop at Lang Co Beach and China Beach, the setting for the eponymous TV show about a U.S. army base in Vietnam—now a peaceful 18 miles of white sand and waves. We also stop in Danang, where we'll enjoy lunch at a local restaurant before departing to Hoi An.

We arrive in Hoi An this afternoon and check into our hotel, where we'll enjoy a few hours of free time.

Tonight, we head to a local restaurant for a Vietnamese cooking class, where we'll learn the secrets to preparing some local specialties. We'll savor the fruits of our labors for dinner.

Day 24

Hoi An • Optional cyclo-rickshaw ride and Thu Bon River cruise

Today, we have breakfast at the hotel and then embark on a walking tour of Hoi An's Old Town. A well-known feature in this port town is the Japanese covered bridge with its own temple and statuary.We'll amble through the historic streets, ride the local ferry to the other side of town, and observe the Hoi An's mossy houses, including the Phuc Kien Congressional House Most of Hoi An's historic houses have been maintained in their traditional design, with brick exteriors and wooden interiors. And after many centuries of maritime trade, the town boasts a multicultural air: Traders from Persia, Arabia, China, Japan, and India, as well as the first Christian missionaries to reach Vietnam, have all left their mark.

Enjoy an afternoon at leisure and dinner on your own, or join us on an optional cyclo-rickshaw ride through a rural area of Hoi An, followed by a Thu Bon River cruise. We'll travel by cyclo-rickshaw to Cam Nam village, view Hoi An's historic cityscape from a different vantage point during a cruise along the lovely Thu Bon River, and sample a slice of daily life at the central market. We'll dine at a nearby restaurant.

Day 25

Hoi An • Explore Champa Ruins at My Son Sanctuary

Today, we have breakfast and then travel through the rice fields of the countryside to My Son Sanctuary, Vietnam's most significant ruin from the Champa Kingdom, which prospered from the second to the 15th centuries.

My Son was established as a religious center in the fourth century in a lush, isolated valley overlooked by Hon Quap (Cat's Tooth Mountain). We walk these red-brick ruins, enjoying time to admire the delicate masonry and to take in the peace of the place. We'll return to Hoi An in time for lunch at a local restaurant before an afternoon at leisure. Dinner tonight is on your own.

Day 26

Fly to Nha Trang • Boat tour to fishing village

This morning, we fly from Danang to the town of Nha Trang.

Upon arrival in Nha Trang, we board traditional wooden "drawing boats" to visit a local fishing village on Mieu Island. The views of the water are lovely, with rocky inlets, palm-lined beaches, and refreshing breezes. Our boat tour also takes us to a beautiful beach nearby, where you can relax and enjoy lunch on your own. Afterward, we check into our hotel. This evening we'll gather together for dinner at a local restaurant.

Day 27

Xom Gio village visit

Today, we set out to visit the tranquil riverside community of Xóm Gio. We'll be guests of the village chief, who'll invite us into his home for a mid-morning discussion about the village's history and culture, followed by a savory lunch prepared with our help and the guidance of the chief's wife. Afterwards, we'll tour several homes that were remodeled with support from Grand Circle Foundation, visiting with families who live there. We'll learn about daily life and then be introduced to the local cottage industry—the bamboo baskets for which the village is known. Then we walk through the village, passing fields of vegetables and rice paddies on our way to a small family-run business where chopsticks are milled. On our way back to the hotel, we'll stroll through a vibrant village marketplace where you can pick up some exotic fruit for an afternoon snack.

We'll enjoy some free time back at the hotel. Tonight, enjoy dinner on our own.

Day 28

Travel overland to Dalat • University visit • Home-Hosted Dinner

After breakfast we travel overland to Dalat, nicknamed the "City of Eternal Spring," admiring the rice paddies, vegetable patches, and gently sloping hills that we pass along the way. Prized by Vietnamese for its mild climate, Dalat, nestled in the mountains, was the site of the summer residence of Vietnam's last emperor, Bao Dai. We arrive in Dalat around noon and enjoy lunch at a local restaurant before checking into our hotel.

We gather for an orientation walk around our hotel, and then set out for our visit to Dalat University. Here, we'll learn about the Vietnamese system of education during an informative discussion with a professor and local university students.

This evening, we'll learn more about local culture over dinner with a local family in their home. This is another chance to meet with people who call Vietnam home, learn about their daily lives, share a little of ourselves, and really experience local culture.

Day 29

Optional Dalat Agricultural tour • Explore old French train station • Visit Linh Phuoc Pagoda

This morning, you may choose to rise early before breakfast to explore a local market in Dalat. Enjoy the rest of the morning at leisure with lunch on your own, or join us for an optional tour that focuses on Dalat's agricultural production and village life. We'll stop at a market garden to learn about flower-growing in this region. We'll also visit a silkworm factory and discover the process of silk-making from its very beginning. Then we'll continue on to the isolated traditional village of Buon Chuoi (Banana Village) to meet the Chil people, a hill tribe that practices subsistence farming. This tour includes lunch.

In the afternoon, we all depart for our visit to Dalat's crémaillere (cog railway) train station. Established by the French in the early 20th century, the railway linked Dalat to Thap Cham before ceasing operation in 1964 due to Viet Cong attacks. We'll admire the Art Deco aesthetic of the station and take a 30-minute train ride to the nearby town of Trai Mat. Here, we'll explore Linh Phuoc Pagoda, a striking Buddhist temple adorned with a mosaic of glass, pottery, and porcelain.

We'll return to Dalat in time for dinner at a local restaurant.

Day 30

Fly to Ho Chi Minh City (Saigon) • Explore city

After breakfast, we head to the airport for our short flight to Ho Chi Minh City. Formerly known as Saigon, it is now a modern seaport and the country's largest city. Upon arrival, we embark on a city tour, which brings us first to the War Remnants Museum to see its artillery and armor collection and gain a North Vietnamese perspective on the "American War." Next, we'll see the Catholic Cathedral of Notre Dame. The structure was completed in 1880 and is said to be on the site of an old pagoda. We also see the architecture of the majestic Post Office, built during the same time period and featuring two enormous murals depicting maps of Vietnam as it was many decades ago. Our tour continues to the former U.S. Embassy.

After a meal of traditional noodle soup at a local restaurant, we'll check into our hotel and enjoy free time before we gather for an orientation walk around the hotel.

This evening, we'll enjoy dinner together at a local restaurant in Ho Chi Minh City.

Day 31

Mekong Delta discovery

After breakfast, we journey outside of Ho Chi Minh City to discover Vietnam's famous Mekong Delta. We'll drive to the picturesque province of Ben Tre, where we'll enjoy a brief walk through Ben Tre village—famous for its coconut plantations—and take a sampan ride along one of the town's scenic and peaceful canals. We'll also visit a coconut candy workshop to learn about making the sweet keo dua the region is known for, and cruise to nearby Phoenix Island, where we'll learn about the local belief started by Ong Dao Dua, known as the "Coconut Monk." Then, after lunch at a local restaurant, we'll drive back to Ho Chi Minh City, where we have some time at leisure. Dinner is on your own this evening.

Day 32

Cu Chi Tunnels tour

This morning, we'll explore the Cu Chi Tunnels. We'll begin in the village of Cu Chi, which sits on a vast network of tunnels stretching more than 125 miles. These tunnels allowed the Viet Cong to control a large area near the former Saigon. Many American visitors find this tour an especially emotional experience, as they discover how many North Vietnamese soldiers lived in the tunnels during the war.

You'll have the afternoon at leisure. This evening, we gather at a local restaurant for a special Farewell Dinner.

Day 33

Return to the U.S. or begin post-trip extension

After breakfast, we transfer to the airport in Ho Chi Minh for our flight to Los Angeles, making a connection in Taipei. Travelers who are flying to San Francisco will enjoy a morning at leisure before their afternoon flight home via Taipei.

Or, if you're extending your adventure, you'll fly to Siem Reap to begin your optional post-trip extension in Angkor Wat, Cambodia.
POST-TRIP EXTENSION:

Phnom Penh & Angkor Wat, Cambodia

6 nights from only $1395

After your travel in Thailand, discover Cambodia's bustling capital and see one of the world's most stunning antiquities when you explore the sights and sounds of Phnom Penh and the spectacular temple complex of Angkor. Set amid tropical forests, the temples showcase the creative genius of the Khmer Empire, which reached its pinnacle between the ninth and 14th centuries.

View Extension Itinerary