Forgot Your Username
If you have forgotten your username, please provide your email address in the box below. We'll send you an email with your requested username. If you are having trouble, please call us toll-free at 1-800-221-0814.
Email Sent
You'll receive an email in a few minutes. Please check this email to find your requested username.
If you do not receive an email or you are having trouble logging into My Account, please call us at 1-800-221-0814.
Costa Rica: Santa Ana, Sarapiquí, La Fortuna, Guanacaste, Pacific Coast
14 Days from only $3495 including international airfare
FROM
$3495
14 DAYS
$250/DAY
including international airfare
14 DAYS FROM $2795 Small Group Adventure Only
Itinerary Overview
Once you begin your Costa Rica travel, you will discover a country roughly the size of West Virginia with an incredible amount of biodiversity. More than one-quarter of the nation is protected land, and swirling white-water rivers thrill ... hot springs soothe ... and tropical forests enthrall, making Costa Rica an adventure-seeker's paradise.

In addition to exploring its prime locales by horseback, raft, and trail, we'll also discover Costa Rica's other great natural resource—its people—as our small group dines with a local family, visits farmers and artisans, and meets children at a village school. From the rapids of the Río Sarapiquí to the tropical forests of Tirimbina, from the mountains of Guanacaste to the sun-drenched Pacific Coast, Costa Rica beckons us with countless wonders, all summed up by a popular saying among Costa Ricans: pura vida—this is the life.
Make It Your Adventure
Personalize your trip to meet your individual needs, from preferred flights and air routing, to "breaking away" to spend more time in a destination.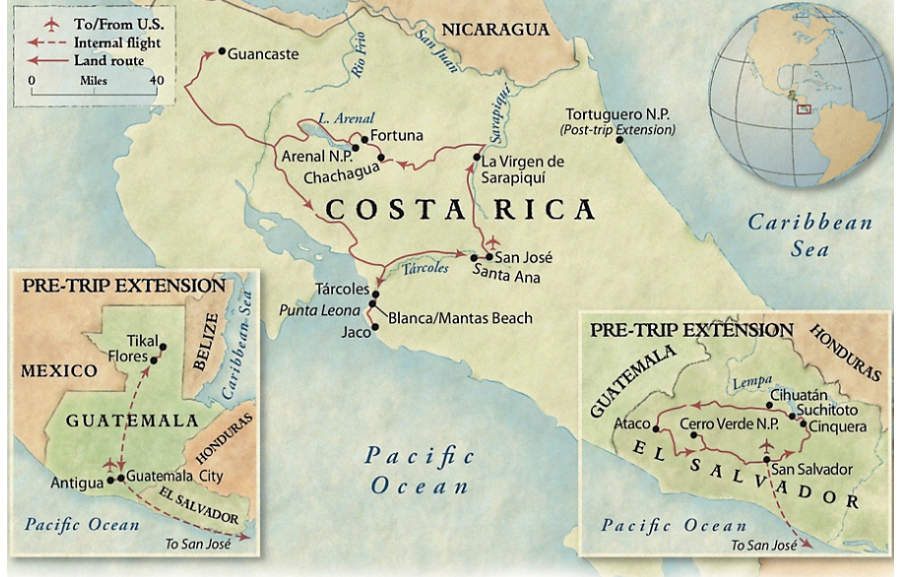 Day-to-Day Itinerary
PRE-TRIP EXTENSION:

Guatemala: Antigua & Tikal

5 nights from only $1245

Before your Costa Rica travel, discover a land of mystery and majesty, home to 1,700-year-old Mayan Temples and the deepest lake in Central America. From the bustle of Guatemala City to the Mayan mystery of Tikal, Guatemala is a great complement to your Real Affordable Costa Rica adventure.

View Extension Itinerary

PRE-TRIP EXTENSION:

Nicaragua's Colonial Cities & Volcanic Landscapes

5 nights from only $1195

Begin your Central American discoveries in Nicaragua, whose strong cultural legacy is re-emerging following decades of dictatorship. Amid landscapes encompassing volcanic mountains, colonial cities, agricultural villages, and Lake Nicaragua, now is the time to meet proud Nicaraguans in a country that has only recently opened its doors to travelers.

View Extension Itinerary
Day 1

Depart U.S. • Arrive San José, Costa Rica; Transfer to Santa Ana

Upon arrival at the airport, an O.A.T. representative meets us and assists with the transfer to our hotel, where we meet our Trip Leader and our fellow travelers, including those arriving from the pre-trip extensions to Guatemala: Antigua & Tikal and Nicaragua's Colonial Cities & Volcanic Landscapes. The evening is free to relax or explore on your own.

Day 2

Explore San José • Visit Lifting Hands Center

After breakfast and a Welcome Briefing with our Trip Leader, we'll embark on a city tour of San José. Here, we'll see the National Theatre, considered one of the country's most impressive architectural accomplishments. We'll also visit the National Park, San José's largest park.

You'll have time for lunch on your own in San José before we transfer to the Lifting Hands Center in the nearby suburb of Escazú. The Lifting Hands foundation invites volunteers to bring education to impoverished communities by teaching English, computer, and mathematics classes to children and adults. We'll take a tour of the Lifting Hands Center and speak to volunteers and participants to see the difference the organization is making in the area outside of San José.

Later, we'll return to our hotel, where we'll have some time at leisure before our Welcome Dinner at a local restaurant.

Day 3

Explore Poás • Visit coffee finca • Overland to Sarapiquí

We will explore the town of Poás through its people and their livelihood. We will visit with a local family, and then visit the Central de Flores, a local flower shop with beautiful blooms.Then, we'll visit Freddo Fresas Hummingbird Park, where thousands of brightly-colored species hover all around you. During winter, many species endemic to North America can be found here, including the Ruby-Throated Hummingbird.

Later, we'll visit a 70-year-old coffee finca, or farm, located on the fertile slopes of Poás Volcano. Here, we'll enjoy lunch as well as a tour of the finca, learning how it grows, harvests, processes, and packages its world-renowned coffee.

Then, we'll embark on our journey to Sarapiquí. We arrive at our comfortable lodge outside the town of La Virgen in the late afternoon. Our eco-friendly lodgings here are situated alongside the Tirimbina Biological Reserve. A lush tropical rain forest teeming with native fauna, this habitat is a seasonal home to migratory birds from the northern U.S. and Canada.

Tonight we'll have dinner together at our hotel.

Day 4

River rafting • Optional Pineapple Farm tour • Discover Tirimbina's bats

After breakfast at our lodge, we'll drive to the nearby Río Sarapiquí. Flowing into the San Juan River and the Lake of Nicaragua, the Sarapiquí is one of several rivers that run down from Costa Rica's mountainous central highlands, the Cordillera Central. The surrounding land varies in altitude from 112 to 9,500 feet, which is a big reason so many migratory birds congregate in the region—more than 300 species of them at last count. Here you have a choice: rafting on Class I-II rapids of the Sarapiquí, or learning about tropical flora and fauna during a walk along its banks.

Costa Rica is a destination for rafters from around the world, and we surveyed several of its rivers before selecting the Sarapiquí for the quality of its rapids, which are sporty enough to be fun, but mild enough to be enjoyed by first-timers. Those who opt to raft will get a complete introduction to river safety from our professional boatmen before we board the raft and enjoy the ride.

For those who prefer not to raft, a local guide will lead a nature walk through the jungle and pasturelands that surround the Sarapiquí. This walk will provide the opportunity to spot some of the region's more elusive animal species, and to view the rich flora of this verdant environment up close. Both the river rafting and the nature walk last about two hours, after which the two groups will come together for lunch at a local restaurant, where we can relax in the mid-day sun and compare notes about our morning's discoveries.

After lunch together, you can choose to join us for an optional visit to a family-owned pineapple finca. On this excursion, we'll enjoy an in-depth look at the finca's fields and facilities, learn about pineapple cultivation techniques throughout history, discover how the Sarapiquí region's fertile, volcanic soil nurtures these tropical plants, and enjoy a taste of the "Fruit of Kings."

Tonight, after dinner at our hotel, we'll enjoy a presentation on Costa Rica's bats. We'll learn all about these unique flying mammals, which represent more than 50% of the country's mammal population, and have the chance to acquaint ourselves with some live specimens, captured humanely by the research center's nets in the evening and then released back into the wild.

Day 5

Tirimbina nature walk • Travel to La Fortuna

After breakfast today, we visit the Tirimbina Biological Reserve, an innovative education and research center devoted to the preservation of this endangered tropical forest ecosystem. We'll enjoy a nature walk along the reserve's woodland trails, crossing the nearly 860-foot suspension bridge over the Río Sarapiquí.

After lunch at our hotel this afternoon, we'll depart for La Fortuna. Known as the "front yard of the Arenal Volcano," La Fortuna is a town of thermal spas and verdant hills. Our home for the next three nights, it offers spectacular views of Arenal Volcano when weather permits. After we check in to our hotel, we'll enjoy an orientation walk and some time at leisure. Dinner tonight is at our hotel.

Day 6

A Day in the Life of a Costa Rican village • Home-Hosted Lunch • Optional The Source of Chocolate tour

Foundation Site

See how we're making a difference for students at Costa Rica's San Francisco School.

After breakfast at our lodge, we'll enjoy a unique opportunity to spend A Day in the Life of a Costa Rican village, including a visit to a local elementary school supported in part by Grand Circle Foundation. The children will warmly welcome us, and with their colorful traditional costumes and cheerful demeanor, they may leave a lasting impression on all who meet them. In fact, past travelers have found this to be a highlight of the trip.

During our visit, we'll spend some time with the students one-on-one, talk with their teachers and parents, and learn about Costa Rica's universal educational system. Long a national priority—and a focus of government spending following the abolition of its army—Costa Rica's policy of universal education has resulted in a literacy rate of 96%. While successful in educating their students, many school systems in Costa Rica suffer from a lack of funding, and the school we visit today has benefited from a Grand Circle Foundation grant, used to improve and expand the school building and grounds by constructing a new ceiling, classrooms, sidewalks, and even (at the San Francisco School) a self-sustaining microfarm project, which provides the students and their community with much-needed nutrition and revenue.

Your day also includes a visit to a local village for a Home-Hosted Lunch. Costa Rican cuisine is simple and wholesome, and a typical meal features chicken, beef, or fish (sometimes grilled), served with tortillas and rice and beans. But whatever's on the menu, you can count on the warm hospitality of your hosts, who may share some of their experiences of rural life in Costa Rica with us.

Then, we return to our hotel, where the afternoon is at leisure. Or, you can join our optional tour to discover The Source of Chocolate. We'll hike to a plot in the rain forest where the cacao beans used to make chocolate are grown in the traditional way, then see the whole process of chocolate making and taste the delicious results.

Dinner tonight is on your own.

Day 7

Nature walk • Cruise the Río Frío

Early this morning, we can elect to join a nature walk led by our Trip Leader on the hotel grounds. We'll have breakfast together afterward, then travel to the Río Frío, where we board a small boat to explore this complex inland waterway. We'll keep an eye out for wading birds—like northern jacanas and wood storks—as well as turtles and butterflies during our cruise. Keep your binoculars and camera ready—we might be lucky enough spot larger animals, like the spider and howler monkeys, sloths, and caimans that live by the river.

After lunch, we'll return to our hotel, where the balance of the afternoon is at leisure. Dinner is on your own this evening.

Day 8

La Fortuna • Travel to Guanacaste

Today, our Costa Rica travel continues with a drive to the Guanacaste Province in the northwestern part of the country, a large section of which has been set aside for preservation and designated a UNESCO World Heritage Site. Dominated by the Guanacaste mountain range, this region has a distinctive dry tropical climate and is famous for its thermal pools, which we'll enjoy later in our stay.

Our lodge is situated in the foothills of Rincón de la Vieja Volcano. We'll arrive in the late afternoon and take an orientation walk. From the lodge, local trails lead into wild expanses of tropical dry forest where we may spot peccaries, armadillos, motmots, and capuchin and howler monkeys, as well as white-fronted Amazon parrots, spectacled owls, and more than 270 other avian species.

Tonight, we'll have dinner together at the lodge's restaurant.

Day 9

Guanacaste • Horseback ride to hot spring • Optional Forest Canopy Ride

Following breakfast, we begin our day with an elective horseback ride that takes us through the jungle and into the remarkable thermal area near our lodge. Those of us looking to travel by horseback will get a safety talk and riding lesson from our Trip Leader before we saddle up and ride through sloping pastureland and along the tropical dry forest's narrow trails, while those who prefer a motorized means of transport will enjoy a tractor or pick-up truck ride instead. Either way, everyone is heading for the same destination: the thermal baths.

We can thank the Rincón de la Vieja Volcano for creating this rustic, open-air retreat. Subterranean thermal currents produce warm mineral mud, heated pools, and even natural saunas. Getting close to nature is part of the Costa Rica experience, as we'll discover firsthand this morning.

We'll begin by participating in a typical therapeutic mud regimen, starting with a pore-opening sauna near a fumarola, a thermal vent in the Earth's crust. Next, we'll enjoy a "facial"—Costa Rican style—by covering our faces with warm, mineral-rich mud transported here from bubbling pools deep within the mountain. Finally, when the mud hardens, we'll rinse it off and dip into a warm, relaxing thermal pool to wash the rest of our tensions away. It's a tranquil, rejuvenating, and—when several group members are caked in soothing gray mud—hilarious experience!

This afternoon, you can join us as we fly above the rain forest on an optional Forest Canopy Ride. We'll begin our optional excursion with a 20-minute uphill hike, followed by a safety talk. Then, strapped into our harnesses and wearing thick leather gloves, we'll head to the first of ten platforms high up in the treetops, where we're sent off on the ride of our lives. Whizzing from tree to tree on the zip-line, we'll witness stunning panoramic views of the forest below.

Or, spend the afternoon at leisure at the lodge, where you can enjoy a nature walk on your own, relax and write in your journal, or go for another round of independent birding on the grounds. We conclude the day with dinner at our hotel. Please note: Travelers on May-November departures can enjoy today's optional Forest Canopy Ride tour before breakfast, followed by all other activities as described.

Day 10

Overland to Pacific Coast

After breakfast, we'll head southeast to Costa Rica's Pacific Coast—a region renowned for its sandy beaches, tropical rain forests, and diverse wildlife. En route, we'll stop for lunch at a local restaurant. In the late afternoon, we'll arrive at our hotel near Jacó—a beach town renowned for its long stretch of gray sand and its world-famous surf. We'll enjoy a brief orientation walk around our hotel before enjoying some time at leisure. We'll have dinner at our hotel tonight.

Day 11

Manuel Antonio National Park nature walk

The Squirrel Monkey of Costa Rica

Learn why locals are striving to protect Costa Rica's population of squirrel monkeys.

We'll spend our morning in Manuel Antonio National Park, one of the most biologically diverse areas in the world. One of the smallest—and also most popular—of Costa Rica's national parks, this lush reserve encompasses four beaches, island bird sanctuaries, coral reefs, and a luxuriant rain forest. Manuel Antonio is also one of only two habitats in the country for the endangered squirrel monkey. As we walk about a mile along the nature trails here this morning, we'll keep an eye out for these friendly primates as well as two- and three-toed sloths, capuchin monkeys, giant iguanas, and more.

We spend a full morning at Manuel Antonio, including plenty of time for hiking or relaxing on its beaches before lunch at a nearby restaurant. This afternoon, we'll return to our hotel for time at leisure. Tonight, dinner is on your own.

Day 12

Outrigger canoe ride • Visit fishing cooperative

This morning, we'll venture to Agujas Beach, a beautiful protected cove. Here, after a safety briefing, we'll embark on an outrigger canoe to catch the spirit of pre-Columbian Costa Rica as we paddle along the ocean, passing steep cliffs and sandy beaches (and keeping watch for wildlife). We'll disembark at Limoncito Beach and enjoy some leisure time to stroll the beach before returning to Agujas Beach to shower and change our clothes (if desired).

We'll have lunch in the area before visiting Coope Tárcoles, a fishermen's cooperative founded in 1986 with the goal of promoting environmental and social responsibility. Members of this cooperative—who often rely on fishing for their livelihood—follow a strict set of rules to ensure they are fishing responsibly and protecting marine resources. We'll learn more about sustainable fishing in Tárcoles today when we meet members of the cooperative.

This afternoon, we'll return to our hotel for some time at leisure. Tonight, we'll gather for dinner together at a local restaurant.

Day 13

Pacific Coast • Cruise for crocodiles on Río Tárcoles • Overland to Santa Ana

Today, we board a small boat and drift down Río Tárcoles, a partially tidal estuary that forms a border of the park, and Costa Rica's largest habitat for crocodiles. Our naturalist Trip Leader will give us an introduction to these "prehistoric" animals, which can be up to 20 feet long, and we'll keep our eyes peeled for them as the river carries us along. The mangrove forest of Río Tárcoles is also home to many other creatures, and the birdwatching here is among the best in the country. Scarlet macaws are sometimes seen here flying overhead in pairs, and we may also spot egrets, osprey, frigate birds, roseate spoonbills, and white ibis during our journey.

Before traveling overland to Santa Ana, you'll have some time to get lunch on your own. When we arrive in Santa Ana, we'll enjoy some time at leisure. In the evening, we'll say adios to our Trip Leader and travel companions over a Farewell Dinner at a local restaurant in Santa Ana.


Day 14

Santa Ana • Return to U.S. or begin your post-trip extension

We'll rise before daybreak for an early breakfast and transfer to the airport in San José for our flight home. Travelers taking our optional Tortuguero National Park: Ultimate Rainforest Experience post-trip extension will transfer overland to Tortuguero this morning.
POST-TRIP EXTENSION:

Tortuguero National Park: Ultimate Rain Forest Experience

3 nights from only $695

Extend your Costa Rica travel in Tortuguero National Park, renowned for its lush jungle canopy and the fascinating abundance of wildlife that call this protected haven home. A naturalist's nirvana, much of this 47,000-acre expanse on the Caribbean coast can only be explored by boat along a network of waterways.

View Extension Itinerary