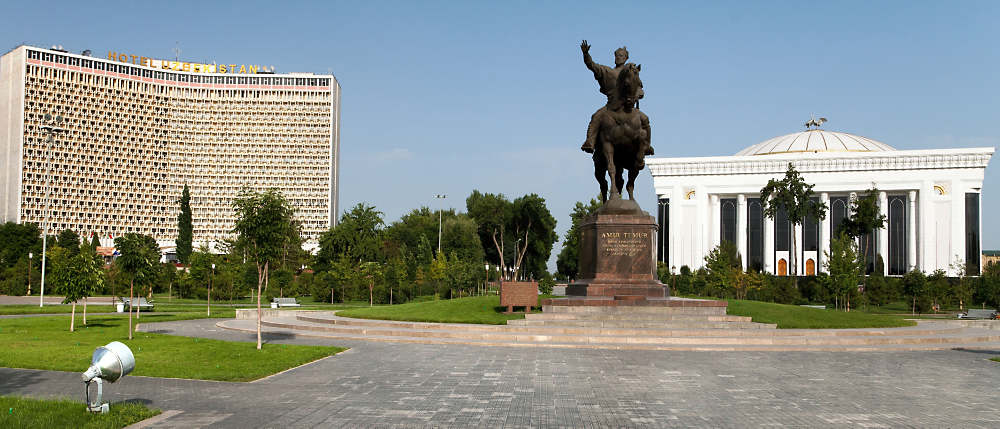 The hero and terror of Central Asia
by Jenna Thomas
"Tamerlane" has been a folk hero in Uzbekistan since their independence from the Soviet Union.
Tamerlane is considered one of history's most infamous butchers, known for slaughtering millions of people during his reign in Central Asia. On the other hand, he has been a folk hero in Uzbekistan since their independence from the Soviet Union. It is a fittingly complicated legacy for a man whose interests ranged from the conquest of China to collecting art.
His name has a twisted history as well. Tamerlane was actually named Timur. His Persian nickname "Timur I Leng," or "Timur the Lame" stemmed from his lifelong limp and evolved into "Tamerlane" in Europe. Even the source of his limp is up for discussion. Some say he was shot with an arrow while stealing sheep as a young man, and some say he was injured in battle during his mercenary days.
The early life of a born conqueror
Timur was born in modern-day Uzbekistan in 1336, during a tumultuous time for the region. Timur's clan, rumored to be descended from the Mongol Genghis Khan dynasty, clashed constantly with local nomadic tribes. Power changed hands often. A young Timur saw opportunity in the chaos. He declared an alliance with powerful Mongols outside the country, who repaid his loyalty by putting him in charge.
Timur immediately betrayed his clansmen by forming an uneasy partnership with a tribal leader, Amir Hussein. Timur married Hussein's sister Aljai to cement his new loyalty. Timur and Hussein installed themselves as joint rulers, using Timur's tactical skills and large following to bring neighboring lands under their control.
Becoming a butcher
By 1370, Timur and Hussein governed an area that included modern-day Uzbekistan, Tajikistan, southern Kyrgyzstan and part of Kazakhstan. That year, Aljai died and Timur saw no reason to continue his partnership with Hussein. Timur executed Hussein, consolidated his power by establishing a capital in Samarkand, and set about the task of building an empire.
Within a decade, Timur was the undisputed ruler of Central Asia. He turned his focus outward, leading campaigns to conquer Persia, Iraq and Asia Minor. By this time, his violent strategies were well-known and widely feared. When local populations revolted, he responded by leveling cities, building pyramids with the skulls of the vanquished, and in one case, ordering the murder of 70,000 residents of Isfahan, Persia.
With victories from Moscow to Baghdad, Timur's taste for conquest was far from sated. He now had an army of 90,000 men, and enough confidence to invade India. Within three months, he had ruined the city of Delhi and executed 100,000 Hindu prisoners before the city gates. Subsequent campaigns in Turkey, Syria, and Egypt were equally ruthless.
Timur returned to Samarkand as he neared his 70s, but soon decided that China's Ming dynasty was ripe for a takedown. This would prove to be his undoing. Timur was so eager to go that he headed east during an especially harsh winter. Scores of soldiers died and Timur caught a cold that killed him within a month.
The legacy of Tamerlane
According to historians, Timur's army killed up to 17 million people. The empire covered an area between Russia, India, the Mediterranean Sea and Mongolia, but Timur had left each corner in ruins and never bothered to set up a governing structure. After his death, chaos returned to the region and his empire fell apart.
Centuries later, after the fall of the Soviet Union, newly-independent Uzbekistan needed a folk hero for inspiration. Uzbek leaders turned to Timur, their countryman who had conquered most of Asia and turned Samarkand into the beautiful city that it still is. An officially-sanctioned biography compared him to George Washington. Monuments, museums and streets were dedicated to him. In the 1990s, the government spent millions of dollars restoring Samarkand and the Bibi Khanum mosque, places Timur had intended to be the jewels of Islam.
Even in the West, Timur is remembered. Edgar Allen Poe's poem "Tamerlane" tells the fictional story of Timur's deathbed confession to a friar—but it has much more to do with long-lost love than empire-building and bloodthirsty armies.
Today, visitors to Samarkand can see Timur's elaborate and beautiful mausoleum, itself the scene of some intrigue. In 1941, Soviet archaeologists opened the tomb and read the inscription, "Whoever opens this will be defeated by an enemy more fearsome than I." In spite of the warning, the Soviets removed Timur's body for research. Two days later, the Nazi army invaded the Soviet Union unannounced. When the research on Timur's body was finished, Stalin ordered that it be replaced in his tomb. The Soviet army triumphed over Hitler within a month. Coincidence or not, it was enough to start rumors that Timur was as vengeful in death as he had been in life.