by Laura Ellerby—6-time traveler, Santa Fe, New Mexico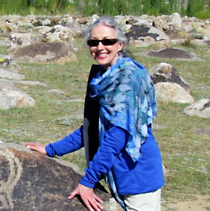 I went on The Stans of Central Asia on my own because, quite frankly, none of my traveling partners were interested in going on this trip—they either had no interest in exploring the "Stans" or no desire to spend the money required to fund this trip. Having traveled extensively on my own when I was much younger, my decision to travel alone within the camaraderie of an O.A.T. group was not daunting. I chose O.A.T. for this trip for several reasons: first, O.A.T. offers the FIVE Stans, not just Uzbekistan and Turkmenistan (other travel companies don't always offer all five Stans); second, O.A.T.'s itinerary was superb and offered enough overland travel to assure me that I would really get to experience the historic Silk Road; third, O.A.T.'s policy of not charging a Single Supplement was the "coup de grace" that solidified my decision.
Perhaps, most important of all, however, is my trust in the product that O.A.T. delivers. I have never had a bad trip with O.A.T. nor have I ever had a bad Trip Leader. And I always feel safe traveling with O.A.T. no matter what the destination!
Timur, my Trip Leader on this adventure, did everything possible to make me feel welcome and valued as a solo traveler. From his friendly correspondence before the trip to his warm welcome at the airport, he was a reliable, professional, and compassionate friend throughout my four-week adventure. One thing that I really appreciated about Timur was that he would spend time with each solo traveler during the lengthier bus rides. He took the time to get to know me and we discovered that we had several important things in common. His method for "breaking the ice" established a friendship that lasted for the duration of the trip. And because of Timur's dedication to making everyone in our group of thirteen "heard," we all had a sensational time.
What surprised me most was how much fun it was to travel solo. I found that I absolutely loved the solace of my single room after a long day of walking and talking. I discovered that I was able to re-energize so much more easily and quickly without having to entertain a roommate. I discovered that I loved having the bed and the bathroom to myself. I also discovered that after a relaxing night alone, I very much looked forward to seeing my travel mates at breakfast first thing each morning.
I was also very fortunate on this trip. The group members got along extremely well with each other—without exception. All were seasoned travelers who went with the flow, never complained, and enjoyed every experience. I formed several friendships that I know will be enduring ones. A superb Trip Leader, terrific local guides, congenial cohorts, and an incredible itinerary all added to my enjoyment of this adventure and elevated my experiences into the extraordinary.