Forgot Your Username
If you have forgotten your username, please provide your email address in the box below. We'll send you an email with your requested username. If you are having trouble, please call us toll-free at 1-800-221-0814.
Email Sent
You'll receive an email in a few minutes. Please check this email to find your requested username.
If you do not receive an email or you are having trouble logging into My Account, please call us at 1-800-221-0814.
Turkmenistan: Ashgabat • Uzbekistan: Nukus, Khiva, Bukhara, Samarkand, Tashkent
Itinerary Overview
Journey into Central Asia's heartland and uncover the rich legacy of the Silk Road, the ancient trade routes linking China to the West. Discover Turkmenistan's white-marbled capital of Ashgabat and Uzbekistan's ancient city of Khiva. Then explore the medieval streets of two of the Silk Road's most iconic cities—Bukhara and Samarkand, Tamerlane's ancient capital. In Tashkent, relive the romance of traders laden with precious silks and spices in the historic land where Uzbek hospitality still reigns supreme. Meet with nomadic families and wander spice-filled bazaars on an epic journey through one of the most ancient and mysterious corners of the globe.
Make It Your Adventure
Personalize your trip to meet your individual needs, from preferred flights and air routing, to "breaking away" to spend more time in a destination.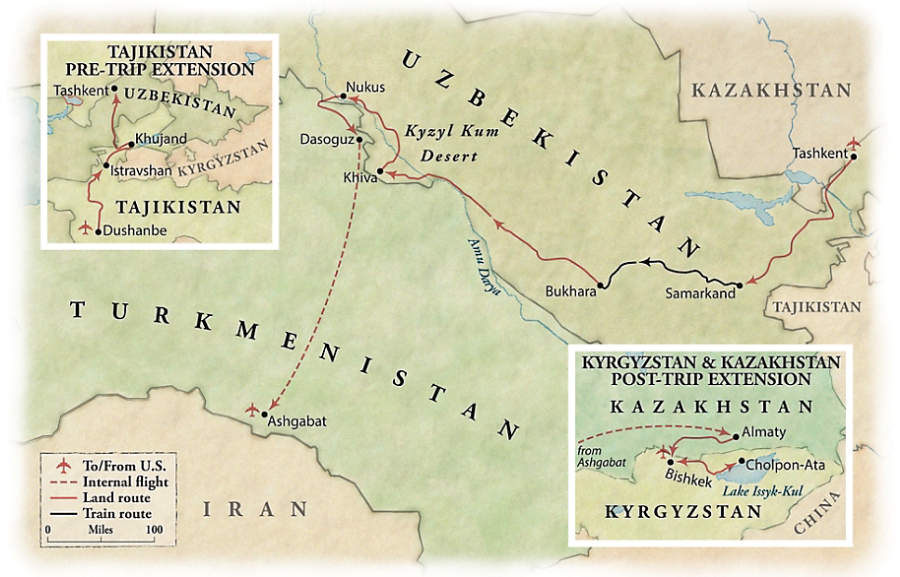 Day-to-Day Itinerary
PRE-TRIP EXTENSION:

Kyrgyzstan & Kazakhstan

7 nights from only $2495

Journey to Kyrgyzstan and Kazakhstan, two Turkic states nestled in the heart of Central Asia's rugged mountain ranges. Witness nomadic tribes and untouched alpine lakes, explore the post-Soviet cities of Bishkek and Almaty, and discover a coalescence of cultures thriving in a series of European- and Asian-inspired villages and towns.

View Extension Itinerary
You depart the U.S. for your flight to Ashgabat, Turkmenistan, via Istanbul, Turkey. The particulars of your arrival overseas will be detailed with your flight itinerary and airline tickets.

Day 2

Arrive in Istanbul, Turkey • Fly to Ashgabat, Turkmenistan

Today you'll arrive in Istanbul, where you'll meet your connecting flight to Ashgabat, Turkmenistan. Depending on your flight schedule, you'll arrive late on Day 2 or very early on Day 3. Travelers who took our pre-trip to Kyrgyzstan & Kazakhstan will arrive in Ashgabat either very early this morning or late this afternoon for the last day of their pre-trip extension.

After a late breakfast and briefing with our Trip Leader, set off on a walking tour of Turkmenistan's capital, a white-marbled oasis rising from the edge of the Kara Kum Desert. Modern Ashgabat ("city of love" in Arabic) has an ancient and colorful past. First there was Konjikala, a wine-growing village from the second century BC. Leveled by an earthquake a hundred years later, it was reborn as Nisa, capital of the Parthian Empire. Over time, the region was captured by Mongols, ruled by Persia, and taken over by Russia. In 1948, another earthquake leveled the city and killed more than 100,000 people. Rebuilt in the Soviet style, Ashgabat underwent another transformation after the collapse of the Soviet Union. Today's Ashgabat is a glimmering city of golden-domed palaces, neon-lit monuments, manicured gardens—and the highest concentration of white Italian marble buildings in the world!

Our late morning discoveries include some time mingling with the locals at one of the city's sprawling bazaars. Then, after lunch at a local restaurant, we'll visit the sprawling Independence Park to view its eclectic mix of historical monuments and lavish fountains. The park's highlight is Independence Monument, a towering flag holder surrounded by cascading waterfalls and bronze statues of book-brandishing Turkmen along its base. We'll also see the Earthquake Memorial and the impressive Akhal-Teke horse monument—a fountain statue of ten Turkmen horses at the center of the Turkmenistan coat of arms. After dinner at a local restaurant, we'll see how these famous monuments glow under floodlights against the nighttime sky.

Day 4

Ashgabat • Visit Akhal-Teke horse farm

After breakfast, we'll drive to the village of Gypjak, home to Central Asia's largest mosque. The massive golden-domed structure is also the final resting place of Niyazov, the strange dictator who ruled the country as Turkmenbashi (leader of the Turkmen) until his death in 2006. Then, we'll head to an Akhal-Teke horse farm to view the beautiful golden stallions that are considered the pride of Turkmenistan. We'll have lunch here and meet with the farm's owner, who can enlighten us on the importance of one of the oldest equine breeds in existence and the country's national emblem. Renowned for the beautiful metallic sheen to their coats, Akhal-Teke horses were once used by tribesmen of Turkmenistan for raiding and were selectively bred for speed, endurance, and agility.


We'll have the rest of the afternoon at leisure in Ashgabat. This evening, we'll enjoy a Welcome Dinner at a local restaurant.

Day 5

Ashgabat • Fly to Tashauz • Nukus, Uzbekistan

After breakfast, we board a flight over the vast, sun-scorched sands of the Kara Kum Desert (Central Asia's hottest desert) to the oasis town of Tashauz. Known as Dasoguz, or "Stone Spring," in Turkmen, Tashauz was a prominent stop along the Silk Road because of its underground spring. Today, Tashauz is a modern, Soviet-designed city with exquisite museums and monuments.

After enjoying lunch in one of the bustling street restaurants of Tashauz, we'll travel to the border of Turkmenistan and Uzbekistan. Our Trip Leader will assist us through customs as we make for Nukus, capital of the autonomous Karakalpakstan Republic. Due to its remote location near the Aral Sea, Nukus was a 'closed city' during the Soviet era, when the Red Army researched and developed chemical warfare weapons. After checking into our hotel, we'll visit a private home to enjoy dinner with a Karakalpak family and hear a performance by a traditional Karakalpak throat singer. Please note: Departures prior to 9/1/17 will travel directly to Khiva on this day; all included features remain the same.

Day 6

Visit Savitsky Museum • Overland to Khiva

After breakfast, we'll visit the Savitsky Museum, also known as the State Art Museum of the Republic of Karakalpakstan. The museum represents the life work of Russian painter and collector Igor Savitsky, whose legacy includes thousands of ancient to modern artistic treasures, along with the world's second largest collection of Russian avant-garde art, which he kept hidden from the watchful eyes of the KGB in this remote desert location.

Then, we'll drive to Khiva, arriving in time for lunch at a local restaurant. After a bit of time to relax at our hotel, we'll gather for an orientation tour of the city. This evening, dinner is on your own in Khiva, and our Trip Leader can provide you with a few interesting dining suggestions.

After breakfast, we'll set off on a walking tour of Khiva. Legend says that the ancient Silk Road oasis of Khiva was founded at the place where Shem, son of Noah, discovered water in the desert, and that the city got its name from Shem's joyful shout, "Hey va!" at the discovery. Today, Khiva is as much a living museum as it is a modern, thriving city. We'll spend the day exploring the sites of the city's meticulously preserved Old Town. Known as Ichon Qala or Inner City, this UNESCO World Heritage Site exists today much as it did when travelers on the Silk Road visited centuries ago—sweeping, dun-colored walls, a towering main gate, bustling thoroughfares, and crowds of weary wayfarers await us. We'll visit Tash Hauli Palace, which resembles a fortress with high battlements, towers, and fortified gates, but was once the home of the reigning khan, Ala Kuli. The sprawling inner courtyard and open-air throne room of the palace are awash in intricate blue and white tile work that stands in stark contrast to the earthen palate of the buildings.

Other discoveries include the rebuilt 9th-century Dzhuma Mosque, and the original residence of the khans, Kunya Ark. Considered a city within a city, Kunya Ark included the khan's mosque, residence, reception hall, arsenal, harem, and more. After lunch in a local restaurant, you'll have free time to pursue independent discoveries.

Dinner is at our hotel in Khiva this evening.

Day 8

Khiva • Overland to Bukhara

Today we experience the Silk Road the way centuries of merchants did, as we spend the day traveling across the Kyzyl Kum Desert on our way to Bukhara. This drive will take us approximately eight hours, and we will follow the same route that camel caravans traversed as we make our way across the majestic terrain of cascading sand dunes and flat, uninhabited plains.

The Silk Road was as much an exchange of cultural values as it was an exchange of goods. Gold, saffron, vegetables, and wine came from the west, while ceramics, cinnamon, bronze, and silk made their way from the east. Along with these precious commodities came the spread of religions and customs, many of which are still practiced in the region today. We'll stop for a picnic-style lunch at a small village and enjoy a brief respite from the road at a local tea house. We'll arrive in Bukhara in the evening, and gather for dinner at a local restaurant.

After breakfast, we embark on a full-day tour of Bukhara. Like Khiva, Bukhara was a prominent destination along the Silk Road that grew wealthy on the trade that passed through. We'll visit the opulent 18th-century Bolo Hauz Mosque and the Chashma Ayub Mausoleum, the legendary spring brought forth by the prophet Job upon striking the ground with his staff. And we'll set off on foot through Old Town, exploring the many mosques, mausoleums, and blue-domed minarets of this UNESCO World Heritage Site—which still bears scars of a 13th-century invasion by Genghis Khan. Our discoveries also include the Ark Citadel, the city's ancient fortress. During the 19th century, the British and Russian empires fought for dominance of Central Asia—a strategic rivalry called "The Great Game"—and one of the most famous moments in this struggle centered at the Citadel and its connected prison. It was here that two British officers, Charles Stoddart and Arthur Connolly (the one who coined the phrase "The Great Game"), were held in a vermin infested pit for two years before being publicly beheaded and buried under the square outside the main gate.

We'll have lunch on our own at Lyab-i-Khauz, an ensemble of madrassahs and historical buildings built around a quiet plaza in the shade of mulberry trees, often frequented by tea-sipping, chess-playing Uzbek locals. Afterward, we'll spend time at Bukhara's famous domed bazaars, a series of ancient arcades occupied by money changers, hat makers, rug merchants, jewelry vendors, and more. We'll also stop at a 16th-century synagogue to learn about Bukhara's unique and lengthy Jewish heritage, and visit a local puppet maker's shop and learn about the ancient art of constructing a marionette. Then, we'll enjoy dinner with entertainment at a local restaurant in the heart of Bukhara.

Day 10

Bukhara • Discover village of Nayman • Community-Hosted Lunch

After breakfast, we'll visit the village of Nayman, where we'll have an opportunity to participate in the daily lives of rural villagers in Uzbekistan. After a discussion about religion in the community with a local imam, we'll meet with a village representative who will enlighten us on some of the social issues facing the community. Then, we'll split up into smaller groups and visit some local homes to meet with the families and participate in some hands-on activities (which will vary depending on the season) in this typical farming village. After our "chores" are complete, we'll enjoy local hospitality during a community lunch with several of the village families. We return to Bukhara for some time at leisure before gathering together for dinner at a local restaurant this evening.

Day 11

Bukhara • Visit Gijduvan • Overland to Samarkand

After breakfast, we begin our journey to Samarkand, stopping en route in the village of Gijduvan. Known for its production of exquisite pottery, we visit with a local ceramic master and learn about the centuries-old traditions of this ancient art form. Afterwards, we'll tour a museum dedicated to ceramic manufacturing in the region and shop the wares at a stunning showroom housing vibrant plates, bowls, and vases.

After lunch at a local restaurant, we'll arrive in Samarkand and check in to our hotel. Later in the afternoon, we'll stop at a home bakery to try our hand at making Samarkand bread—and learn why the fragrant round loaves baked in clay ovens here are legendary throughout Uzbekistan. After some time to refresh back at our hotel, your Trip Leader can offer suggestions for dinner on your own this evening in Samarkand.

Day 12

Explore Samarkand • Dinner with a local family

Today is devoted to exploring Samarkand, one of the oldest cities in the world. Established during the middle of the first century BC, Samarkand—like many Silk Road cities—was conquered and claimed a number of times, including by the troops of Alexander the Great, the Arab Caliphate, and Genghis Khan. Our discoveries include Registan Square. Located in the heart of the city, Registan Square was host to public executions, royal proclamations, and a sprawling bazaar. Today, the expansive space is used for holiday celebrations and important public events. Fringed on three sides by ornate madrassahs (educational centers), the space is a vibrant meeting point for residents of Samarkand, and at night, illuminated by floodlights, the delicate tiling and mosaic work are a glittering spectacle. At the Gur Emir, the mausoleum of conqueror Tamerlane and his descendants, we'll see the architectural components that inspired the Taj Mahal. And we'll stroll through the expansive courtyard of marble flagstone at the Bibi-Khanum Mosque—a structure that legend says was a gift to Tamerlane by one of his wives. We'll also have time to explore the Siab Bazaar, where fruit and vegetables grown from the rich soil of the Zarafshan Valley are sold in a colorful market.

After lunch at a local restaurant, we'll visit Shah-i-Zinda, a towering necropolis where a cousin of the prophet Muhammad is buried. We'll also visit Ulug-Bek's Observatory, one of the most advanced observatories of the ancient world. The three-story structure positioned atop a sweeping plateau just outside of Samarkand was used by Ulug-Bek (a grandson of Tamerlane) to catalog the stars and map out the sun, moon, and planets. He also calculated the length of a year, accurate to within a minute of the calendar we use today.

This evening, we'll learn what modern-day life is like in this ancient city when we're welcomed into the home of a local Uzbek family for dinner.

Day 13

Samarkand • Hike in the Gissar Mountains

After breakfast, we'll set off on a morning hike in the foothills of the Gissar Mountains. Our hike will take us along shepherd trails to enjoy the mountain scenery, and we'll break up the journey with a cup of tea heated over a campfire. Our hike concludes at Ohilik, a small mountain village where we'll spend a little time engaging with the local children before returning to Samarkand. Please note: Travelers who do not wish to participate in this hike may stay back at the hotel and enjoy the morning at leisure.

After lunch at a local restaurant, we'll head out to the Meros Paper Mill, a local factory that has revived the ancient Samarkand tradition of producing paper from mulberry bark. We return to Samarkand for some time at leisure before regrouping later for dinner at a local restaurant.

Day 14

Samarkand • Journey to Tashkent

After breakfast, we journey to Tashkent, Uzbekistan's capital. One of the oldest cities in Central Asia, rock paintings in the neighboring Chaktal Mountains reveal that humans have inhabited the region surrounding Tashkent since as early as 2000 B.C. A fascinating blend of modern buildings side-by-side with a maze of winding streets and mud-walled homes, Tashkent represents one of the most famous Silk Road cities.

Upon arrival in Tashkent, we'll have lunch at a local restaurant. Then, an afternoon tour begins at Independence Square, which represents a symbol of freedom for the Uzbekistan people who declared their independence from Russia in 1991. We'll also see the Courage Monument, erected to honor the rebuilding efforts—and the strength and resilience of the Tashkent people—after a catastrophic 9.0 earthquake struck the city in 1966. The square is also home to the Shahid Memorial Complex, a blue domed rotunda and fountain that pays tribute to the innocent shahid (martyrs) who were killed during Stalin's purges.

Then, we'll stop at the Alisher Navoi Opera and Ballet Theater, the largest theater in Central and Southeast Asia. Named after the famous Uzbekistan poet, Alisher Navoi, the halls and foyer are decorated with murals depicting plots from the writer's poems. Dinner is on your own this evening.

After breakfast, we'll drive out to Barak Khan Madrassah, a historical monument that has become a center for local artists and craftsmen. We'll also get to see Islam's most holy relic, the world's oldest Koran, and visit Chorsu Bazaar, Tashkent's famous green-domed market featuring acres of spices, produce, and traditional crafts. Then, we'll hop on the metro for a visit to the History Museum of the People of Uzbekistan. Lunch is on your own at the famous Central Asian Plov Center, a series of eateries specializing in plov, the savory Uzbek national dish made of rice, meat, and spices.

We'll have time to rest this afternoon before gathering to celebrate our Silk Road adventure during a festive Farewell Dinner at a local restaurant.

Day 16

Fly to U.S. or begin post-trip extension

After breakfast, transfer to the airport for your return flight to the U.S. via Istanbul. Or, begin post-trip extension to Tajikistan: Dushanbe & Khujand.
POST-TRIP EXTENSION:

Tajikistan: Khujand & Dushanbe

6 nights from only $2495

Extend your Silk Road journey into Tajikistan, land of legendary hospitality, rugged mountains, and Central Asia's oldest cities. Venture into bazaars that drew ancient caravans from distant lands, hear traditional Tajik music at a folk jam session, picnic beside a pristine glacial lake, and experience the air of seclusion this far-flung mountain territory has maintained through the millennia and into modern times.

View Extension Itinerary