Forgot Your Username
If you have forgotten your username, please provide your email address in the box below. We'll send you an email with your requested username. If you are having trouble, please call us toll-free at 1-800-221-0814.
Email Sent
You'll receive an email in a few minutes. Please check this email to find your requested username.
If you do not receive an email or you are having trouble logging into My Account, please call us at 1-800-221-0814.
Spain: Bilbao, San Sebastian, Pamplona, León, Santiago de Compostela • Portugal: Douro Valley, Porto
17 Days from only $4795 including international airfare
FROM
$4795
17 DAYS
$283/DAY
including international airfare
16 DAYS FROM $3695 Small Group Adventure Only
Itinerary Overview
Follow the path of ancient pilgrimage routes on a journey from the Basque capital of Bilbao and Hemingway's beloved Pamplona to legendary Santiago de Compostela. Discover the abundant seafood and rich wine tradition of Galicia, Spain's northernmost region, then explore the lush riverside Douro Valley of Portugal. And crown your journey in history-soaked Porto, the coastal city that launched so many explorers.

As you travel through Spain and Portugal, you'll experience the full breadth of the region's delights, from Bilbao's incomparable Guggenheim Museum to the humble tradition of clam-digging in Cambados. You'll sample the wines of both countries, visiting the places where they're made, and enjoy a Home-Hosted meal with a local family. By exploring villages up to 3,000 years old, visiting five UNESCO World Heritage Sites, and strolling through historic markets, you'll see what makes these two enduring cultures so unforgettable.
Make It Your Adventure
Personalize your trip to meet your individual needs, from preferred flights and air routing, to "breaking away" to spend more time in a destination.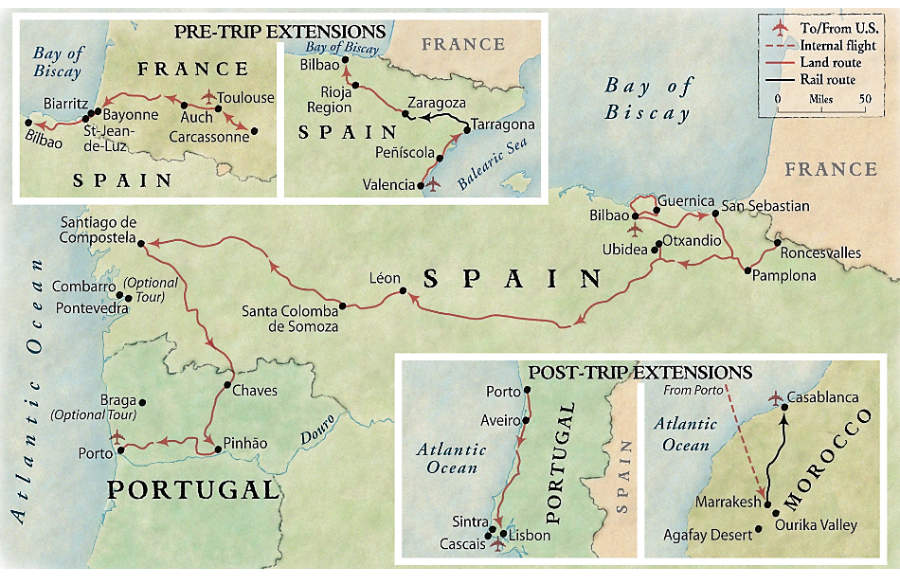 Day-to-Day Itinerary
PRE-TRIP EXTENSION:

Southern France: Carcassonne & Bayonne

5 nights from only $1795

Southern France is a land of lush forests, abundant historic sites, and the gifts of the sea on prominent display. Experience two of its most distinct regions, beginning in the foothills of the Pyrenees, where you'll discover the fortified city of Carcassonne. Then, explore the pride of French Basque country in Bayonne.

View Extension Itinerary
Fly overnight from the U.S. to Bilbao, Spain.

Day 2

Arrive Bilbao, Spain

Today, arrive in Bilbao, Spain. After you are met by an O.A.T. representative and transferred to your hotel, you'll enjoy an orientation walk and a Welcome Drink with your fellow travelers and Trip Leader. You'll also meet those who traveled on our optional Southern France: Carcassonne & Bayonne extension.

Poised between the Pyrenees and the Bay of Biscay, Basque Country offers a diverse array of outdoor pleasures from sandy beaches to dramatic hills, but has also become known as a hotbed for culture, with its own language and traditions distinct from the rest of Spain. Bilbao, the capital of the Biscay province, is world-renowned for its dining scene. Your Trip Leader is sure to have suggestions for introducing you to the acclaimed local cuisine during dinner on your own here tonight.

After breakfast, we'll get acquainted with Bilbao, old and new, during an included walking tour. Since at least the 14th century, Bilbao has been a scene of industry and culture, known especially for its ironworks (Shakespeare even refers to swords as "bilboes" in Merry Wives of Windsor). As the centuries passed, Bilbao became a shipbuilding center, and was the wealthiest city in all of Spain by 1900. But the middle of the 20th century saw natural disasters and civil war cripple the city, and some believed its glory days were past. Happily, the unveiling of the cutting-edge Guggenheim Museum, designed by Frank Gehry, sparked a transformative boom in the late 1990s that has brought the city roaring back to life.

Today, we'll have a chance to visit the museum, admiring what has become one of the world's premier collections of contemporary art. We'll also board a streetcar to head into the medieval old town, the "Seven Streets" neighborhood that is home to the Ribera Market, Europe's largest covered market. The market embodies the commercial spirit of the original seven streets, which included a butcher's street and a shopkeeper's row.

After lunch on your own, enjoy time to explore this fascinating city at your leisure. You might choose to continue your artistic discoveries at the Museo de Bellas Artes, which features 9,000 pieces from masters like El Greco, Goya, Gauguin, Picasso, and others stretching all the way back to the twelfth century. Or pay a visit to Indautxu Square, a striking urban re-design project where a pedestrian-only plaza has been studded with maple, birch, and yew trees, as well as leaf-shaped lighting fixtures, all encircling a ring of benches beneath glass canopies.

This evening, we'll gather for a Welcome Dinner.

Day 4

Bilbao • Discover Guernica • Txacoli wine tasting

After breakfast this morning, we set off to explore the Basque coast, beginning in Guernica. Established in 1366, Guernica was the eventual seat of the Basque parliament, which conducted business in a 16th-century Assembly House standing in the shade of an oak tree—the first traditional official meeting spot. The Assembly House was rebuilt in 1833, and whenever time or disease felled the oak, it was replaced by one of its own offshoots (which the Basque government carefully maintains just for this purpose).

In 1937, the German Luftwaffe bombed Guernica nonstop for more than three hours, laying waste to almost all of it—a nightmare immortalized by Picasso in the famous painting that bears the town's name. Miraculously, the Assembly House and the oak tree both survived, entering the realm of folklore as national symbols. Today, we'll see both, including the fifth descendant of the original oak, and we'll enjoy a discussion on Basque Country history to enrich our understanding.

We'll enjoy lunch together in Guernica before visiting a small family-run wine cellar, where we'll learn about Txakoli wine. The sparkling dry white wine was once just a homemade favorite and its making was a local pastime. It doesn't last forever—in fact, it has to be poured within a year of its bottling—so it was treated like canning or preserves: an annual ritual from one season's bounty. It wasn't until the end of the 20th century that several vineyards together sought and won Designation of Origin certification, which increased Txakoli's name recognition. We'll meet people who make this true Basque favorite and sample it for ourselves.

We return to Bilbao late this afternoon. This evening, dinner is on your own. Perhaps you'll delve into the world of pinxtos, the Basque answer to tapas.

We bid farewell to Bilbao this morning and travel overland to Pamplona via elegant San Sebastian. Before entering the seaside city, we stop at Mount Igueldo to soak up panoramic views that sweep from shell-shaped La Concha beach to the mountains beyond. This vantage point is home to El Torreón, a 16th-century tower that served as the city's first lighthouse.

Later this morning, we'll get to know San Sebastian on foot during an included walking tour. The city's commercial success across the centuries will be on display as we pass grand 19th-century buildings and lovely gardens. Our destination is the 1871 Bretxa Market, one of the oldest continuously operating traditional markets in Spain. Today, the market is filled with upscale shops, boutiques, cinemas, and cafés, but its lower level still clings to tradition. Here, you can find a wide array of euskol (Basque certified) products, from local vegetables and meats to fresh-caught fish.

After an included lunch, enjoy a bit of free time to explore the area around the market. Stroll Consti, as locals call Constitution Square, a massive former bullfighting ring. Today Consti is a pedestrian plaza ringed by colonnaded buildings, the windows of each decorated with the number of the corresponding spectator box that once occupied that particular spot in the bullfighting days.

We depart to Pamplona this afternoon, arriving in time to settle in our hotel before an included dinner together this evening.

Day 6

Pamplona • Walk the Camino de Santiago

We begin our day with an included walking tour of Pamplona, a city made famous by the raucous (and sometimes deadly) running of the bulls during the San Fermín festival, a spectacle which attracted Ernest Hemingway. The author based The Sun Also Rises on his own experiences in Pamplona, especially his love of bullfighting, which he described as "like having a ringside seat at the war with nothing going to happen to you." With its medieval bridges and buildings dating back to the 14th century, the Pamplona that Hemingway witnessed will still be on display during our stroll.

Then we set off to discover the Camino de Santiago, one of Europe's most important pilgrimage routes. During the Middle Ages, the three great Christian pilgrimage destinations were Rome, Jerusalem, and Santiago de Compostela in Spain, where it was believed a cathedral housed the bones of St. James. "The Way of St. James" is a series of walking routes that lead from various locations in Spain, Portugal, and France to the Cathedral of Santiago de Compostela (the most popular trek is known as the French Way, which crosses the Pyrenees). Today, the route remains a popular journey for the devout—as well as a beloved itinerary for hikers and cyclists. We'll begin the way many pilgrims have, in Roncesvalles, a village known as the setting of the defeat of Charlemagne.

The meaning of the route will come to life when we talk to pilgrims who are making the hike for spiritual reasons, learning what the journey means to them. After an included lunch, we'll continue walking the route ourselves. Please note: Our hikes on the pilgrimage route are physically demanding, ranging from 1 to 3.5 miles in length on unpaved and uneven terrain with some steep sections.

Later this afternoon, we return to Pamplona for time to explore at leisure. You might choose to unwind after our walk, or elect to explore Pamplona's famous greenspace independently.

After enjoying dinner on your own this evening, you might opt to join us in a walk along the ruta fluvial, a traditional evening stroll alongside one of Pamplona's three rivers (the Arga, Elorz, and Sadar rivers).

Day 7

Pamplona • Explore Burgos • Overland to León

After breakfast, we set off for a walking tour of Burgos, the historic capital of the 16th-century Castile kingdom. As one of Spain's most well-preserved medieval cities, the UNESCO World Heritage Site is full of architectural gems from the 14th and 15th centuries, including the Gothic cathedral whose spires punctuate the skyline like stone exclamation marks, and the Arco de Santa Maria, the ancient entrance to the city. Hidden from view but nonetheless a part of the city's folklore is the belief that Burgos is the final resting place of the legendary El Cid. It is said that his widow brought his body—dressed in armor, and accompanied by full retinue—to be buried here.

After we enjoy free time for lunch on our own, we'll stroll a different portion of the Camino de Santiago. Depending on the weather, we may follow the path along the Canal de Castilla toward the dam, with views of farmland on the opposite side.

Late this afternoon, we travel onward to León. Established as a Roman camp in 20 BC, León has been settled continuously for more than 2,000 years, and is one of the most prominent stops for pilgrims on the camino. We'll enjoy an included dinner here together tonight.

León is a celebratory city, known not only for its religious processions during Semana Santa (Holy Week) but its love of fun; two summer festivals transform the city into an outdoor party, and one of the Holy Week rituals even celebrates imbibing.

The city's long history is on display in its mix of medieval, Gothic, Renaissance, and Modernist architecture. We'll see this for ourselves on an included walking tour, which includes the Basilica de San Isidoro, which was founded in 1063, destroyed by Napoleon's men, and restored in the 19th century. We'll also visit the castle-like Casa de Botines, which is a surprisingly somber-looking masterpiece by the Barcelona architect, Antoni Gaudi.

Enjoy time on your own for lunch today, before an afternoon at leisure. You might elect to join us for a visit to the 3,000-year-old village of Astorga, which is home to an Episcopal palace also designed by Gaudi (who never visited the site before building, and worked entirely from early photography of the town for inspiration).

Dinner is on your own this evening.

Day 9

Travel to Santiago de Compostela • Discover Las Medulas

Today, we bid farewell to León after breakfast and set off for Santiago de Compostela, the culmination of the camino. En route, we pause to visit the UNESCO World Heritage Site of Las Medulas. In the first century AD, Rome coveted the gold deposits here and used the ingenious method of hydraulic mining to access them. Seven linked aqueducts provided water for a vast basin above Las Medulas; when the water was released in a torrent, it stripped away soft rock to yield the precious gold—and left behind canyon-like landscapes, as we'll see.

After an included lunch, we stop in Lugo, a UNESCO World Heritage Site. This is only city in the world still completely surrounded by intact Roman walls, which were built in the third century, incorporating ten gates and 71 towers. Later this afternoon, we continue on to Santiago, arriving in time for dinner together.

Day 10

Explore Santiago • Optional Traditional Galician Night

This morning, we explore on foot in the city that has been the destination of many pilgrims. According to legend, a ninth-century shepherd witnessed a moving star and followed it, the light eventually leading him to a burial site. The local bishop examined the bones found there and proclaimed them to be those of James the Great, the patron saint of Spain. Hearing the news, the Spanish king ordered a cathedral be built on the spot, and hence the camino first came into being.

Our walking tour will include the cathedral itself, as well as two of the plazas its façades face: the Obradoiro, with buildings representing 700 years of city history; and Platerias Square, known for its Fountain of the Horses.

After lunch on your own, enjoy the afternoon at leisure. Perhaps you'll soak in the historic pleasures of another of the city's grand squares, the Plaza de España, with its palaces and 16th-century hospital. Or explore the Casco Antiguo (Old Town), following the Rúa Nueva and the Rúa del Villar—a pair of pedestrian-friendly streets where cafés, restaurants, and boutiques line arcades beneath red-tile roofs.

This evening, enjoy dinner on your own, or join an optional Traditional Galician Night tour. Heading into the countryside, we'll enjoy authentic Galician cuisine and the music of Galician gaita (Spanish bagpipes), as well as a pagan-era ritual called Conjuros.

Day 11

Santiago • A Day in the Life of Cambados

Galicia is justifiably famous for two of its greatest offerings: seafood and wine. Today, we'll experience A Day in the Life of the coastal community of Cambados, known for its shellfish and its local Albariño wine. Nicknamed "the wine of the sea," Albariño has been produced here for at least 400 years, though it has only caught on in other parts of the globe in the last century. In this region of Spain, it is so beloved that is gets its own week-long festival, where revelers enjoy Albariño tastings, seafood, and live concerts, all while wearing necklaces bearing dangling wine glasses. We'll visit a 16th-century wine-making complex to sample it for ourselves.

After an included lunch, we return to Santiago in time for an evening at leisure, including dinner on your own. You might choose to seek out the region's best seafood (perhaps enjoying the bounty of Cambados, which is prized by many of the region's restaurants).

Day 12

Travel to Douro Valley • Home-Hosted Lunch

Today, we leave Spain and depart for Portugal's Douro Valley, stopping en route just over the border in Chaves. With evidence of human occupation as early as the Paleolithic era, and continuously occupied since the Roman era, Chaves was known for two things: its hot springs and its military value. Forts, battlements, and towers ranging from the medieval era to the 18th century dot the landscape. We'll enjoy a discovery walk here as our first glimpse of Portugal, followed by a Home-Hosted Lunch with a local family.

Then we set off for Pinhão in the Douro Valley, a UNESCO World Heritage Site, arriving late this afternoon. Ever since the ancient Romans first cultivated grape vines here in the 3rd century, this mountainous region has been a wine-growing powerhouse, especially known for port wine. After a brief walk in the area surrounding our hotel, we'll enjoy dinner together.

Day 13

Discover Douro Valley

After breakfast, we set off to explore port wine country along the Douro River. The first detailed account of port production came from Englishmen in 1678 after they visited the Abbot of Lamego, a vicar and vitner who served them red wine fortified with brandy. The visitors described it as "very agreeable, sweetish, and extremely smooth," and purchased the Abbot's entire stock to ship to England, where it was a sensation in their circles. The Abbot's wine, and port made similarly in the region, became a commodity. By the middle of the next century, it was a formally protected wine with a Designation of Origin to control quality (and not, as legend has it, the creation of British sailors spiking wine with brandy to make it last longer).

Today, port wine exclusively originates on the terraced vineyards that rise up alongside the Douro on quintas (wine farms). We'll visit a quinta today and trace the path of port from grape to glass. We'll also enjoy a cooking class to make some local specialties to pair with the wine.

If weather allows, we will enjoy a different perspective on the Douro as we take a boat ride on the river, following the trade routes of the first wine sellers. We'll then return to our hotel and enjoy free time this afternoon. We'll gather for an included dinner this evening.

This morning, we'll travel west to coastal Porto. Established two millennia ago, it is one of the oldest cities in Europe, and is the settlement that gave Portugal its name (when the town was known as Portus Cale in the ninth century). In the 14th and 15th centuries, when Portuguese sailors were the world's leading explorers, the city was the launchpad for myriad journeys.

After arriving in Porto, we'll get an introduction to the city with a panoramic driving tour. Then we enjoy lunch in the Ribeira, the oldest part of the city, followed by a walking tour through its 2,000-year-old streets. Our visit brings us to São Francisco Church, which appears somber from outside, with its Gothic exterior. Step inside and we find the most extravagantly decorated church in all of Porto, with baroque columns, arches, and ceilings coated in pure gold, and the less-adorned fixtures made from solid marble. We'll also visit the Palácio da Bolsa, the city's 19th-century stock market and a UNESCO World Heritage Site. Each section of the interior was designed by a different artist and in its own style, the pinnacle of which is the Moorish-influenced Arab Room, a soaring chamber with elaborate tilework, skylights, and glittering light fixtures.

This evening, dinner is on your own. Perhaps you'll try local specialties like the Francesinha, the "little French" sandwich—which is hardly little at all. Inspired by the Monte Cristo sandwich, the Portuguese version includes sliced meats in a sandwich topped with melted cheese and served with beer sauce. Locals will argue about who makes it best, and your Trip Leader is sure to have a suggestion or two.

Day 15

Porto • Optional Minho Tour

Get to know Porto at your own pace today. Or join us for an optional tour of Minho. We'll begin in Guimarães, known as the "cradle of Portugal." We'll witness the tenth-century castle here before moving on to Braga, a Roman settlement with a beautiful plaza laid out in the Middle Ages. We'll stroll the oldest section of the city, home to the fortress-like Archbishop's Palace and the eleventh-century Braga Cathedral. Our discoveries conclude at Bom Jesus do Monte, a hilltop pilgrimage site outside the city.

We gather together this evening for an included dinner.

After breakfast, we'll get a youthful perspective on life in Portugal during a discussion with some local students. Then we explore more of Portugal's second-largest city on an included walking tour that features an outside view of the magical old "library," actually the nation's oldest bookstore, Livraria Lello & Irmão. Since the late 19th century, eager readers have passed through the doors in the Art Nouveau façade and entered into an elaborately decorated shop with a split staircase ascending to an upper level topped with a stained-glass skylight. Considered one of the most beautiful bookstores on Earth, it was the inspiration for the Hogwarts Library in the Harry Potter series, according to author JK Rowling.

We'll enjoy an included lunch at a local restaurant before enjoying time to make more discoveries on your own in Porto this afternoon. Perhaps you'll visit the indoor-outdoor Mercado do Bolhão, which first opened in 1914. Amid grand staircases, tiled walls, and wrought iron fixtures, vendors sell traditional favorites, including cured meats, fresh seafood, roasted chestnuts, and more. Or take in panoramic views of the city on a funicular ride, descending from the Batalha neighborhood to the Ribeira.

This evening, share remembrances of your journey with fellow travelers during a special Farewell Dinner.

Day 17

Return to U.S. or begin post-trip extension

After breakfast, we depart for the airport for our return flights home, or to begin our post-trip extension to Lisbon, Portugal.
POST-TRIP EXTENSION:

Lisbon, Portugal

4 nights from only $1345

Perched above the Tagus River, Lisbon has been the launch pad for discoveries since the time of Henry the Navigator. A leisurely stay in this city of hills allows time to explore centuries of history in its oldest neighborhoods, as well as its renaissance as a global hotspot, known for its music and dining.

View Extension Itinerary