Forgot Your Username
If you have forgotten your username, please provide your email address in the box below. We'll send you an email with your requested username. If you are having trouble, please call us toll-free at 1-800-221-0814.
Email Sent
You'll receive an email in a few minutes. Please check this email to find your requested username.
If you do not receive an email or you are having trouble logging into My Account, please call us at 1-800-221-0814.
Italy: Lucca, Chianti region, Pienza, Trevi
15 Days from only $3995 including international airfare
FROM
$3995
15 DAYS
$267/DAY
including international airfare
14 DAYS FROM $2995 Small Group Adventure Only
Itinerary Overview
From the grape-laden vines of Chianti to countless rows of olive groves blanketing the hills of Trevi, traveling to Tuscany and Umbria is to journey into the heart of Italy. Wander through fields of wildflowers to explore an abandoned abbey. Stand atop the walls of an ancient city, and gaze upon the marble churches and tree-lined piazzas below. Stroll along the narrow lanes of small towns, marvel at medieval hilltop fortresses, and wend between proud stands of elegant cypress trees. Immerse yourself in this rustic, romantic region of Italy, and enjoy a rich legacy of art, proud traditions in food and wine, and a local way of life as timeless as the rolling vineyards warming under the Tuscan sun.


Make It Your Adventure
Personalize your trip to meet your individual needs, from preferred flights and air routing, to "breaking away" to spend more time in a destination.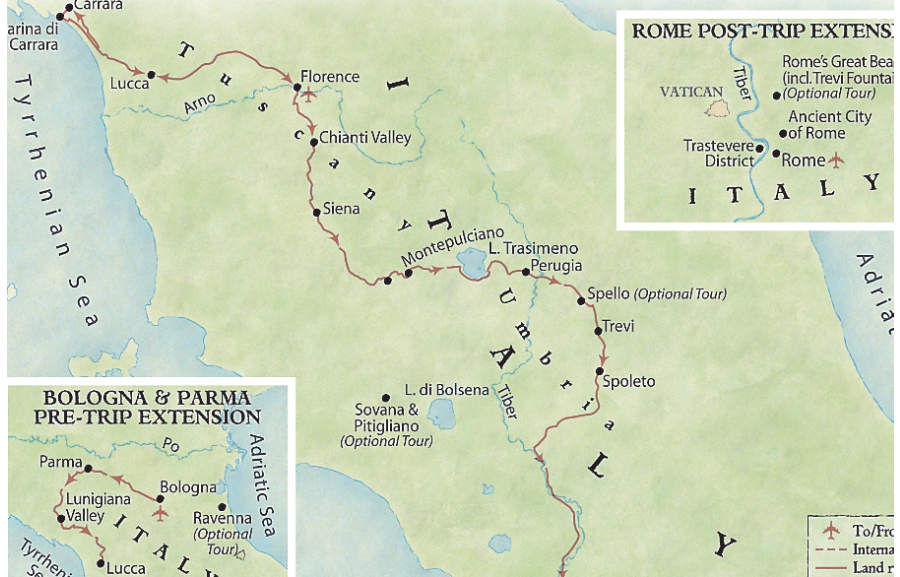 Day-to-Day Itinerary
PRE-TRIP EXTENSION:

Bologna & Parma: Rich History & Culinary Traditions

6 nights from only $1845

Bologna beckons travelers with its rich history, red-brick palazzi, and culinary treasures … Parma is home to celebrated traditions of food and wine, along with cobbled lanes and colorful customs. Explore them both and discover true gems of Northern Italy.

View Extension Itinerary
You depart the U.S. for Florence. The details of your arrival overseas will be included with your flight itinerary and airline tickets.

Day 2

Arrive in Lucca, Italy

After an overnight flight, arrive at the airport in Florence. A driver will assist with your transfer to Lucca, where we'll check into our hotel. Enjoy some time to unwind before a brief orientation session and a Welcome Drink. You'll also meet those who traveled on our optional Bologna & Parma extension. This evening, dinner on your own. Your Trip Leader will be happy to recommend restaurants in the area.

After breakfast at our hotel, we begin the morning by learning some key Italian phrases during a language lesson. Then, we explore Lucca on a walking tour. Remarkably well preserved, Lucca's narrow streets look much like they did when the ancient Romans established the town in about 180 BC. And the thick walls that encircled Lucca during the Renaissance era stand strong today. Completely intact, they once hosted car races and now serve as a pedestrian walkway. Lucca's charming center is enclosed by these walls, and brick ramparts from the 15th and 16th centuries preside over the streets. As we explore, we'll find quiet, tree-lined squares and ancient churches with ornate facades of green, gray, and white marble. Our stroll takes us by the Duomo di San Martino, or St. Martin's Cathedral, which was originally built in 1063.

Then, we'll see the city from a rolling perspective as we enjoy a fun bicycle ride or a leisurely stroll on the wide and largely flat city walls. After our tour, lunch is on your own, and your afternoon is at leisure.

We'll enjoy a Welcome Dinner this evening in a local restaurant.

Day 4

Lucca • Excursion to Carrara Marble Quarries

After breakfast, we'll depart for Carrara, a town situated along the Carrione River that was originally built by the ancient Romans to house workers in the nearby quarries. Upon arrival, we'll board 4-wheel-drive vehicles and head up the slopes of the Apuan Alps for a visit to the famous Carrara marble quarries, where Michelangelo selected the block of white marble to sculpt his David. Then, we'll have lunch at a local restaurant frequented by quarry workers (some 15,000 tons of marble are still extracted daily from the mountains). Upon our return to Lucca, the balance of the afternoon is at leisure.

Day 5

Lucca • Excursion to Florence • Chianti region

This morning, we'll board a bus for our visit to Florence, birthplace of the Renaissance. We'll discover this legacy as we explore Florence's historic city center—a UNESCO World Heritage Site—on an included walking tour that begins with a stroll through the Oltrarno District (literally, "the other side of the Arno"), where we can experience a more intimate aspect of Florence.

After lunch on your own, take some time to explore Florence at your leisure, perhaps beginning by the Mercato della Paglia and the Cathedral of Santa Maria del Fiore with its famous dome designed by Brunelleschi. Or visit the Church of San Lorenzo with the Medici Chapels. Please note: If you are departing the U.S. on a Thursday, our visit to Florence is on a Monday, when most national museums are closed, including the Accademia and Uffizi Gallery.

Later this afternoon, we depart Florence for the Chianti countryside, where we spend the next three nights.

Day 6

Discover Chianti region • Explore San Galgano

Our discoveries begin with an excursion to San Galgano, where a small round chapel sits atop a verdant hill. We'll go inside the chapel of Montesiepi to see a famous sword preserved within. With only the hilt and a small portion of the blade exposed, the sword was clearly thrust into the rock from which it protrudes, thus bringing into question whether the "sword in the stone" myth has Celtic roots after all. Leaving the chapel, we'll hike down the hillside and through Tuscan fields to find the Abbey of San Galgano. Now in ruins, the 13th-century Cistercian monastery lost its roof over the years, but the "ceiling" of sky arguably makes the structure more striking. Sunlight streams through arched windows, and many of the architectural elements remain intact; we'll marvel at beautiful columns and carved decorations as we wander.

After lunch in a local restaurant, you may elect to join a hike along a portion of Via Francigena, an ancient road and pilgrimage route that once connected Europe's largest cities. Dinner is included at our hotel this evening.

Day 7

Chianti countryside • Olive oil mill visit • Farmhouse Lunch

After breakfast, we begin our day with a scenic drive through the Chianti countryside, traveling through Tuscany's rolling, vineyard-carpeted hills and stopping at a local olive oil mill. The extra virgin olive oil produced in the Chianti region is world-renowned, and upon visiting the facilities where olives are pressed each November and December to release their oil, we'll get the chance to taste this staple of Tuscan cooking.

Next, we'll continue to a nearby town for an enlightening cooking lesson and lunch at an agriturismo farmhouse. During this visit, a local family will share the secrets behind preparing authentic Tuscan cuisine, and then we'll be invited to savor the fruits of our labor. Afterward, we'll return to our hotel for time at leisure to make our own discoveries.

This evening, we'll enjoy an included dinner at our hotel.

Day 8

Chianti region • Siena • Pienza

Today's transfer to Pienza begins with a short ride into Siena. A small city built along three distinct ridge-lines that meet to form a "Y," Siena is as elegant as it is ancient. Narrow, medieval passageways open suddenly to sweeping views of the city and surrounding countryside. A walking tour will be like stepping back in time to discover the palazzos, piazzas, and churches scattered throughout Siena's Old Town, a UNESCO World Heritage Site. Siena's streets are paved with cobblestones, and the city is built over five hills, making for a challenging—yet rewarding—stroll. We'll also enjoy an informative talk on Siena's unique districting system. Siena's seventeen districts, or contrade, were originally divided by the city's buildings and their owners at the time, rather than by roads or other geographical markers. Each is named after an animal or symbol, and we'll gather in one of these districts for our discussion. Then we'll break for lunch on our own in Siena before enjoying some time to explore independently.

We meet again this afternoon in Piazza del Campo, the shell-shaped 13th-century plaza considered one of the most beautiful in Europe, and home to Siena's most important civic events. We'll stroll to the Porta Romana, a magnificent gate from the 14th century, where we board our motorcoach for a scenic drive which brings us through the Crete Senesi, known for its rolling hills and sometimes lunar-like appearance.

Late this afternoon, we arrive in Pienza, our home for the next three nights. Formerly a small village named Corsignano, Pienza is the birthplace of Pope Pius II. Once elevated to his position, this native son declared that Corsignano should be rebuilt using the Renaissance urban planning model of a central piazza anchored with important buildings and the rest of the city radiating from this heart. This evening, we'll enjoy dinner together in a local restaurant.

Day 9

Explore Montepulciano • Winery visit

After breakfast, we'll travel overland to Montepulciano, where we start our day with a visit to the domed Sanctuary of San Biagio, designed in the 15th century, on the same architectural plan that would later be used to build St. Peter's Basilica. We then take a walk through the city center of this remarkably well preserved Tuscan village onto Via San Gallo, a historic street outlined with brick and stone buildings. After enjoying free time to explore the medieval streets of this charming city, we visit a family-run winery and sip some of their specialties over a light lunch.

After lunch, we return to Pienza for the balance of the afternoon at leisure to explore this Renaissance gem set in the heart of the Val D'Orcia UNESCO World Heritage Cultural Landscape. Or, perhaps you'll wish to go for a hike in the surrounding countryside, noted for its rising and falling contours, with broad plains punctuated by dramatic hills, and its beautiful array of farmhouses, shrines, and Renaissance villages, the Val d'Orcia has for years been the muse for countless artists and photographers.

Dinner is on your own this evening.

Day 10

Explore Tuscany • Optional Pitigliano & Sovana Optional tour

After breakfast at our hotel, the day is yours to make your own discoveries.

Or, you can join our full-day optional tour of Pitigliano & Sovana. A walking tour will reveal Pitigliano's rich Jewish heritage. After lunch at a local restaurant, we'll then set off for the ancient Etruscan necropolis of Sovana, where we'll hike through the woods of this ancient burial site.

We return to Pienza late this afternoon in time for dinner on your own this evening.

Day 11

Pienza • Assisi • Bevagna • Arrive Trevi

We bid farewell to Tuscany and turn our eyes toward Umbria this morning. Considered "the green heart of Italy," Umbria is rich with agriculture, olive oil making, and verdant forests. We arrive in Assisi this morning, the town that is best known for the legacy of Saint Francis and his followers, who practiced humility and compassion in the face of poverty. We'll walk across the village, and you'll have free to visit the 13th-century Basilica erected in St. Francis's memory on your own. Inside this UNESCO World Heritage Site you may witness frescoes painted by master artists like Giotto.

Then, we depart for Cantina Dionigi, a family-owned wine producer that was established in the late 19th century. Here, we'll have lunch before continuing to Bevagna to visit the Medieval workshops there. These studios make products using only the techniques and methods employed during the Middle Ages. Early this evening, we'll arrive in Trevi and check into our hotel. Spilling down Monte Serrano, the medieval lanes of Trevi are rife with history, with architecture spanning Gothic, Renaissance and Baroque periods. Dinner is at our hotel this evening. Please note: Some departures will feature accommodations in Montefalco, in Spoleto, or in the countryside just outside of Trevi.

Day 12

Explore Spoleto • Rafting on the Nera River

After breakfast, we'll travel to Spoleto, a walled hill-town framed by the towering Apennine Mountains. Inhabited since prehistoric times, it's full of history, as we'll discover during our walking tour. We'll begin at Il Ponte delle Torri, a 774-foot-long medieval bridge that runs over a scenic wooded gorge. Later, we'll also stop to admire the Duomo di Spoleto, an 11th-century cathedral made from salvaged Roman stones.

After lunch at a local restaurant, we'll head to the medieval hilltown of Scheggino. From here, we'll set off on a gentle rafting adventure along the Nera River. (Please note: Rafting is available from May 1st until the end of September; other departures will feature an alternate activity.) Upon returning to Trevi, dinner is included at a local restaurant.

Day 13

Optional Ballooning Over Umbria tour • Trevi • A Day in the Life of an Umbrian mountain village • Truffle hunting experience

You can rise early with us this morning (weather permitting) and get a new perspective on Umbria while gliding smoothly above it on our optional hot air balloon excursion. Then, we'll depart for the heart of the Apennines to experience A Day in the Life of an Umbrian mountain village. Traditional Italian ways of life that have endured for generations in these mountain villages, and locals here still grow crops, tend sheep, and gather truffles and mushrooms from the surrounding natural birch forests. We'll set off aboard 4-wheel-drive vehicles and meet up with some local truffle hunters and their dogs. We'll all then set off into the woods on foot and discover if the truffle-hunting skills of the dogs can uncover any of the precious fungus. We return to the village for a lesson on cooking authentic Italian pasta, followed by lunch with some of the local villagers.

Dinner this evening is on your own.

Day 14

Umbria • Transfer to Ostia, Rome

After breakfast, we bid farewell to Umbria and begin our overland transfer to Ostia, a seaside neighborhood of Rome. En route, we'll stop in the village of Bomarzo, home to a Renaissance-era garden also known as "Parco dei Mostri," or Park of the Monsters. Begun in 1552, the garden features a series of bizarre and fascinating stone sculptures meant to shock, including a giant screaming face.

Then we'll enjoy lunch in a local restaurant. Afterward, we'll continue to our hotel in Ostia.

Tonight, we'll toast our memories of Italy during a Farewell Dinner.

Day 15

Return to U.S. or begin post-trip extension

After breakfast at the hotel, we transfer to the airport for your return flight home. Or, begin your Rome, Italy extension.
POST-TRIP EXTENSION:

Rome, Italy

4 nights from only $1395

From atop the ancient Roman walls to the martyred saints buried in catacombs far beneath the city, Rome delights on many levels. Join us in exploring Rome's highlights and hidden gems … ancient, bubbling fountains … cobbled plazas lined with espresso cafés … and awe-inspiring monuments from the days of the Roman Empire. Together, we'll discover the rich, unparalleled history of the Eternal City, along with the vibrant culture of the modern Italian capital.

View Extension Itinerary