Forgot Your Username
If you have forgotten your username, please provide your email address in the box below. We'll send you an email with your requested username. If you are having trouble, please call us toll-free at 1-800-221-0814.
Email Sent
You'll receive an email in a few minutes. Please check this email to find your requested username.
If you do not receive an email or you are having trouble logging into My Account, please call us at 1-800-221-0814.
New Zealand: Wellington, Nelson, Te Anau, Queenstown, Taupo, Auckland
17 Days from only $5695 including international airfare
SPECIAL OFFER
View details
FROM
$5695
17 DAYS
$335/DAY
including international airfare
15 DAYS FROM $4495 Small Group Adventure Only
New! Stopover in Auckland

2 nights from only $495
Single Supplement: $195
Itinerary Overview
A country on nearly every traveler's bucket list, New Zealand is a confluence of natural splendor and dynamic adventure that leaves lasting impressions long after you've crossed back over the International Date Line. During this trip, we'll explore both the North and South islands, hiking through the untouched forests and cerulean bays of Abel Tasman National Park and experiencing the mud pools, hot springs, and geysers of a thermal reserve in Taupo. With Maori legend and Kiwi culture woven into this journey, you'll discover a New Zealand that is nothing short of memorable.
Make It Your Adventure
Personalize your trip to meet your individual needs, from preferred flights and air routing, to "breaking away" to spend more time in a destination.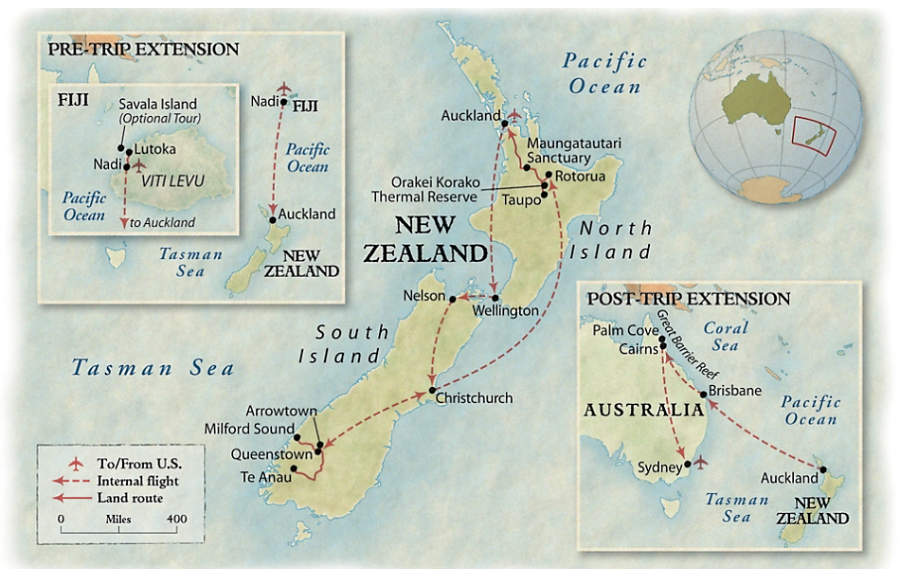 Day-to-Day Itinerary
New! Stopover in Auckland

2 nights from only $495

When you purchase airfare through O.A.T., you have the option to personalize your flights and add a Stopover. Consider arriving in Auckland, New Zealand early for a fresh start with a 2-night stay before your main adventure begins. An O.A.T. representative will meet you at the airport and assist with your included transfer into the city for two nights in a centrally-located hotel, including daily breakfast —the rest is up to you!

Take advantage of this opportunity to relax, refresh, and explore the "City of Sails'" undisturbed wildlife sanctuaries, multicultural neighborhoods, and harborside city before your main New Zealand trip begins. Single Supplement is $195.

Looking for ways to fill your free time in Auckland? Check out some of our suggestions.

Learn More
PRE-TRIP EXTENSION:

New! Fiji's Natural & Cultural Beauty

5 nights from only $2095

Fiji's white sand beaches and turquoise waters will take your breath away. The island's topography, though, is equally as stunning as its culture. Here, you'll find a melting pot of Melanesian origins and adopted Polynesian traditions, which sew a fascinating fabric of life. Also, sprinkled throughout Fiji are authentic pieces of Indian culture. Get to know the local industries that make up Fiji's economy and talk to locals to gain a better understanding of this diverse nation. Embark on this optional extension to discover Fiji's stark contrasts and to immerse yourself in a tropical paradise.

View Extension Itinerary
You depart today on your flight to New Zealand.

Day 2

Cross International Date Line

You continue your flight from Los Angeles to New Zealand, losing one day en route as you cross the International Date Line. You regain this day when you fly back to the U.S. at the end of the trip.

Day 3

Arrive in Wellington, New Zealand

Fly to Wellington via Auckland this morning. Wellington, New Zealand's cosmopolitan capital, is located on the southwestern tip of the North Island. Your O.A.T. representative will greet you at the airport and accompany you on a short transfer to your hotel. Later, we meet our Trip Leader, who will brief us on our upcoming discoveries and we'll be joined by fellow travelers who took our optional pre-trip extension, Fiji's Natural & Cultural Beauty. Tonight we'll enjoy a Welcome Dinner at a local restaurant.

After breakfast, we set out through the vibrant, sloping streets of Wellington. Perched between Wellington Harbour and the Cook Strait, this compact city of hills and coastline offers natural beauty that people traverse the entire globe to witness. We'll walk to the Lagoon on the edge of Wellington Harbour, where we'll meet members of the local Maori community, who will welcome us with a traditional ceremony. We'll spend some time learning more about this area. Then, we'll depart for a tour of Wellington's highlights, both by foot and by paddling the local waters if weather permits.

Though Maori legend suggests Wellington was discovered by the Polynesian voyager, Kupe, in the tenth century, the first European settlement of the city was in 1839. British immigrants made the arduous 11,000 mile journey to New Zealand and shortly thereafter Wellington evolved into a thriving port city—well positioned for trade and commerce. Wellington replaced Auckland as the country's capital in 1865, establishing it as the political and economic center.

After an included lunch at a local restaurant this afternoon, we'll continue our walking tour of Wellington. Join your Trip Leader as we stroll through the city's vibrant streets and beautiful gardens, stopping to meet local residents before taking in views of the city and harbor from atop Mount Victoria. Dinner is on your own this evening. Please note: Due to prolonged periods of walking, you may opt out of the tour at certain locations.

Day 5

Wellington • Visit Te Papa Museum

This morning, we'll take a guided tour through Te Papa, New Zealand's national museum, which is renowned for innovative exhibitions on Maori culture, art, history, and the country's diverse natural environment. With a focus on the bicultural influences of the Maori and Europeans, the museum plays an active role in educating people on New Zealand's diverse society. Afterwards, the remainder of your day is free and lunch and dinner are on your own.

Day 6

Fly to Nelson • Visit Gallery of WearableArt

This morning we'll transfer to the airport for a short flight into Nelson, located on the northern crest of the South Island along Tasman Bay. Known for being the sunniest region in New Zealand, Nelson boasts a landscape of lush forests, rugged mountains, and sandy beaches. A center for creativity, artists have flocked to the city of Nelson, where there are hundreds of studios and galleries featuring everything from handwoven wool sweaters to Lord of the Rings jewelry from the film's official jeweler. Today, we'll get to experience some of this artistry as we visit the World of WearableArt gallery and the adjacent Classic Cars Museum. First conceived in 1987 as an off-beat fashion show featuring art that could be worn and modeled, the WearableArt gallery now features a rotation of 60 stunning—and often outrageous—garments created by artists from around the world. Under the same roof is the Classic Cars Museum, where we'll check out a private collection of dozens of mint-condition cars from the past century.

We'll have the rest of the afternoon at leisure to make our own discoveries. Tonight, we have dinner at our hotel.

Day 7

Hike in Abel Tasman National Park • Torrent Bay

This morning we'll set out for Abel Tasman National Park by way of the resort town, Kaiteriteri. A natural wonderland of golden beaches, lush forests, and granite rock formations, New Zealand's smallest national park is home to world-famous coastal hiking trails. We'll explore one (of nine) of New Zealand's Great Walks, which the Department of Conservation has labeled as a premier walking track with awe-inspiring landscapes. Our 2-3 hour hike will take us through secluded turquoise bays, across mossy valleys, and up tree-lined ridges that give way to spectacular panoramic vistas. Depending on the season, we may be fortunate enough to discover some of the diverse wildlife that inhabit the park, such as dolphins, fur seals, geckos, tui, bellbirds, and the rare little blue penguin.

We'll arrive in Torrent Bay in time for a seafood barbecue lunch by the beach. After, there will be time to explore the bay on our own which can include taking a nature walk or going for a swim in the calm azure water. We'll take a ferry back to Kaiteriteri and return to our hotel with the remainder of the afternoon at leisure. Dinner this evening is on your own.

Enjoy a free day to discover the area on your own. Perhaps you'll rent a paddle board or sea kayak to take out on the calm clear waters of Tahunanui Beach. Maybe you'll drop by some of the many arts and crafts workshops that pepper the streets of Nelson. Or, visit one of the many local craft breweries and wineries that are renowned in this region due to the mild climate and fertile countryside that are ideal for cultivating hops and grapes. This evening, we'll enjoy dinner at a local restaurant.

This morning we'll depart our hotel for Nelson Airport, where we'll fly to Queenstown via Christchurch. We'll arrive in Queenstown this afternoon where we'll transfer to our final destination, Te Anau. Located on the southwestern corner of the South Island, Te Anau is a small town nestled on the shores of Lake Te Anau, the South Island's largest lake. A part of the Fiordland region, Te Anau boasts a majestic backdrop of Mount Luxmore and the Murchison mountains, and is the closest town to Milford Sound.

We arrive at our hotel later this afternoon, where we'll enjoy an included dinner this evening.

Day 10

Cruise Milford Sound • Queenstown

After breakfast this morning, we travel overland to Milford Sound, the crystalline fjord Rudyard Kipling called "the eighth wonder of the world." Aboard a catamaran built for navigating the fjord, we'll enjoy panoramic views from the observation lounge and outdoor decks. The waters of the sound plunge 1,600 feet while lush forest and sheer cliffs rise on either side. We'll spend the morning soaking in sweeping vistas and enjoy lunch on board.

This afternoon, we continue overland to Queenstown on the shores of Lake Wakatipu. In the mid-19th century, Queenstown was the city of choice for successful Gold Rush entrepreneurs. But the boom became a bust eventually, and the local economy floundered until the 1950's, when outdoor enthusiasts began flocking to the region to take advantage of its diverse natural resources. Today, Queenstown is the recreational hub of the nation with year-round activities from skiing to jet-boating.

We arrive late this afternoon in time to settle into our hotel. Dinner is included at a local restaurant this evening.

Day 11

Lake Wakatipu Cruise • Mt. Nicholas High Country Station

We begin our day with a walk to the marina for a cruise across tranquil Lake Wakatipu aboard the Spirit of Queenstown, with views up the lake to Glenorchy and beyond to the Southern Alps. We'll continue our morning of discoveries at Mt. Nicholas High Country Station, a family-run farm where some 29,000 sheep roam across 100,000 acres. There, we'll enjoy morning tea and learn about how merino wool is made, following the process from the mustering (rounding up the sheep) to how fabric is made for an outdoor clothing company.

After lunch on your own back in Queenstown, enjoy a free afternoon to explore at your own pace, or join your Trip Leader for a walking tour. Dinner is on your own this evening.

Day 12

Queenstown • Optional Queenstown Scenic Helicopter Flight tour

This morning, join our optional Queenstown Scenic Helicopter Flight for an aerial view of the area's dramatic mountain scenery. Or enjoy free time in Queenstown. Perhaps you'll take a gondola ride up to Bob's Peak for breathtaking views of Lake Wakatipu, Queenstown, and the Remarkables mountain range to the east. For adrenaline-seekers, Bob's Peak is also the place to bungy jump, ride a luge cart down a mountainside track, or take a hike or bike ride. Or, maybe you'll visit a local wine shop to sample one of the wines that the region has become increasingly well known for in recent years.

Dinner is on your own this evening. Your Trip Leader can make recommendations for regional cuisines including restaurants that serve local specialties.

Day 13

Fly to Rotorua • Taupo

After breakfast at our hotel, we transfer to the airport for our flight to Rotorua via Christchurch, arriving late this morning. From Rotorua, we travel overland south to Taupo through a landscape lush with lakes and dramatic hills. As weather conditions allow, we might pause to witness one of the mighty waterfalls, forests, or countless hot springs.

Late this afternoon, we settle into our hotel in the city of Taupo, which overlooks Lake Taupo and lies within the shadow of volcanic Mount Tauhara. The region is alive with geothermal activity—which made it a hub for the first Maori settlers centuries ago—and has since attracted entrepreneurs who have capitalized on these resources to open mineral spas and harness nature's powers to generate energy.

Tonight, we'll dine together at a local restaurant.

Day 14

Orakei Korako Thermal Reserve • Taupo • Optional Waikato River Jet Boat Tour

This morning, we witness the region's legendary geothermal activity in a visit to Orakei Korako Thermal Reserve. Nicknamed "Hidden Valley," the reserve sits on the Waikato River and boasts some of the most active geysers in all of New Zealand. A short cruise will bring us to the reserve, which we explore in a guided tour. Following wooden boardwalks, we'll see mud pools, hot springs, and geysers.

The reserve contains some of the world's largest silica terraces, with sections that appear green, pink, yellow, blue, and white. The Maori called this the "Place of Adornment," which seems a fitting title for a landscape with so much going on.

After an included lunch at Orakei, we'll stop to view the majestic, clear blue waters of Huka Falls before returning to Taupo for the remainder of the day at leisure. Explore at your own pace this afternoon, perhaps visiting the Lake Taupo Museum and Art Gallery near the center of town. Its offerings include a recreated Maori meeting house, galleries of work by New Zealand artists, and a prize-winning garden that features native plants and geothermal features. Or you might choose to follow the Lions Walk, a promenade outlining Lake Taupo.

You may spend the rest of the afternoon and evening making your own discoveries. Or, perhaps you'll join us on an optional guided jet boat ride down the Waikato River—New Zealand's longest river—where we'll see the local flora and fauna by jet boat and on foot.

Day 15

Maungatautari Sanctuary • Dairy farm visit • Overland to Auckland

We depart our hotel this morning for Auckland, stopping en route first at the Maungatautari (Sanctuary Mountain), an ancient forest which has been surrounded by the world's longest predator-proof fence. We'll explore the ecological sanctuary on a guided bush walk, keeping our eyes peeled for native species of birds, fish, insects, and reptiles (many endangered) that thrive in this lush forest. Perhaps we'll spot a native Takahe bird or the nation's beloved kiwi.

After an included lunch in a local café, we set off to visit a dairy farm in the Waikato region. Agriculture is New Zealand's biggest industry and dairy farming is one of the primary components. We'll learn how the farm is run and enjoy a snack with coffee and tea on the farm before continuing on.

Completing our overland transfer to Auckland, we arrive late this afternoon in the city that a third of all Kiwis call home. It boasts the nation's most multicultural community with its large European and Asian populations, and no other city on earth has a higher number of people of Polynesian descent. The diverse citizenry is united in their love of outdoor activities, giving the city a cosmopolitan-meets-casual flavor.

Enjoy dinner on your own this evening.

Discover Auckland this morning as we enjoy a motorcoach tour of its highlights. The city is presided over by Maungawhau (Mount Eden), the highest of the region's 48 volcanoes (rising 648 feet), but a man-made wonder dominates the skyline: at 1,000 feet, the Sky Tower is the tallest building in the Southern Hemisphere. Both are easily visible on morning drive.

It wouldn't be a visit to Auckland, the "City of Sails," without time on the waterfront. One household out of every three owns a registered boat, and the city's two harbors are full of commercial vessels, sleek yachts, and traditional Maori waka now used for cultural tours.

You'll have this afternoon to make your own discoveries. You might use your free time to further explore the waterfront, including the America's Cup Village, or visit one of the city's green parks. Or perhaps you'll ascend the Sky Tower for a stroll on a 4-foot perimeter walkway encircling the tower, roughly 640 feet up.

This evening, we'll enjoy a scenic ferry ride across the Waitemata harbor before gathering for a festive Farewell Dinner. Here, we'll reminisce and toast the memories of our New Zealand adventure.

Day 17

Return to the U.S.

After a morning at leisure, we transfer to the airport this afternoon for your flight home.
POST-TRIP EXTENSION:

Australia's Great Barrier Reef & Sydney

6 nights from only $2445

A visit "Down Under" isn't complete without the natural splendors of Australia's Great Barrier Reef and the gems of cosmopolitan Sydney. Revel in the myriad colors and vibrant life of the Great Barrier Reef ... Stroll along iconic Sydney Harbour and discover its fascinating history ... This trip combines the best of both worlds.

View Extension Itinerary