Forgot Your Username
If you have forgotten your username, please provide your email address in the box below. We'll send you an email with your requested username. If you are having trouble, please call us toll-free at 1-800-221-0814.
Email Sent
You'll receive an email in a few minutes. Please check this email to find your requested username.
If you do not receive an email or you are having trouble logging into My Account, please call us at 1-800-221-0814.
Chile: Santiago, San Pedro de Atacama, Punta Arenas, Torres del Paine National Park, Chilean Fjords
TRAVEL IN A SMALL GROUP OF NO MORE THAN 24 ON LAND AND ABOARD THE 90-PASSENGER MV SKORPIOS III
Itinerary Overview
For such a long and thin country, Chile is robust in natural beauty. Encounter a land of extremes as we journey from the driest desert on Earth to the glacial wonderland of the Chilean Fjords. Along the way, we'll roam surreal, Daliesque stretches of the sunbaked Atacama and sip fine wines in Santiago, Chile's lively capital. Nature puts on a show in Patagonia, and we'll drink it in as we hike the wilds of Torres del Paine and spend three nights cruising remote glacier channels. Discover the colorful culture and unspoiled expanses of Chile—where an adrenaline rush awaits you at every turn.
Make It Your Adventure
Personalize your trip to meet your individual needs, from preferred flights and air routing, to "breaking away" to spend more time in a destination.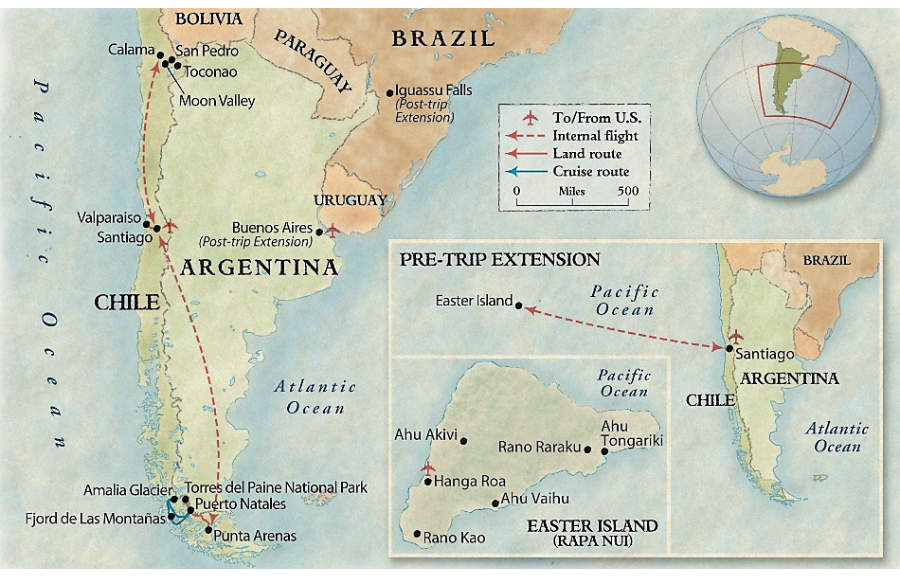 Day-to-Day Itinerary
PRE-TRIP EXTENSION:

Santiago & Easter Island, Chile

5 nights from only $2395

In the midst of the majestic Andes Mountains, discover Santiago, Chile, a city as vibrant and historic as it is elegant. Then venture more than 2,000 miles west to find Easter Island, a UNESCO World Heritage Site and one of the most isolated—and intriguing—places on Earth.

View Extension Itinerary
Depart the U.S. on your overnight flight to Santiago, Chile.

Day 2

Arrive Santiago, Chile • Winery visit

Welcome to Santiago! An O.A.T. representative will greet you at the airport and escort you to your hotel, where you'll meet your Trip Leader and fellow travelers for a Welcome Briefing.

We toast the beginning of our Chilean journey today during a visit to Paseo del Vino, a charming boutique winery whose owner established it on a single acre of grapes, as a passion project. He makes just 3,000 bottles a year (both red and white) and loves introducing visitors to Chilean wine culture. We'll learn about winemaking and taste some of his vintages, followed by a Welcome Dinner of local cuisine.

Day 3

Santiago • Walking tour

This morning we gather for a walk around Chile's cosmopolitan capital. Against a stunning backdrop of Andean peaks, Santiago has witnessed a remarkable history, from settlement by conquistadors in 1541 to the Marxist, military, and democratic governments of the 20th century. We'll explore the city's hub, La Moneda Palace, the seat of Chile's government, as well as the cemetery.

Lunch is included at a local restaurant. The remainder of the afternoon is yours to discover more of Santiago at your leisure.

Day 4

Fly to Calama • Overland to San Pedro

This morning, we fly to Calama and transfer to San Pedro de Atacama, an oasis town in Chile's Norte Grande region—home to the driest desert on Earth. Upon our arrival in San Pedro, we'll check into our hotel. Later this afternoon, we'll take an orientation walk around the city.

Dinner this evening is at a local restaurant.

Day 5

San Pedro • Visit Toconao • Sunset at Laguna Chaxa

Today, we'll continue exploring the San Pedro area. The compact, terra cotta-hued village serves as a base for northern Chile's nearby wonders, but our destination is an archaeological site, Pukara de Quitor, where we'll begin to learn about local Chilean history and culture.

We'll break for lunch and a few hours of free time. Later, we'll depart for the Salar de Atacama salt flats, stopping at Toconao along the way. Toconao is a small village known for its 18th-century bell tower, built from volcanic rock mined from a nearby quarry.

Our next stop is Laguna Chaxa, a flamingo breeding site in Salar de Atacama, Chile's largest salt flat. We'll have the chance to seek out native wildlife, such as the five flamingo species that inhabit this lake—a bizarre sight in the midst of a desert—and enjoy a toast overlooking the lagoon at sunset. Soak up the surreal beauty of the desert as the horizon transforms into pink-streaked skies and pastel mountains.

Back in San Pedro, dinner will be on your own.

Day 6

Optional Tatio Geysers tour • Valley of the Moon • Valley of Death

Enjoy a free morning on your own. Or, rise early for an optional excursion to El Tatio, a bubbling geyser field enclosed by snowcapped volcanoes.

This afternoon, we'll regroup to explore the Valley of the Moon, a lunar setting of rock formations, caves, and gorges carved by eons of wind and floods. (Scientists chose this region to test drive a prototype Mars rover in 2013.) We'll wander its rocky terrain, then return to San Pedro in time for dinner at a local restaurant.

Day 7

Rainbow Valley • Fly to Santiago

This morning, we'll depart for the airport for our flight from Calama to Santiago, stopping first at Rainbow Valley. Much like San Pedro and its surroundings, the Rainbow Valley is an otherworldly landscape of layered rock formations sculpted by centuries of wind. But its colors—a kaleidoscopic palette of vibrant reds, purples, and yellows formed by mineral deposits—set it apart. From here, we'll discover the ancient petroglyphs in the nearby mountains and boulders.

Arriving early in the evening, we'll check into our hotel in Santiago. Dinner is on your own.

Day 8

Fly to Punta Arenas • Walking tour

Today we fly to Punta Arenas, an active port overlooking the Strait of Magellan. Punta Arenas rose to prominence in the late 19th century because of its sheep and wool industry and the discovery of gold nearby.

On the way to our hotel, we'll visit the Nao Victoria Museum to see a replica of one of Ferdinand Magellan's ships, complete with original furniture and hardware. After checking in, we'll continue on a walking tour of the main square in Punta Arenas, ending with dinner at a local restaurant.

Day 9

Punta Arenas • Ranch visit • Travel to Torres del Paine

Today we enjoy a window into Patagonian ranch life when we visit a working estancia. The area's sweeping grasslands are ideal for sheep farming, which has been one of the primary economic engines here since the end of the 19th century. At the estancia, we'll enjoy a lunch of Patagonian lamb—the iconic dish that the President of Chile served to President Obama in his first visit to the nation.

We travel overland to Torres del Paine, a UNESCO Biosphere Reserve site and one of the most remote and beautiful places in the world. During our two nights here, we'll hike winding trails over rippling currents; witness the ostrich-like rhea (known locally as ñandú), fox, and other wildlife; and take in the stunning scenery of purple mountains and mirror-smooth lakes.

Day 10

Explore Torres del Paine

Sprawling 935 square miles, Torres del Paine spans grasslands, beech forests, and glaciers that have carved out fjords and valleys. We'll explore these unique landscapes in a trio of hikes over the course of two days. (Our routes may vary depending on seasonal conditions.)

Today, we may trek along the shores of Lago Grey, where gigantic blue icebergs rest against sandy beaches. Glacier Grey stretches into the distance through the towering peaks of the surrounding mountains.

We'll stop for a boxed lunch at a scenic viewpoint, then hike to Salto Grande, a rushing waterfall set between Lago Nordenskjold and Lago Pehoe. Here, we may spot some of the indigenous wildlife that feed on the verdant foliage along the riverbank.

We return to our hotel for dinner tonight.

Day 11

Torres del Paine • Puerto Natales • Embark cruise

This morning, we'll explore Torres del Paine in a final hike, keeping our eyes peeled for fauna such as guanacos (related to the llama and the camel) and condors winging overhead.

After lunch at a local restaurant, we drive to Puerto Natales to board the MV Skorpios III, our home for the next three nights as we cruise the Chilean fjords. This family-owned vessel is uniquely designed with a reinforced hull for navigating ice and a small size for threading through the narrow fjords and bays.

We depart Puerto Natales and sail through the Kirke Narrows toward Bernardo O'Higgins National Park, home to the furthest flows of the massive Southern Patagonian Ice Field. Our ship is the only one that sails this particular route. As we follow the path of Darwin and FitzRoy, we'll be able to witness the ever-shifting palette of light and shadow on the mountains, sea, and ice without distraction.

Dinner will be onboard tonight. The Chilean owners of the Skorpios III ensure that everything about our shipboard experience, from wine and food to friendly staff, reflect their culture. During our cruise, all meals are included while we're onboard ship.

Every slip of land we've traveled in Chile was once covered by the Patagonian Ice Sheet, which stretched all the way to the Andes. The remaining Southern Patagonian Ice Field still sprawls nearly 5,000 square miles. Expedition teams have only crossed the full length of the ice field once, and many parts remain still unvisited. Most of what is known to explorers is accessible only by boat or helicopter.

Today we have the privilege of exploring three smaller fjords, each with its own character. First, we'll disembark on a nearby beach for a walk across sand and rocks to get a better look at Amalia glacier.

We cruise onward towards the El Brujo glacier—so vividly blue it seems almost lit from within. Weather permitting, we'll go ashore for panoramic views. Finally, we navigate Calvo Fjord, a glacier-filled alley of bobbing ice. We'll board an icebreaker boat, the Capitán Constantino, to sail through the choppy ice and get closer.

Day 13

Explore Las Montañas Fjord

Today we discover the Las Montañas Fjord, which threads between the Cordillera Sarmiento and the Cordillera Riesco mountain ranges. Cordillera Sarmiento includes The White Lady, a 7,000-foot peak, while the Cordillera Riesco is best known for Grupo la Paz, a cluster of jagged rock towers.

We cruise by Zodiac through the bay of the Alsina glacier. Then we visit Bernal Glacier, where our Zodiac boats drop us off for a walk through a small rain forest to a glacial lagoon, and then onward to the front of the glacier itself, which we can touch.

Continuing on past Herman and Zamudio glaciers, we'll arrive at Angostura White Glacier. Here, we embark exploration craft and keep our eyes peeled for the diverse wildlife that populate these waters: Peale's dolphins, seals, upland geese, petrels, cormorants, and albatrosses.

This evening, we enjoy a special farewell party and Captain's Dinner onboard.

Day 14

Disembark cruise • Punta Arenas • Fly to Santiago

We disembark this morning and drive to Punta Arenas and then fly to Santiago, where we'll settle into our hotel. We'll enjoy dinner tonight at a local restaurant in Santiago.

Day 15

Valparaiso • Return to U.S. or begin post-trip extension

Today we set out on a full-day tour of Valparaiso, a UNESCO World Heritage Site and Chile's largest seaport.

"Pancho," as locals call the city, is a chaotic maze of narrow alleys, steep staircases, and colorful funiculars that ramble up 17 surrounding cerros (hills). We'll ride one of these ascensores to catch a spectacular view.

Once a booming port, Valparaiso's economy was hit hard by the opening of the Panama Canal in the 20th century. But today, the city has bounced back as the nation's cultural capital. Gritty yet romantic, Pancho has long been a haven for artists and writers. We'll see its unusual charms at play as we wander past old mansions and modern street art. And to really catch the rhythm of life in Valparaiso, we'll enjoy lunch with a local family in their home.

This afternoon, we depart for the airport for our return flights home, or to begin our post-trip extension to Buenos Aires & Iguassu Falls.
POST-TRIP EXTENSION:

Buenos Aires & Iguassu Falls

4 nights from only $1495

It's easy to add thundering Iguassu Falls—twice as wide as Niagara Falls—to your explorations of South America's natural wonders. On this extension, we'll visit the Argentinean and Brazilian sides of this array of 275 separate cascades. We'll also spend a day discovering Buenos Aires.

View Extension Itinerary